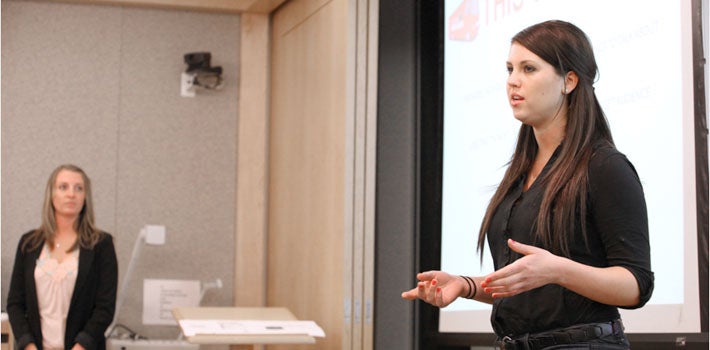 Undergraduate minor
Undergraduate certificate
Becoming a Citizen
Do you believe democracy should be more about reasoned discourse than inflammatory sound bites? Are you passionate about the art of argument? Do you see yourself engaging your listeners through the power of dialogic reasoning? It's possible that you will thrive with a minor in writing, public speaking, and critical reasoning (WSCR).
The UO's innovative program will help you to develop your ability to write well, speak effectively in public, and think critically—some of the most valuable skills for life in a globalized world. The WSCR minor is interdisciplinary, with courses taught by professors from English, Philosophy, and the Honors College.
Points of Interest
The WSCR minor is available through the Department of English. Students desiring more intensive study in this area may wish to consider the additional coursework necessary to complete the undergraduate certificate.
Participate in the UO's chapter of the Rhetoric Society of America, which sponsors events for students including guest speakers and colloquia involving faculty and graduate and undergraduate students.
Meet other students with similar interests through the UO's Debate and Speech Team and the forensics program.
Immerse Yourself
One of the best ways to hone your rhetorical skills is by putting them to use. The writing, public speaking and critical reasoning minor is associated with community literacy internships in nongovernmental organizations and the public school system and to selected programming in the UO School of Law.
Other opportunities include working within the English department as a writing associate in this peer-tutoring program that allows outstanding minors to help students with any stage of the writing process, including developing ideas, finding and supporting a strong thesis, organizing an argument, using primary and secondary sources, composing a first draft, and revising and editing for style and correctness.
Sample Courses
Oral Controversy and Advocacy is an in-depth study of the habits of research, reasoning, selection, and presentation necessary for ethical and effective oral advocacy on contested topics.
Inventing Arguments focuses on the analysis and use of patterns of reasoning derived from the disciplines of rhetoric, informal logic, cognitive science, and the theory of argumentation.
Public Speaking as a Liberal Art emphasizes the study and practice of public speaking as grounded in the five rhetorical canons: invention, arrangement, style, delivery, and memory.
Business Communication provides practice in writing and analyzing internal and external messages common to business, industry, and professions
Theories of Literacy covers approaches to literacy through literary theory, rhetoric, and cultural studies. It also includes issues involved with school and community literacy
Logic, Inquiry, and Argument

explores the means and ends of argumentation and inquiry by considering deductive reason, argumentation and emotion, and ethical and social dilemmas in inquiry.

Modern Rhetorical Criticism covers theoretical topics addressed by 20th-century rhetorical critics and includes varieties of rhetorical interpretation, from neo-Aristotelian to reader-response and postmodernist views of metaphor.
History of Rhetoric covers rhetoric as related to the theory and practice of writing, relations between rhetoric and poetics, and rhetorical criticism through the 19th century.
See more courses offered through the department of English.
The Student Experience
English major Jill Owen was looking for a way to include a rhetoric emphasis in her degree. She found the WSCR program to be a good fit. Taking a broad range of classes in several areas has allowed Owen to explore and narrow her interests. "Try everything that interests you, talk to your professors, and make everything you do engaging," she says. "Because what you get out of college is up to you." Another tip, she adds, The Daily Grind in the lower level of the library is the best coffee on campus.
Featured Faculty
English professor John Gage's interests include rhetorical theory, composition pedagogy, and 20th-century American poetry. His publications include The Shape of Reason; In the Arresting Eye: The Rhetoric of Imagism; "An Adequate Epistemology for Composition: Classical and Modern Perspectives;" and "Rhetoric and Dialectic in Robert Frost's 'A Masque of Reason'." Gage says that the WSCR program provides essential knowledge and skills for citizenship in a democracy. "We think of this as both preparing students to have the skills employers are after," he says. "But also something that's important for an active life in the community realm, where everything is controversial and people need to be able to understand and work with their disagreements."
The history and theory of rhetoric, particularly the relationship between rhetoric and philosophy, is what professor James Crosswhite's work focuses on. His book, Deep Rhetoric, argues that building rhetorical skills in individuals and our culture can lead to a more peaceful and successful society. He sees the study of rhetoric as essential to a liberal arts curriculum and the teaching of communication, particularly writing.
Career Opportunities
Employers expect college graduates to present themselves and their ideas in a compelling and organized manner, both orally and in writing. The WSCR program prepares motivated students to become articulate members of our society and our workforce. The unique curriculum provides a solid foundation for virtually any sort of employment, as well as for graduate study. Pre-law students, regardless of major, may find the program particularly beneficial.
Program in Writing, Public Speaking, and Critical Reasoning
Department of English