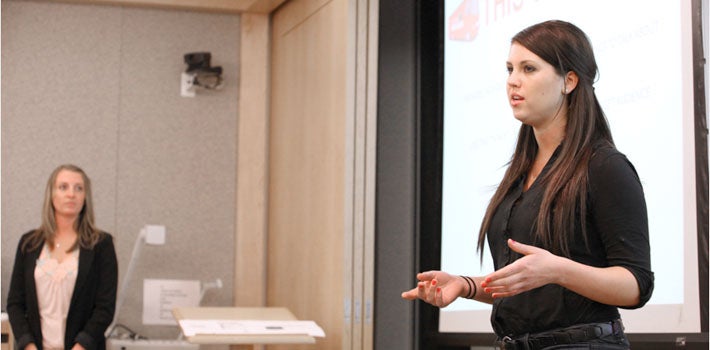 Undergraduate minor
Undergraduate certificate
About the minor
Do you believe that reasoned discourse is foundational to democracy and to social change to build a better, more just society? Are you passionate about citizenship and the art of argument? Do you see yourself engaging your listeners through the power of dialogic reasoning? If your answers these questions are yes, you will thrive with a minor in writing, public speaking, and critical reasoning.
The UO's innovative program will help you to develop your ability to write well, speak effectively in public, and think critically—some of the most valuable skills for life in a globalized world.
A little more info
Participate in the UO's chapter of the Rhetoric Society of America, which sponsors events for students including guest speakers and colloquia involving faculty and graduate and undergraduate students.
Work as a Writing Associate in a peer-tutoring program that allows outstanding minors to help students with any stage of the writing process, including developing ideas, finding and supporting a strong thesis.
Meet other students with similar interests through the UO's debate and speech team and the forensics program.
Take an interdisciplinary minor, with courses taught by award-winning professors.
Career opportunities
Employers expect college graduates to present themselves and their ideas in a compelling and organized manner, both orally and in writing. A minor in writing, public speaking, and critical reasoning prepares students to become articulate members of our society and our workforce. The unique curriculum provides a solid foundation for virtually any sort of employment, as well as for graduate study. Pre-law students, regardless of major, may find the program particularly beneficial.