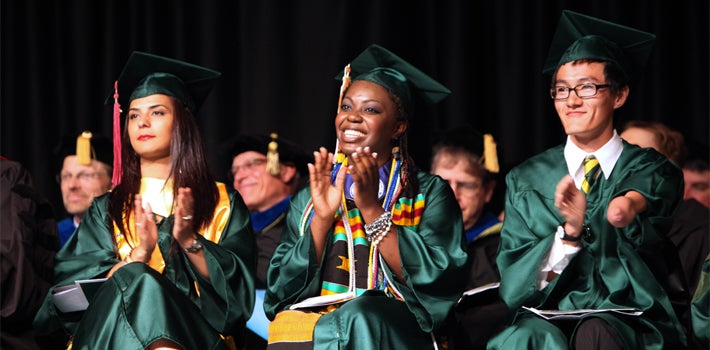 If you are not a U.S. citizen or a permanent resident of the United States, learn how to apply as an international postbaccalaureate student.
Postbaccalaureate Undergraduate Admission
If you've earned a bachelor's degree from a regionally accredited college or university and want to earn a second undergraduate degree, you may be admitted with postbaccalaureate undergraduate status. You'll pay appropriate undergraduate fees.

You should not apply to the Graduate School. Instead, submit the undergraduate application as a postbaccalaureate student. The application with all required transcripts and documents is due no later than 30 days before the start of the term.
Postbaccalaureate (second-degree seeking) required materials:
Application
Application fee
Transcripts from all post-secondary schools (colleges/universities)

Your bachelor's degree must be posted on your issuing school's transcript with a received date.
If you have graduated with a bachelor's degree from the UO (and have not completed any additional coursework) you will not need to submit any transcripts.

Personal statement about why you are interested in your new majors and why you have chosen to pursue a second degree
Special Status Majors
If you plan to major in international studies, contact the academic department for pre-approval prior to applying for admission. If you plan to major in business administration, communication disorders and sciences, art, art history, or music, submit your application for admission and the Office of Admissions then will contact the academic department for departmental approval.
Postbaccalaureate Graduate Admission
If you have a bachelor's degree or the equivalent from an accredited institution and want to take graduate courses, but do not intend to pursue a specific graduate degree, you can apply as a postbaccalaureate graduate student.

Submit the official application form and an official transcript from the college or university from which you received either a bachelor's degree or a subsequent advanced degree to the Graduate School. (University of Oregon graduates do not need to send an official transcript to the Graduate School.) Request an application for Postbaccalaureate Graduate Student status from the Graduate School or download the PDF version of the application form.