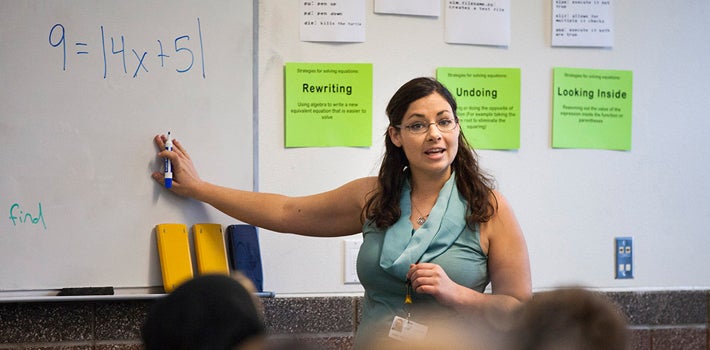 Special education is a minor within the College of Education.
Explore Disability Issues
Programs in Special Education and Clinical Sciences improve the quality and outcomes of education, employment, and community living for children and adults with special needs, as well as their families, through teaching, research, and service. Students in the special education minor explore beliefs, attitudes, and issues related to disability.
Top Rated Research Faculty
The UO education faculty has been ranked as the number one most productive educational research faculty in the nation. COE faculty direct two national research centers devoted to literacy and schoolwide behavior support, and two national technical assistance centers serving states and districts implementing the federal government's Reading First program and Positive Behavior Interventions and Supports.

The research of Associate Professor Jill Baxter focuses on the cognitively oriented study of classroom teaching and learning. Her recent research has examined the teaching and learning of mathematics in elementary and middle school classrooms, especially the different ways students learn about mathematics from various kinds of instruction.
As a faculty member in the Counseling Psychology doctoral program, Assistant Professor Krista Chronister focuses her research on a broad range of issues related to domestic violence, especially battered women's economic and career development. She has created a unique program called Advancing Career Counseling and Educational Support for Survivors of domestic violence (ACCESS) that nurtures the development of career and life skills, and offers employment support to battered women.
Professor Edward Kame'enui's areas of expertise include early literacy research, schoolwide reading improvement, the design of high quality educational tools, and design of instruction. He directs or codirects eight federal and state research and training grants. Kame'enui is also director of the UO's Center on Teaching and Learning.
Special Education Minor
College of Education
Contact Information
(541) 346-1638