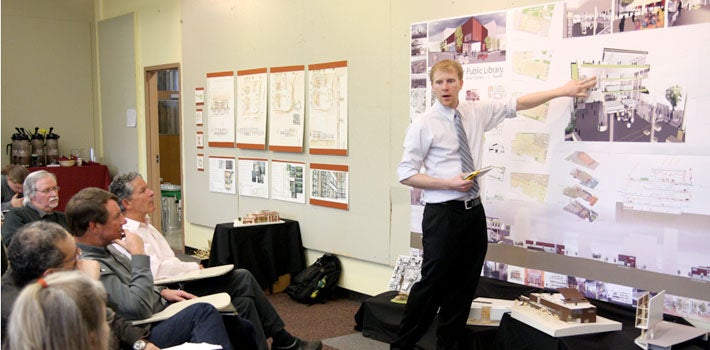 Undergraduate minor

The School of Planning, Public Policy, and Management offers a minor for students interested in a career in nonprofit administration (NPA). Through the minor, students can enhance their undergraduate education to include preparation for occupations and graduate study in nonprofit administration. Nonprofit organizations comprise one of the fastest growing employment sectors in the country, creating a high demand for graduates with specifically tailored skills to work for these diverse and exciting organizations.
The nonprofit sector is no longer a career that people fall into, but an avocation that students prepare for with a challenging, focused minor program. The UO has one of the most comprehensive undergraduate curricula in nonprofit studies in the world. Graduates of the minor program rise rapidly to fill positions in their organizations' ranks. The program also prepares students for pursuit of graduate studies in a Master of Nonprofit Management degree program.
Sample Courses
Introduction to the Nonprofit Sector provides a broad overview of the nonprofit sector, including its origin, growth, oversight, and varied elements. It examines theory and research in the effectiveness of nonprofit strategies and structures and exposes students to the challenges that all nonprofits face.
Fundraising for Nonprofit Organizations introduces students to nonprofit fundraising. Topics include annual giving, major gifts, planned giving, and campaigns.
Public and Nonprofit Financial Management covers financial management decisions and control processes in public agencies and nonprofit organizations. Topics include financial resources (taxes, donations, grants), stewardship, expenditure systems, and capital project analysis.
Nonprofit Management explains how to manage nonprofit organizations for superior performance in a humane, responsive, and responsible manner.
Philanthropy Seminar introduces the history, economics, psychology, and "how-to" of philanthropy. You'll research and choose a nonprofit organization to receive a $20,000 grant, courtesy of the Faye & Lucille Stewart Foundation.
Impact Philanthropy will introduce and critically analyze various concepts under the emerging field of impact philanthropy. These efforts reflect new ways to finance solutions for social challenges.
Strategic Planning explores the process of strategic planning for communities, public organizations, and nonprofit agencies.
Grant Proposal Writing provides an introduction to the process of preparing grant applications and materials for funded research.
Volunteer Management introduces the professional skills necessary to mobilize short-term and long-term volunteers.
See more courses in nonprofit administration
Immerse Yourself
You can broaden your education and fine-tune an area of specialization by pursuing an academic internship in the nonprofit sector. The Internship Program is an integral component of the PPPM curriculum. Internships provide opportunities to explore and clarify career goals, apply academic learning, enhance and learn new skills, gain experience, and network with professionals. An internship and professional development course is offered each term, and interested NPA minors receive internship advising and assistance with individualized learning goals.
The Student Experience
For PPPM student Rebecca Langham, her experience in the PPPM department studying nonprofit courses was valuable and insightful. "Throughout my time in the PPPM department, I was encouraged to complete projects—including writing grants, developing fundraising plans, and creating a volunteer management plan—with several different nonprofits throughout this community." Her PPPM coursework taught her "many practical skills that I use daily, including grant writing, strategic planning, how to read an activity statement, and an understanding of the nonprofit tax code."
"I was able to speak to these experiences while interviewing for jobs and I continue to be able to apply the knowledge I gained from these projects in my current position. This exposure to the different types of information from academia and practitioners in addition to hands-on experiences and projects provide unique educational experiences that prepare you well for the workforce. Furthermore, I walked into my first job out of college with an understanding of the current climate of the nonprofit and public sector, the challenges the sectors are facing, and the work being done to overcome these hurdles."
Featured Faculty
Associate Professor Reneé Irvin's courses instruct students on effective financial management of nonprofits, fundraising, policy with regards to tax reform and inequality, and running a philanthropic foundation.
Courses and Seminars
Fundraising for Nonprofit Organizations
Public and Nonprofit Financial Management
Seminar in Philanthropy
Inequality Policy Solutions
Assistant Professor Dyana Mason's courses instruct students in the role of nonprofits in advocacy and in forging solutions to societal problems.
Courses and Seminars
Introduction to the Nonprofit Sector
Assistant Professor Saurabh Lall's courses instruct students how the nonprofit sector impacts society through entrepreneurship, philanthropy and management practices.
Courses and Seminars
Nonprofit Management
Social Enterprise
Impact Philanthropy
Career Opportunities
NPA minor graduates are prepared to work in positions in local, statewide, and international nongovernmental organizations, as well as consulting firms. If you are interested in continuing your education, PPPM will provide a sound basis for graduate study in fields such as planning, public policy, business, journalism, and law. You can continue your education at the UO with the PPPM's master's degree programs in Public Administration, Community and Regional Planning, and Nonprofit Management.
Nonprofit Administration
School of Planning, Public Policy and Management