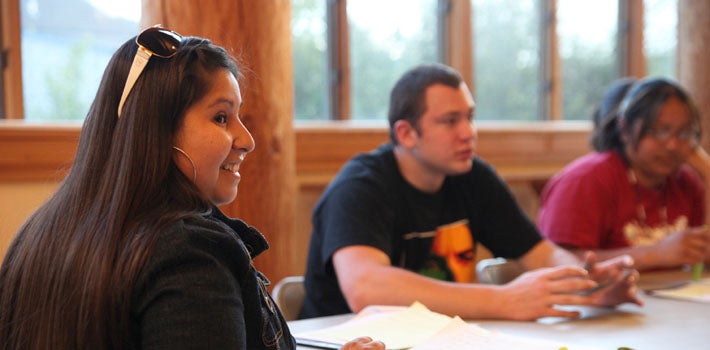 Undergraduate minor
Breaking the Mold
Throw out the old textbooks and dive into a thriving community dedicated to sharing accurate accounts of Native American history; preserving indigenous cultures, identities, and practices; and building an exciting and hopeful future for students and indigenous peoples. The minor in Native American studies not only provides a comprehensive education on local and national tribes but also offers the opportunity to serve the needs of native communities. "As long as there is tribal sovereignty in Oregon and the United States, there will be a need for a Native American studies," says program director, Brian Klopotek.
In 34 courses offered across campus, you'll learn about cultural diversity and preservation, native philosophies, law and social justice, environmental concerns, and even how to speak an indigenous language.
A Welcoming Community
The Native American studies minor has received support and consultation from tribes across Oregon as well as the Native Strategies Initiative, the Northwest Indian Language Institute, the UO's Office of Institutional Equity and Inclusion, and several other university groups. The Native American Student Union (NASU) is also a welcoming resource for students interested in connecting with others and learning more about native communities. NASU's office as well as the Multicultural Center and the Many Nations Longhouse are great places to relax, study, and make new acquaintances.
Sample Courses
Native Americans and Environmentalism
Introduction to Native American Studies
Working with Oregon Tribes
Native American Writers
Oregon Indian History
Sahaptin Language