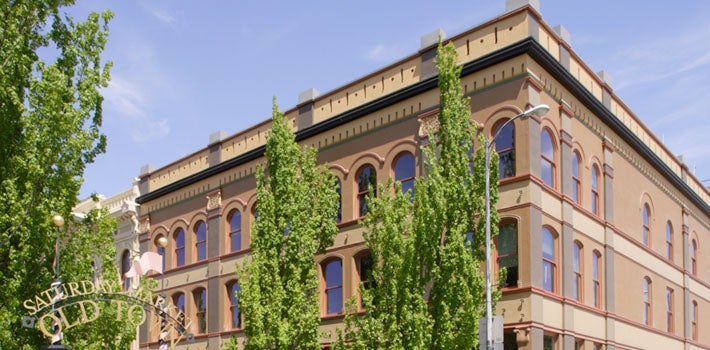 Undergraduate minor
Preserving the Past
Housed within the Department of Architecture, the University of Oregon's Historic Preservation Program offers an undergraduate minor as well as a master of science in historic preservation. The program focuses on broad cultural concerns, including historic places, buildings, and landscapes; materials and construction; the cultural and theoretical context in which buildings were developed; the effect of time upon materials, meanings, and functions; and the technologies, interpretations, and means for sustaining the presence of historic places in the future.
By earning a minor in historic preservation from the UO and meeting the first-year graduate degree requirements with a grade point average of 3.00 or better, you will be eligible to petition for admission into the graduate program. If admitted, you will need to complete only the second-year requirements for the MS degree in historic preservation.
Points of Interest
Sample Courses
Introduction to Historic Preservation introduces you to the history, theory, and practice of historic preservation. The course focuses on the identification and discussion of key issues related to founding principles and contemporary preservation practice.
Interpreting American Architecture from a Preservation Perspective examines the American built environment from the Colonial Era to the present. Marked changes in materials, technologies, and spatial usage are discussed. Particular focuses include stylistic development, building type analysis, cultural context, and historical context.
The Pacific Northwest Preservation Field School offers hands-on experience in preservation during intensive summer field study programs and can include archaeology; cultural landscapes; log, plank and timber frame construction; repair of stone and brick masonry; historic metals; and wood window restoration. Past field school projects have included the Frank Lloyd Wright Gordon House in Silverton, the Peter French Round Barn (1884), the Cape Blanco Lighthouse (1870), and the Wilkins Ranch House at Point Reyes National Seashore (1870).
Preservation Economics arms you with tools needed to creatively and profitably save historic buildings. Topics covered include basic real estate terms and concepts, project feasibility analysis, incentives, tax credits, property tax abatement, easements, transfer development rights, and the federal tax credit application and design review process.
See more courses in the Historic Preservation Program.