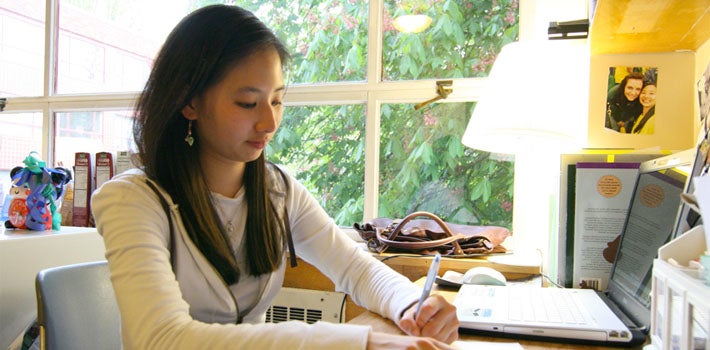 Undergraduate minor
Express Yourself
Do you carry a Moleskine notepad with you wherever you go? Do you identify with poets such as Langston Hughes, William Carlos Williams, or Emily Dickinson? Minoring in creative writing at the University of Oregon will put you on the right path toward a career working with words. The Creative Writing Program offers introductory, intermediate, and advanced writing courses in fiction, poetry, and nonfiction through two formal courses of study, the creative writing minor and the Kidd Tutorial Program. The program also sponsors a number of prizes and scholarships for undergraduates. Small class sizes allow faculty members and students to focus on the details of the work. The maximum class size is 26 in a 200-level course; 400-level courses are capped at 15.
Points of Interest
Launched in 1991 by Walter and Nancy Kidd, the Kidd Tutorial Program works to challenge students in intellectual inquiry, craft-based research, and creative writing techniques. Open by application, students choose a focus in poetry or fiction, then join a small group of students and attend workshops, presentations by successful writers, and critical reading analyses and inquiry sessions.
The creative writing department offers an annual reading series featuring six fiction writers and poets from across the country.
Creative writing students can get hands-on publishing experience working on staff or as contributing writers for the UO's literary arts magazine, Unbound.
Sample Courses
Introduction to Creative Writing: Literary Nonfiction introduces students to the techniques of writing creative nonfiction (the literary essay) and helps them develop a critical appreciation of the art of writing.
Intermediate Fiction Writing is a mid-level study of fiction writing, focusing on a particular genre or style.
Literature for Poets is an advanced discourse on issues and principles related to the craft of poetry
Introduction to Poetry Writing introduces forms and techniques of writing poetry
The Student Experience
Humanities major Eva Bertoglio chose to come to the UO because she wanted a broader liberal arts education to serve as a strong intellectual base for her artistic work. While here, she has served as senior arts editor and editor in chief of the Honors College literary arts journal Ephemera and participated in the Nomad mentorship program in the comparative literature department and in the James Blue film research interest group. Bertoglio, a creative writing and comics and cartoon studies double minor, also participated in the Kidd program and won the third place prize.
"It is because of the Kidd program that I want to pursue poetry professionally," says Bertoglio. "I was able to improve enough in sixth months to place, and I'm really proud of the intense amount of work I've put into poetry and the growth I've achieved creatively."
Applied mathematics major Natalie Edson came into the creative writing minor by accident. She took an Introduction to Poetry class her sophomore year because she thought it would help her write lyrics. After that class, Edson was accepted into the Kidd program in poetry. Edson says the environment of artistic expression and intellectual inquiry helped her grow as a writer. She has served as the senior poetry editor for Ephemera and says that everyone should take at least one creative writing class in college. "Both fiction and poetry pull us outside of our normal way of being—fiction gives us a window into the inner lives of other people, and poetry teaches us different ways of perceiving," she says. "The most important thing you can do for yourself as a young person in an uncertain world is not get trapped in the singularity of your existence." And one more piece of advice? The café in the art museum has the best coffee on campus, by far.
Francesca G. Varela is author of the young adult novel, Call of the Sun Child, and an environmental studies major. She is also a figure skater, pianist, and violinist. Her other writing credentials include being a blogger for Envision: Environmental Journalism and publishing a piece in the environmental studies journal The Ecotone in 2013. Her experiences at UO have provided an excellent combination of opportunity and individualized attention. "UO has all the privileges of a large university combined with attentive instructors and, as far as creative writing goes, small class sizes," says Varela. "It's the perfect blend of large and small; likewise, Eugene feels like both a big city and a small town."
Featured Faculty
Associate Professor Jason Brown is the director of the Kidd program. He has published two books, Why the Devil Chose New England for His Work and Driving the Heart and Other Stories. He came to the UO from Maine because he agreed with the department's philosophy on teaching creative writing. "The way we teach creative writing, students aren't writing in a vacuum like in a journal or a diary," Brown says. "They engage with the literary tradition. They understand literature by doing their own writing."
Career Opportunities
Whether you become a writer, a teacher, a journalist, or a businessperson, the skills you learn with a creative writing minor will serve you well. A proficiency in close reading, vocabulary development, and the ability to write and communicate clearly will help you stand out in the workforce. Brown points out that some of the people who minor in creative writing may become writers, but they will all benefit from a strong liberal arts curriculum. "I increasingly see how few people know how to write well. It's a fundamental skill that will serve people for the rest of their lives no matter what their careers," says Brown. "I get push back from students that their parents will be angry if they minor in creative writing, but I think it's actually one of the most practical majors they can choose."