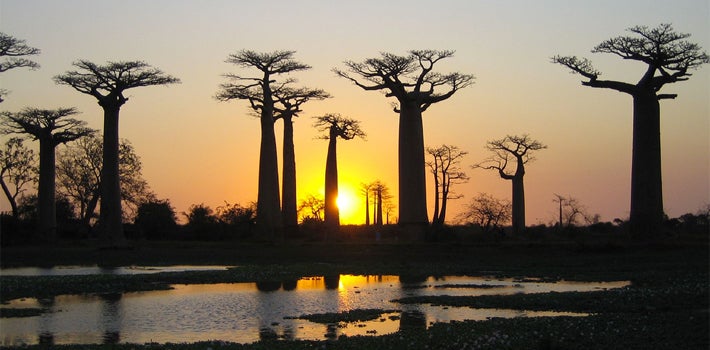 Undergraduate minor
A World of Opportunities
An African studies minor can take you to the heart of the African continent. The minor brings together professors from a wide range of departments who have expertise in African studies. You may learn Swahili or French, study the biology of tropical diseases, or find yourself traveling back in time to the farthest reaches of the British Empire. Professor Leslie Steeves, Director of the African studies program, says, "The professors who are teaching here have personal knowledge about Africa. They have researched there and been there physically and have a unique understanding of Africa that is different from the theoretical one."
A minor in African studies will set you apart and provide you with specific understanding about a developing economic power. Imagine graduating and being able to speak Swahili. Besides, points out Assistant Professor of History Lindsay Braun, lots of people study abroad in London or Paris, but how many can say they've been to Accra, Ghana?
Students will develop a critical understanding of Africa's geography and diversity, while examining and analyzing issues relevant to life in contemporary Africa. African studies is not only a way to understand Africa, it is a way to expand your understanding of the world and its history. "Any student who really wants to understand the entirety of the world, whether they're in journalism, history, sociology, or anthropology," says Braun. "Can find that understanding through African studies."
Points of Interest
African studies is an interdisciplinary program. Faculty members from departments of journalism, folklore, history, biochemistry and more who have an expertise in Africa teach classes in their own fields with an emphasis on Africa.
The African Student Association promotes awareness of African culture on campus through conferences and events, including Africa Nights.
Dance Africa, through the UO Department of Dance, includes student dancers, singers and drummers who share a love and knowledge of African dance tradition.
African studies at the UO offers a full three years of Swahili as a language option.
Sample Courses
Tropical Diseases in Africa explores the biological and medical aspects of major infectious and parasitic diseases in Africa, including HIV/AIDS and malaria. It also focuses on the socioeconomic issues in public health and case studies.
Anthropological Perspectives on Africa is an exploration of the contours of life in contemporary Africa. This course promotes a critical historical perspective on the anthropology of the continent.
African Folklore examines folklore forms across the African continent to analyze themes of history, identity, aesthetics, gender, class, politics, and globalization.
African Languages: Identity, Ethnicity, History is an introduction to the role of languages in understanding African identities, cultures, and migrations.
Precolonial Africa is a survey of African history to the mid-19th century, analyzing processes of state formation, regional and long-distance trade, religion, oral tradition, and systems of slavery.
See more courses in African studies
Immerse Yourself
The university sponsors a summer journalism program in Ghana as well as a summer international studies program in Dakar, Senegal. UO students may apply to study at the University of Ghana; the University of Cape Town or Stellenbosch University, South Africa; or the University Cheikh Anta Diop in Senegal, through the Council on International Educational Exchange. Students can also choose one of 19 programs in 13 African countries sponsored by the School for International Training: Botswana, Cameroon, Ethiopia, Ghana, Kenya, Madagascar, Mali, Morocco, Senegal, South Africa, Tanzania, Tunisia, and Uganda. Financial aid is available for these programs. For more information, contact the Office of International Affairs.
The Student Experience
Tara Sullivan came to school in Oregon to learn about the world outside of her hometown of Whitefish, Montana. Not only did she learn about Oregon, but the international studies major and French and African studies minor also learned quite a bit about Tanzania. Through a study abroad program, she attended the University of Dar es Salaam and interned in the pediatric oncology ward at Muhimbli National Hospital. Sullivan says classes such as African History and HIV/AIDS in Africa at the UO helped to prepare her for the internship. She wrote about the experience for her thesis and won the Honors College Award for International Thesis. Sullivan is volunteering in the Peace Corps in Rwanda after graduation.
As an Oregon native, Gwen Cummings has always been a Duck and says the decision to make it official was an easy one. Still, the international studies major and French and African studies minor wanted to travel the world. While at the UO, she studied abroad in Angers, France, and again in Madagascar. If she could have one superpower, says Cumming, it would be the ability to teleport, so that she could travel the world with ease and still sleep in her own bed at night.
Pre-medical student Donna Kayal, says she loves how the African studies minor has widened her perspective on Africa and doesn't deal with just one specific issue. As a biochemistry major, Kayal thought she would stick to science courses but during her first term at the UO she took a class from Dr. Melissa Graboyes that introduced a lot of case studies from Africa that increased her understanding of medical ethics in other countries. The class piqued her interest so much that she decided on an African studies minor. "The minor expands our knowledge through teaching us more about the culture, the lifestyles, the health, the politics, the economy, history and so forth," she says. "And I think that is what really makes this minor special to me."
Featured Faculty
While learning a new language may seem intimidating at first, Instructor Mokaya Bosire from Linguistics says language learning is almost a biological thing, one of the most natural things we do as human beings. "As long as you speak a language," says Bosire. "You have the capacity to pick up any of the languages." Bosire is from Kenya and teaches his native language, Swahili, by having students use it as they would in real life, buying something at the market, or communicating on a daily basis. "Students want to know Swahili so they can use it at some point in their lives," he says, "when they travel, study, or research to understand what's going on in other parts of the world."
Assistant Professor of History Lindsay Braun came to the University of Oregon because of the strong feeling of community that comes from being part of a shared intellectual journey. Braun's specialty is South Africa and he teaches courses on the history of South Africa. His book, Colonial Survey and Native Landscapes in Rural South Africa 1851–1913, is a survey of the troubled history of that country. "There's as much depth to African history as there is human experience," he says. "You suddenly realize this large gap has existed in your understanding of the world. Once you shine light in it, you have to keep exploring because there's so much there to see."
Although Professor Janis Weeks is a neuroscientist in the biology department, she has also become a scholar on Africa. Since 1996, she has taught in and organized advanced neuroscience courses in Africa for graduate and medical students, through the African Regional Committee of International Brain Research Organization. During her time in Africa, she became a student of Zimbabwean music (specifically mbira and marimba) and has since become the Education Director of the Kutsinhira Cultural Arts Center, a not-for-profit organization in Eugene dedicated to the music and people of Zimbabwe. On campus, Weeks teaches The Biology of Tropical Disease: Africa. She says, "It's great for students interested in global health to see how complicated those issues can be."
Career Opportunities
A minor in African Studies helps students become part of a globalized world. You will engage with Africa, which is becoming one of the fastest growing places of interest in the whole world. Become a diplomat, an aid worker, or a researcher. Your minor in African Studies can provide you with language skills, a specialized medical background or an understanding of culture in a place that is becoming increasingly prominent in world markets. And that will set you a world apart.