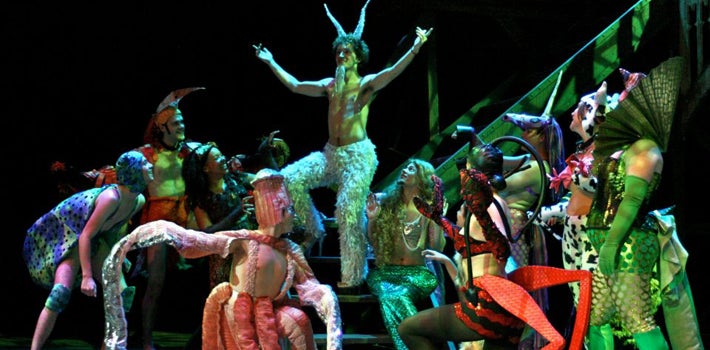 Undergraduate degrees: BA or BS
Undergraduate minor
About the major
The Department of Theatre Arts combines a broad liberal arts education with practical experience through University Theatre productions and studio course work.
Create purposeful works of art and use your voice to change the world. With outstanding facilities, knowledgeable faculty members, and a supportive theatre community, the University of Oregon's Department of Theatre Arts provides everything you need to hone your craft and achieve your goals.  
You'll be given the opportunity to write, direct, and manage your own performances through classes and the Pocket Playhouse, a fully operational theater for undergraduates. In addition, you'll study the history, literature, and cultural aspects of theater across the globe, providing you with a valuable liberal arts background. Learn practical skills such as playwriting, acting, wood construction, sewing, and stage management. Take risks and gain insight in a nurturing and engaging environment. An adventure awaits you, whether your focus is on acting, stage production, or designing dazzling costumes.
A little more info
Auditions for productions are open to all University of Oregon students.
UO students participate in the American College Theater Festival, a year-round program dedicated to enriching college theater throughout the United States.
The bi-annual trip to London, England offers the opportunity to study and see world-class theatre.
The department awards several scholarships and grants to accomplished majors each year.
Workshops and theater panels at the Oregon Shakespeare Festival in Ashland, Oregon, provide a great opportunity to see top-notch theater and work with professionals at the highest level. Undergraduate students can participate in an annual spring break trip for a very low cost.
Career opportunities
Become an actor, stage manager, costume or stage designer, theater technician, or technical director. Theater companies also fill many positions outside of these production areas. Pursue a career in box office, marketing, dramaturgy, or educational outreach. Or apply your skills to productions with a cause such as health, environmental, or cultural issues. A degree from the Department of Theatre Arts will help you develop valuable skills such as public speaking, collaborative problem solving, and critical thinking.  
Notable alumni include Ty Burrell and Kaitlin Olson.