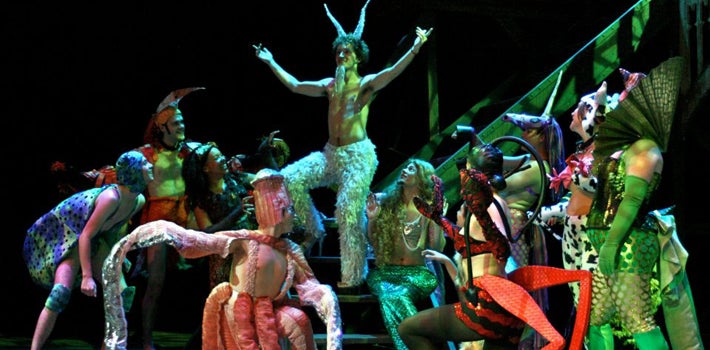 Undergraduate degrees: BA or BS
Undergraduate minor
The Department of Theater Arts combines a broad liberal arts education with practical experience through University Theatre productions and studio course work.
All the World's a Stage
Create purposeful works of art. Explore theater in London. Use your voice to change the world. With outstanding facilities, knowledgeable faculty members, and a supportive acting community, the University of Oregon's Theatre Arts department will provide everything you need to hone your craft and achieve your goals.
As a theatre arts student at the UO, you'll be given the opportunity to write, direct, and manage your own performances either through class or The Pocket Playhouse, a fully operational theater funded and operated by undergraduates. Exercise the freedom of creating your own projects or work with other students and present finished performances to engaged audiences. Instructors are available for guidance and theater facilities will be open for personal use.
The campus boasts cutting-edge performance spaces where you can hone your craft. Take advantage of internships and community opportunities that offer training in box office, marketing, lighting, costume, prop, and scene design, production, and more. In addition, you'll study the history, literature, and cultural aspects of theater across the globe, providing you with a valuable liberal arts background. Learn practical skills such as playwriting, acting, wood construction, sewing, and stage management. Take risks and gain insight in a nurturing and engaging environment. An adventure awaits you, whether your focus is on acting or designing dazzling period costumes.
Points of Interest
Eugene is known for its strong commitment to local theater and other performing arts. It is home to the Hult Center for the Performing Arts and a number of smaller venues, including the Actors Cabaret of Eugene and the Very Little Theatre.
Participate in local theatrical performances off campus with Oregon Contemporary Theatre, Shakespeare in the Park, or the Oregon Festival of American Music.
Auditions for many UO productions are competitive, but not closed, allowing for a diverse collection of actors from across campus.
The theatre arts faculty is committed to providing personalized guidance and support for students. This commitment is demonstrated on the first Fridays of fall and spring terms, which are reserved especially for student advising sessions.
Join theatrical clubs, such as the Arts Collaboration, Pocket Playhouse, or Absolute Improv, where students can delve into the world of art, dance, and music and incorporate new elements into workshops and performances.
UO students participate in the American College Theater Festival, a year-round program dedicated to enriching college theater throughout the United States.
Spring break workshops and theater panels at the Oregon Shakespeare Festival in Ashland, Oregon, provide a great opportunity to see top-notch theater and work with professionals at the highest level.
Sample Courses
Introduction to Design focuses on the principles of design as applied to the arts of theater design, scenery, costumes, and lighting. Creative projects are intended to develop concepts of visual imagery.
Theater Production I introduces the mechanics of mounting a theatrical production including basic construction of scenery and props and use of lighting equipment.
Multicultural Theater looks at the origins and development of contributions in theater and drama by various cultures including Latino and Latina, Chicano and Chicana, African American, Asian American, and Native American artists.
Advanced Acting features different topics each term, including Shakespeare, clowning, the Meisner Technique, dialects, and other intensive training.
Advanced Projects in Theater Technology explores specialized areas of theater technology. Courses concentrate on one topic per term from a variety of skill sets such as scene painting, stage management, props, and computer drafting.
See more courses offered by the Department of Theater Arts.
Interdisciplinary Opportunities
Explore your expressive side. Learn how to work with others on a tight schedule, collaborate and communicate effectively, and ascertain when to take direction as well as when to give it. Learn to take the stage and hold the attention of others. Theater courses can easily be integrated with studies in business, creative writing, history, and education. Whatever your major, you'll benefit from training in theatre arts.
Practical Learning
After developing multiple skills in a handful of required classes, you will be free to explore the wide variety of disciplines the theatre arts department has to offer. Sample an array of theatrical professions during a full season of productions. Meet and attend workshops with guest performers from around the country and collaborate with other departments across campus to create musicals and dance performances.
During alternating spring terms, you may join other students and a faculty member for a term in London. Attend and critically analyze 50 plays and performances and work with professional actors, designers, and writers in the London theater scene. If Elizabethan theater is more your style, spend spring break at the Shakespeare Festival in Ashland, Oregon. Enjoy performances each evening and test your skills during intensive daytime workshops.
The Student Experience
Jade Edmondson planned to major in journalism, but registered for a theater arts course by mistake. That mistake changed the course of her college career. Edmondson realized she loved theater, especially acting. The best part about the theatre arts program at the UO, she says, is that you have to do a little bit of everything, regardless of what your interest is. "It has given me an understanding and appreciation of aspects of theater that I otherwise would not have explored," Edmondson says. A highlight of her major was studying abroad in London for eight weeks. Along with fellow UO theatre arts majors, she saw more than forty plays and took acting workshops with London professionals. Her advice to incoming freshmen is to be open to all the opportunities presented to you. "Expect nothing, embrace everything," she says.
As Department Representative for the Pocket Playhouse, Elah Seidel stays busy on campus. The Playhouse, a student-run theater group that presents up to five works per term, gives students from all majors and backgrounds the opportunity to share their creative work. Seidel had the opportunity to direct a piece that was written by a friend. "The whole experience felt so rewarding," she says. "Because it was amazing to see how much can be accomplished by students and how skilled the people in our department are." Regardless of whether she pursues a career in acting, directing, or teaching, Seidel appreciates that the UO program has allowed her to explore many areas of theater and become a more well-rounded performer
Thomas Varga has participated in the Pocket Playhouse; UO Theatre Productions; University Film Organization; Adrenaline Film Project (Cinema Pacific Film Festival); and Ephemera, the creative arts journal at the Clark Honors College. While a student, his favorite place to hang out was the water feature called Cascade Charley, located outside of Cascade Hall. Since graduating, he is working on his MFA degree in acting at the University of California, Irvine, with the hope of pursuing a career in acting on stage and in film. "The UO has helped make this crazy dream more of a reality," he says. "By providing me with the skills, confidence, and self-evaluation that I need to take my first steps toward making acting my profession."
Featured Faculty
While Assistant Professor Michael Najjar has many interests in theater arts, much of his attention is focused on Arab American theater. From his study of various playwrights, comedians, directors, and performers, Najjar has analyzed and published literature on how the Arab American genre has taken root and found an identity. He writes and directs his own plays and teaches Arab American Theater, among other fascinating courses. Currently, he is completing a book, Recasting and Restaging Arab America: Modern and Contemporary Theater, Film and Performance, published by McFarland. "I believe the theater is a force of social change. It can speak to us on multiple levels and is ultimately a force for good in the world," says Najjar.
Professor Emeritus Alexandra Bonds specializes in a number of theatrical topics. Her most recent project involved coordinating three exhibits representing theater design in the United States for the 2011 Prague Quadrennial exposition. During spring terms when students have the option of studying abroad in London, Bonds often teaches interactive courses such as "A Living History of Tudor London," where students craft their own Tudor characters, researching their occupations, dwellings, leisure activities, lifestyles, and more. She is also an expert on Beijing opera costumes and has published a book about how the costumes in this performance style symbolize "the visual communication of character and culture."
Career Opportunities
Become an actor, stage manager, costume or stage designer, theater technician, or technical director. Theater companies also fill many positions outside of these production areas. Pursue a career in box office, marketing, dramaturgy, or educational outreach. Or apply your skills to productions with a cause—such as health, environmental, or cultural issues. You may even decide to develop theater arts programs in communities with limited resources. "About 30 to 40 percent of our majors go on to do some form of theater and continue working in the profession," says Associate Professor John Schmor. A degree from the theatre arts program will help you develop valuable skills, such as public speaking, collaborative problem solving, and critical thinking. "It's always valuable to pursue what you love to do," says Schmor. "We have structured the major to open all kinds of doors."
Contact Information
541-346-4171
541-346-1978 fax
Search Keywords:
drama, performing arts, performance, theatre, playwriting, acting, wood, sewing, stage management, props, acting, actor, actress, act, arts, improv, play, plays, production