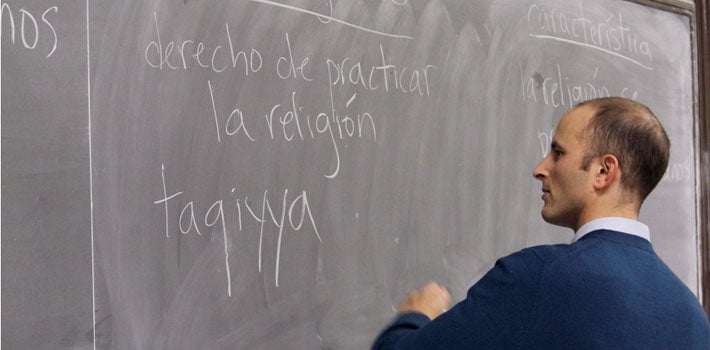 Associate Professor David Wacks in a class on the tres culturas (three cultures: Christian, Jewish, and Islamic) of medieval Spain.
Spanish is one of the four Latin-based (or Romance) languages taught in the Department of Romance Languages at UO, along with French, Italian and Portuguese.
Undergraduate degree: BA
Language, Culture, and Travel
There's something wonderful about studying another language, being able to think and express yourself in a new way. Using that skill to communicate with people whose culture and life experiences are very different from yours is exciting and brings an amazing sense of accomplishment.
Spanish is the official language of more than twenty countries in the world, and it is the de facto second language of the United States. In the Spanish sector of Romance Languages Department, professors help students develop linguistic abilities in the language, with an emphasis on real-world proficiency. They also introduce students to the major historical and cultural phenomena that characterize the Spanish-speaking world.
You might want to study Spanish language and culture to get in touch with your family's history. Or maybe you're looking forward to traveling in a foreign country, and you want to take some language skills with you. Perhaps you're interested in a global business career that involves multinational companies. Whatever the basis of your interest, the University of Oregon's Spanish major will help you to expand your knowledge and horizons.
The Department of Romance Languages is a diverse multicultural and multilingual unit with a first-rate faculty from around the world. As a major or minor, you will gain an extensive knowledge of languages and cultures and will have invaluable opportunities for intellectual growth. You'll also be able to engage in a wide variety of extracurricular activities including lectures and film festivals, language conversation groups, study abroad programs, and internships.
Points of Interest
Immerse yourself in the Spanish language and its associated cultures—experience the magic of a study abroad program in Europe, Africa, or Latin America.
Earn UO credit for a Participatory Learning Experience, a bilingual internship program that allows students to use Spanish language skills as volunteers in Lane County.
Practice your new language skills during casual weekly gatherings of speakers with varying experience and abilities in the target language.
Use your Spanish every day in Vivir en Español, the Spanish-language residential community in the Global Scholars Hall.
Take part in Spanish Heritage courses, a new program for students with a family or community connection to the language.
Spanish Heritage Courses
The Spanish Heritage Language Program (SHL) is an initiative of the UO Department of Romance Languages designed to meet the needs of the changing population of our university. The SHL Program is intended specifically for Spanish heritage language learners—students who have a personal, familial, or community connection to Spanish. It comprises a variety of courses at the undergraduate and graduate levels taught by a diverse cross-section of UO faculty.
Sample Courses
Cultura y Lengua: Cambios Sociales is an entry to the major that allows students to investigate the historical background and major currents of change in modern-day Spanish-speaking countries. Topics range from issues of gender and race to revolution and technology.
Spanglish as a U.S. Speech Community introduces students to the topic of language contact and variation, focusing on the co-existence of English and Spanish in North America since colonial times. Students take their analysis outside the classroom, carrying out activities in bilingual communities in Oregon.
Transatlantic Murder Mysteries exposes students to the detective novel from around the Spanish-speaking world, providing the historical and cultural context that distinguishes this genre. Students let their creative juices flow by writing original short stories or making short films in Spanish.
Learn more about courses in Spanish.
Interdisciplinary Opportunities
While studying other cultures, you will learn from experts across the disciplines. A student majoring in Spanish can complement the program in a cross-disciplinary fashion, taking courses in Latin American studies, European studies, comparative literature, women's and gender studies, ethnic studies or African studies. You might also consider adding courses in history, art history, music, or linguistics to your academic plan.
Hands-on Learning
You already know the benefits of gaining intercultural experience and language skills. Taking advantage of a study abroad program is one of the best ways to expand your language abilities and enrich your undergraduate career. The University of Oregon sponsors study abroad programs in nearly 90 countries around the globe. You may be able to study abroad by the end of your first year at the university, so talk with your adviser as soon as you choose a focus.
The university has an impressive number of study abroad offerings in the Spanish-speaking world. You could study in Argentina, Ecuador, Mexico, or Spain. Course options vary according to the program. You may wish to study history, anthropology, Arabic studies, business, economics, journalism, or other subjects.
The Student Experience
Ryan Tarbet's commitment to playing the trumpet brought him to the UO, but it wasn't long before he found an interest in Spanish. While reading the original version of Don Quixote's fantastic adventures, working with enthusiastic like-minded individuals, and building strong relationships with locals while studying abroad in Oviedo, Spain, his passion for the language flowered. With guidance from supportive professors such as Robert Davis, he completed a Second Language Acquisition and Teaching Certificate and decided to pursue teaching Spanish at the high-school level.
Although Beatriz Tafolla grew up speaking Spanish, she felt she would benefit from a formal education in the language. With the help of professors such as Amalia Gladhardt and Cecilia Enjuto Rangel, she was able to develop a new perspective on Spanish while completing a degree in psychology. In her limited spare time, she volunteered at the Oregon Social Learning Center as a translator for Spanish-speaking families. Tafolla achieved a gratifying 4.0 GPA and was accepted into a mental health–counseling program in Portland.
When she isn't playing the violin, Abigail Young is learning how to read, write, speak, and think in Spanish. Her challenging major has taken her across the globe and broadened her understanding of theater, history, art, literary criticism, and more. The more essays she writes in Spanish, the more she realizes how learning another language has lessened her writer's block and improved her confidence in the classroom. Young is looking forward to continuing her education at the University of Miami's Frost School of Music, where she will have many more opportunities to put her Spanish skills to good use.
Featured Faculty
Robert Davis, professor of Spanish, focuses his work in second-language teaching on the use of authentic materials (content-based instruction) and teaching culture. His courses include second-language teaching methods; the cultures of Spain; and Spanish and Romance linguistics, including Spanish phonetics, history of the Spanish language, Spanish dialects, advanced grammar, and comparative Romance linguistics.
Analisa Taylor, associate professor of Spanish, specializes in contemporary Latin American literature. Her teaching and research focus on Mexican, Central American, and Chicana and Chicano social movements and cultural expression.
Career Opportunities
You can use a bachelor's degree in Spanish to pursue a career in teaching or in any field that requires fluency in your second language. You might go into international business, diplomacy, government, or foreign service. Translation and editorial work are also good options. You may decide to go on to graduate school in Romance languages or in another discipline such as international law.
Department of Romance Languages
Contact Information
541-346-4021
541-346-4030 fax