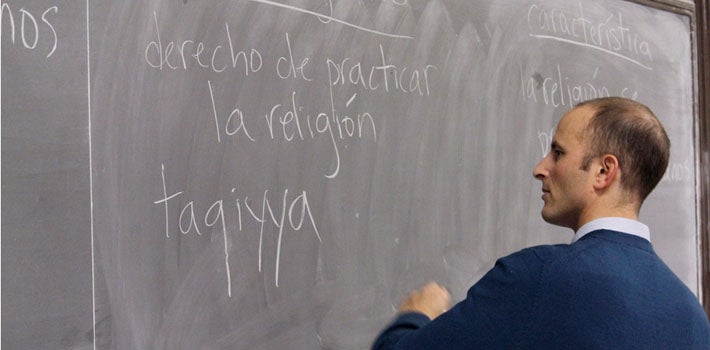 Associate Professor David Wacks in a class on the tres culturas (three cultures: Christian, Jewish, and Islamic) of medieval Spain.
Undergraduate degree: BA
Undergraduate minor
About the major
Spanish majors explore the language, literature, and cultures of the modern and historical Spanish-speaking world.
Students choose one of two concentrations. The literature and culture concentration offers classes in literature, film, visual arts, and other media from many different periods. This gives students the chance to explore the breadth and depth of the cultures of the Spanish-speaking world. The language and society concentration exposes students to the historical and social contexts of Spanish-speaking communities. Students gain knowledge of the linguistic structure of the language and its different varieties, which highlights the social characteristics of communities where Spanish is used.
A little more info
Students of Spanish have many options for international study abroad.
There are also options for immersion experiences right here in Oregon (Willamette Valley, Spanish immersion and organic farming).
The Department of Romance Languages offers many career-oriented courses (e.g. Spanish for education).
The department also offers multiple opportunities for local and international internships.
The Department of Romance Languages offers a program in Spanish as a Heritage Language (SHL), designed specifically for students who are heritage students.
Career opportunities
Spanish majors pursue careers in management; arts and media; business and finance; education and training; community and social services; and administrative support.
The top occupations for the department's majors are: K-12 teachers; marketing managers; sales managers; lawyers; managers and executives; and human resource specialists (source: EMSI).