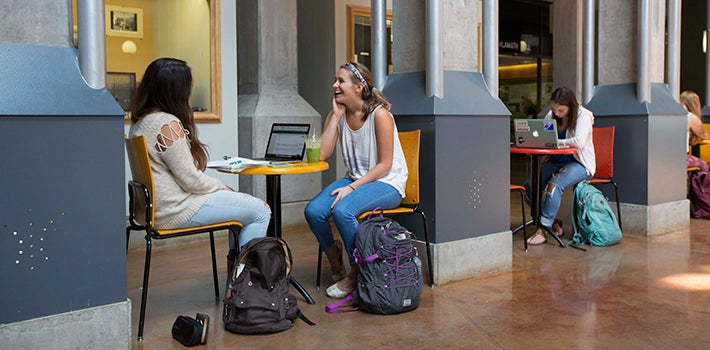 Undergraduate degrees: BA or BS
Undergraduate Minor
Building a Toolkit
A background in sociology provides a strong foundation for understanding society and relationships between people. The Department of Sociology offers ten areas of concentration. These different areas allow you to focus on a specific sociological interest group; thus you can adapt the major to fit your needs and future goals. The options are:
Crime and delinquency
Culture, education, and religion
Environment, population, and society
Family, gender, and sexuality
International systems
Politics and social movements
Race, ethnicity, and social change
Work, labor, and economy
Department Head Professor Jocelyn Hollander says that the Department of Sociology provides its students with an academic toolkit to start answering the question: What makes social change happen? Sociology looks at groups, not individuals, and focuses on the big questions. Why did fertility begin to decline 300 years ago? Why have mortality rates gone down? What is the cause of population migration?
Sociology majors gain a foundation in theory, research methods, and data analysis. Students then put those skills to use in upper level classes, internships, research labs, and jobs.
The department offers a sociology mentor course, which gives you the opportunity to work with instructors on career planning, networking, and identifying your strengths and skills. It helps with the nuts and bolts of building a résumé, writing letters of introduction, and developing informational interviewing skills. Staff members in the mentor program link you with two professionals employed in your fields of interest, to enhance your career understanding.
The sociology department strives to create a rewarding and individualized experience for each student, and offers several small classes to encourage academic and professional connections with faculty members. 
Points of Interest
Eight areas of concentration allow you to adapt the major to your individual needs and interests.
Mentor courses link students with professionals in their fields of interest.
You can gain practical professional skills while giving to your community through local internship opportunities.
The sociology department at the UO is the oldest sociology program in the United States west of the Mississippi River.
The faculty includes specialists in criminology, demography, education, organizations, race and ethnicity, and religion.
The Social Science Instructional Laboratory can help bring students in the social sciences up to speed. The lab provides computer support and training, particularly in the areas of statistics, Geographic Information Systems, and web publishing.
As a sociology student, you can earn academic credit through an Internship Practical Learning Experience in Sociology.
Sample Courses
Community, Environment, and Society explores the interrelationship of social and environmental factors in human communities, processes of community change, and the impact of environmental change on human communities.
America's Peoples examines how the size, composition, and distribution of America's ethnic and racial subpopulations have shaped social structure, social culture, and social change in the United States.
Social Issues and Movements views contemporary social issues, ideologies, and social movements in relation to the social structure of American society.
Sociology of the Family puts the family in historical perspective, providing an introduction to the family as a social institution and small-group association.
Sociology of Women explores the position of women in contemporary society, including women and work; politics; families and the economy; women's movements; and the intersection of gender, race, and class.
See more courses offered by the Department of Sociology.
Hands-on Learning
The department offers opportunities to work as undergraduate peer advisors or as student assistants on faculty research projects. Sociology internships can be found on the Department of Sociology's website or through the Internship Practical Learning Experience in Sociology. Previous interns have worked in health and social services for children and adults; in women's services; with the police; with social or political organizations; or in local schools.
Motivated sociology majors have the opportunity to apply for the department's honors program. This opportunity allows students in their senior year to work closely with faculty members on a year-long project and honors thesis.
Interdisciplinary Opportunities
Sociology can be integrated with many other disciplines. You might be interested in law or political science. You can apply sociological knowledge to course work in anthropology, history, education, and psychology. You can also combine your sociology major with programs like environmental studies, women's studies, or ethnic studies to create a unique skill set.
The Student Experience
Andrew Harmon decided to major in sociology the first quarter of his freshman year. He took Associate Professor Michael Dreiling's introduction to sociology class, and "it turned my world upside down." For his honors research project, which he presented at the American Sociological Association's conference, Harmon delved into how the Internet has changed the environmental movement. Harmon says that "sociology has affected every aspect of my life," from becoming an environmentalist to understanding other cultures.
Rebekah Young felt that sociology was an area in which she could push herself, and decided on becoming a sociologist before coming to the UO. She felt the UO program was a great fit for her, and she recently co-authored an article with Associate Professor Michael Aguilera on her research on child-bearing considerations. "It was really exciting to find a professor who wanted to publish with an undergraduate," Young says.
Kane Kim transferred to the UO because of the open-minded mentality he found in Eugene, and majored in both sociology and biology. Also an honors student, Kim's research involved an ethnographic study of US veterans who have recently resumed their undergraduate studies after serving in Iraq. Kim helped usher the Veterans and Family Student Association (VFSA) into becoming a recognized student group on campus. "Take part in anything and everything," Kim says. "Too many people put themselves in a box before they know who they are." 
Featured Faculty
Associate Professor Michael Dreiling's research interests include collective action and social movements, environmental sociology, political sociology, social network analysis, and sociology of work. He teaches courses on American society, work and labor, community and the environment, and social movements.
Professor John Foster teaches environmental sociology, social theory, Marxism, and political economy. His research interests include ecological crisis, economic crisis, imperialism, and social theory.
Professor Patricia Gwartney focuses her research on work and gender, premarital process, and conflict resolution. She teaches about household and family demography, social demography, as well as research methods and measurement.
Assistant Professor Jill Harrison is focusing her research on the local effects of globalization. Her recent ethnographic analysis of Louisiana shrimp fishers shows their diverse means of occupational and cultural survival during these changing economic and environmental times. Professor Harrison also researches union activism and organizational change. She teaches classes on the sociology of everyday life, globalization and social change, and ethnography. 
Career Opportunities
An undergraduate degree in sociology provides a breadth of knowledge that helps students excel in positions throughout the business, social service, and government arenas. This broad and practical body of knowledge provides a stable foundation in any number of careers. The research and interviewing techniques you learn will serve you well in areas from journalism to human services to education. A background in sociology might lead to a career in social work, law, or work with government agencies, and can also be useful in medical and health care careers. Sociology provides a strong base for further education in business or medical school, and some students may pursue future graduate work in sociology to become a professor, researcher, or applied sociologist.
Contact Information
(541) 346-5002
(541) 346-5026 fax