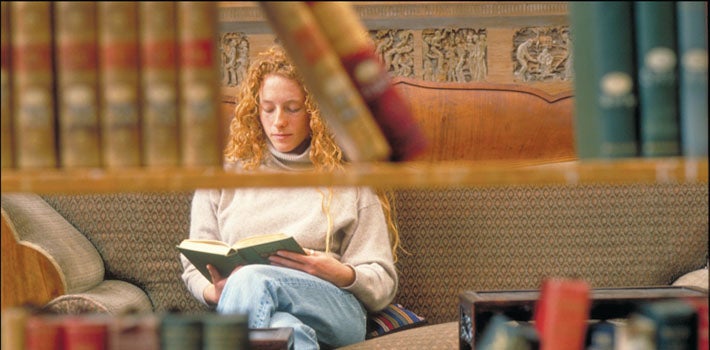 Scandinavian is a minor taught within the Department of German and Scandinavian.
Undergraduate minor
Nordic Identity and Scandinavian Culture
You might want to study Scandinavian culture or learn Swedish to get in touch with your roots. Maybe your grandparents sang Nordic folk songs, baked delicious Danish pastries, or told tales about the old country. Maybe you've already traveled in Europe or want to learn about cultural differences and immerse yourself before doing so. Or you may want to build a career in a global business environment
Approximately 20 million people's mother tongue is a Scandinavian language, and notable Scandinavian literature spans a broad range from the beloved children's stories of Hans Christian Andersen to modern crime novels by Stieg Larsson. Scandinavian heritage permeates Western society, particularly in the areas of classical music, literature, science, philosophy, and theology.
Learning about other cultures fulfills the primary purpose of a university education—it will prepare you to reason, analyze, solve problems, and communicate in a world of widely differing cultures. The UO offers the only minor program in Scandinavian in Oregon. Classes are small and discussion-based with engaging activities designed to involve and engross students, with both group and individual writing assignments.
Assistant Professor Gantt Gurley says, "College is a time to learn to explore, to set boundaries and jump over boundaries that you won't have the luxury to do later on. Scandinavian studies sets up a larger configuration of European and cultural studies. It is about the life of the mind."
Points of Interest
Get a taste of music, art, philosophy, and literature while building your language skills through on-campus course work.
Experience the magic of UO Study Abroad programs in Austria, Denmark, Finland, Germany, Norway, or Sweden. Ski, take a dip in a frozen lake, research your ancestors, see the aurora borealis, and learn idioms from native speakers—all while receiving UO credit.
Find inspiration and other like-minded students through cultural activities such as the Nordic Film Summer Series.
Sample Courses
First-Year Swedish provides a thorough foundation in the language through speaking, writing, listening, reading, and grammar exercises to help students develop fluency and an understanding of Swedish culture.
Emergence of Nordic Cultures and Society looks at the early history of the Nordic area from the days before the Vikings to the mid-1800s, including Scandinavian and Finnish folklore, Shamanic traditions of polar peoples, and art and music.
Periods in Scandinavian Literature includes topics such as modern breakthrough and modernism in Scandinavian literature.
Modernity and the Janus of Subjectivity: From Kierkegaard to The Girl with the Dragon Tattoo examines the cultural change and the meaning of the self that occurs in Scandinavia from the French Revolution to the end of the 20th century by examining the reactions of artists, composers, writers, and filmmakers.
See more courses in Scandinavian.
Immerse Yourself
Students in the Scandinavian minor are strongly encouraged to spend a year studying abroad. Currently students can study abroad in several places, including Denmark at the Danish Institute for Study Abroad (DIS) or at the Copenhagen Business School; in Finland at the University of Tampere; in Iceland at the SIT program in Renewable Energy, Technology, and Resource Economics; in Norway at the University of Bergen or the University of Oslo; or in Sweden at Uppsala University.
The Student Experience
English major Tyler Farmer sees his Scandinavian studies minor as a way to enhance his liberal arts degree. He studied at the University of Oslo in Norway for one year and, although he finds it hard to pick a favorite, says he admires assistant professor Gantt Gurley for his dynamic personality and forum-style courses. "He gives students the opportunity to have an intellectual discourse in the classroom," says Farmer. "And he often challenged people not only to write well-argued papers, but to come up with the subject of the paper themselves, rather than handing out a list of prompts to choose from."
Featured Faculty
Associate Professor Michael Stern's research interests include Nietzsche, Kierkegaard, critical theory, theories of progress, and 19th-century Scandinavian literature. Stern has taught courses on the medieval Icelandic Sagas and the literature of social protest, among others. One of Stern's eclectic courses is Samurai, Vikings, Gangsters, and Cowboys.
The research of Assistant Professor Gantt Gurley includes ancient and medieval song culture, the birth of the novel, the Wandering Jew, Long Romanticism, Old Norse literature, the lyrical mode, Hans Christian Andersen, and notions of religiosity in the Danish Golden Age. His forthcoming book Meïr Aaron Goldschmidt and the Poetics of Prose examines one of Denmark's greatest nationalistic writers as first and foremost a Jewish artist. Whereas some programs may focus on just the study of one country or culture, Gurley sees Scandinavian studies as part of a larger study of Europe and the world. "The Vikings never stayed in Scandinavia, so why should we?" he says. "The UO Scandinavian program is a much broader range of intellectual activity instead of just a simple regional department."
Career Opportunities
Associate Professor and department head Michael Stern says the program teaches students how to think critically, read texts, present ideas, make coherent arguments, and have cross-cultural competence. You can use your minor in Scandinavian studies to pursue a wide variety of careers, including in college or secondary teaching, international business, diplomacy, government, and translation and editorial work.