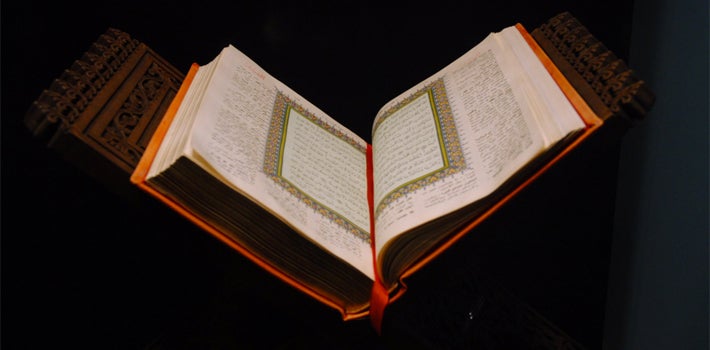 Undergraduate degrees: BA or BS
Undergraduate minor
The World of Religion at Your Fingertips
How has the political climate in the Middle East played a role in the development of Islam? What can archaeology tell us about early Christianity? How has ancient Shintoism shaped Japan's culture today? Study religion at the University of Oregon and world-renowned scholars will teach you how to think critically about answers to these questions and much more.
In today's increasingly globalized world, the importance of cultivating a deeper understanding of our international community is more important than ever. The Department of Religious Studies is committed to this concept and focuses on the history and philosophy of eastern and western religions through an examination of original texts, rituals, beliefs, and subgroups. "Many students have found that it is very difficult to understand a specific culture without first studying its religions," says department head Mark Unno.
Whether learning about Hinduism, Buddhism, Christianity, Judaism, Islam, or a variety of other religions, you will not only come away with a rich understanding of the region where the religion began and the people who continue to practice it today, but also learn how religions migrate and transform with societies over time. Study multiple facets of culture including sex and gender paradigms, ethnicity perspectives, nationalism, colonialism, mysticism, and comparative religion.
Points of Interest
Every year, the department presents the Ira E. Gaston Lecture in Christianity and a talk from the Distinguished Visiting Lecturer in Asian Religion.

The department's

faculty members specialize in Judaic, Christian, and Chinese religions as well as Japanese Buddhism and the Hebrew language. They are fluent in multiple ancient languages and have won awards for their teaching.

Visit the Eastern Orthodox churches of Russia, Buddhist temples in

Thailand, or the cathedrals of Europe with one of the study abroad programs offered through the UO.

The religious studies department is home to the Arabic Language

Program, directed by David Hollenberg.
Sample Courses
Early and Medieval Christian Heresy surveys various heretical beliefs from early medieval Christian history and examines alternative visions of Christian truth.
Readings in Confucianism incorporates close reading of one or more Confucian texts in English translation with attention to religious, philosophical, and historical contexts, the history of interpretation, and critical scholarship.
Dark Self, East and West compares selfhood in Eastern and Western religious thought and cultural contexts. You will focus on the dark side or problematic dimensions of Buddhist, Christian, Daoist, Jewish, and other forms of thought.
Hinduism: Myth and Tradition examines Hinduism's complex system of doctrines, myths, rituals, and spiritual practices and explores their historical development.
Martyrdom investigates themes of sacrifice and martyrdom in ancient and medieval literatures of the Abrahamic traditions. Take a comparative approach to the development of concepts within and across religious boundaries.
Jesus and the Gospels considers early evidence for Jesus, including canonical and noncanonical gospels, in light of critical scholarship and historical reconstructions.
See more courses offered by the Department of Religious Studies.
Immerse Yourself
Investigate the lives of important figures throughout history. Explore the religious history of ancient institutions and communities. Hold significant historical artifacts in your hands and deduce communal beliefs and practices.
As a student, you'll take 44 credits in religious studies courses. The program incorporates classes taught by faculty members from the English, history, sociology, international studies, and geography departments. Many courses in religion also are cross-referenced with philosophy, history, classics, and the humanities. Learn skills such as analyzing texts, constructing strong arguments, and writing with proficiency. Ponder perspectives from different disciplines and make new connections across academic boundaries.
In addition to class field trips to museums or the local Buddhist temple, students have the opportunity to apply for internships with religiously affiliated organizations in the community or pursue individual research projects under the guidance of professors.
The Student Experience
Even though her scholastic path has covered a variety of topics,
Cierra Mills
is on track to change the world. After growing up in Eugene, Oregon, Mills couldn't wait to start studying at the UO. She started with an interest in human physiology and physical therapy, but after taking an introduction to religion class she decided to change course. Mills will be graduating with a focus in women's and gender studies and East Asian religion and culture. She plans to study Sanskrit at the
Mangalam Buddhist Language Research Center
before continuing her work in women's studies in graduate school.
For Leonard Swanson it was Eugene's beautiful scenery and the UO's football games that inspired him to leave his Michigan hometown. Originally focused on economics, he soon grew interested in meditation and decided to pursue his curiosity about Eastern religions. He enjoyed the flexibility and challenge of unique courses like the Psychology of Religion and exercised his knowledge by volunteering at the local Soto Zen Buddhist temple. With support from instructors like Mark Unno, Swanson studied abroad in Bali and wrote a comprehensive essay on meditation and divine inspiration.
The world-class scholars, diverse topics and traditions, and interdisciplinary nature of the religious studies department persuaded
Eric Tojimbara
to enroll as a
postbaccalaureate student
. With an educational background in English and philosophy, he discovered his true passion was for East Asian theory and politics. "Religion is key to understanding how others think," says Tojimbara, who plans to finish a master's degree in Asian studies and medieval Buddhism before tackling a doctoral degree.
Lauren Zimmerman yearned for an environment rich with activities, programs, unique courses, supportive instructors, and an interdisciplinary structure. The UO had it all. With an interest in history, political science, and religious studies along with guidance from instructors like Vena Howard, Zimmerman learned to critically analyze cultures around the world. She hopes to broaden her knowledge with a study abroad program before applying for law school and embracing her dream of working in the international sector.
Featured Faculty
When she isn't analyzing incense or traveling across the globe to visit ancient royal gardens, Associate Professor Deborah Green enjoys teaching about classical Hebrew, early rabbinic Jewish, introduction to the bible, and martyrdom. Green has won numerous awards for her research and teaching ability and she delights in challenging her students to go above and beyond to obtain success. Her latest book, The Aroma of Righteousness: Scent and Seduction in Rabbinic Life and Literature delves into the interconnection between rabbinic incense and biblical interpretation. 
Even as a teenager Associate Professor
Stephen Shoemaker
knew he wanted a career that would allow him to teach and study a variety of languages. Now, as a member of the Department of Religious Studies, he enjoys deciphering ancient manuscripts in 15 languages and sharing his knowledge with students. His specialties are ancient and early medieval Christianity and the beginnings of Islam. Shoemaker earned several research fellowships for his controversial new book about the death of Muhammad and the beginnings of Islam. He teaches classes in ancient and medieval Christianity, Islamic origins, world religions, and Eastern Christianity.
Career Opportunities
Travel around the world and cover religion as a journalist. Conduct thorough research or act as a consultant for large companies. Become a hospital chaplain. Sit on the interdenominational board in your community. With skills in language and historical research as well as sensitivity toward the diversity of people's beliefs, you will be ready to tackle professions in social work, counseling, nursing, law, teaching, religious vocations, and more.
Department of Religious Studies
Contact Information
(541) 346-4971
(541) 346-4118 fax 
Program banner photo credit: Paul Trafford