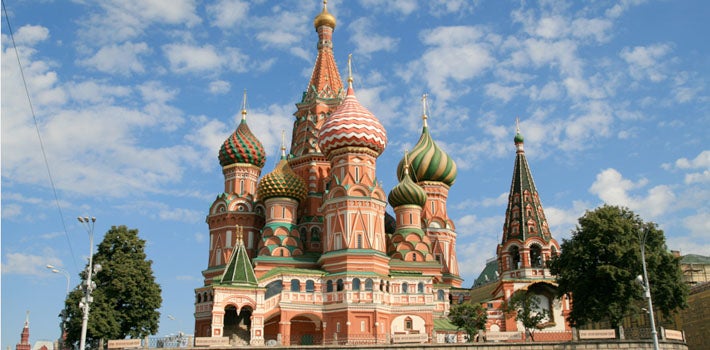 Undergraduate degree: BA
Undergraduate minor
 
Language, History, Culture, and More  
As Russia's profile on the world stage grows larger, the University of Oregon's program in Russian, East European, and Eurasian studies (REEES) has grown to reflect that change. Students interact with native Russian speakers, perform in bilingual plays, and learn about the unique political foundations of the Russian Federation. Whether your interests in Russia, Eastern Europe, or Eurasia have traditional roots in the literature of Dostoevsky and Pushkin or stem from a slightly more unconventional fascination with Russian zombie cinema, there is a place for you in REEES.
As a REEES major, you'll study the peoples living in the eastern third of Europe, throughout the northern steppes of Central Asia, and across Siberia to the Pacific Ocean. Settled over a territory that spans half the earth's time zones, these peoples have been ruled by some of the most powerful empires in history—including the Byzantine, Mongolian, Holy Roman, and Soviet empires. This expansive history has created a complex mosaic of cultures, expressed in literature and art as well as in institutions and social forms.
REEES is one of the oldest centers devoted to the study of Russia, Eastern Europe, and Eurasia in the United States. Established in 1968, it was a founding institutional member of the American Association for the Advancement of Slavic Studies. The program brings together students and scholars with a shared interest in the region for lectures, collaborative projects, and social events. You will find many opportunities to expand your studies of the rich cultures of Eastern Europe and Eurasia, including history, literature, art, and politics.
Points of Interest
Enjoy the UO's annual Russian film series, department-sponsored musical performances, and Eastern European cultural festivals.
Join the annual bilingual Russian play production, polishing your language and cultural skills while earning credit.
Take part in the Russian Club (Russkii klub), an undergraduate group that sponsors activities such as holiday parties and cultural gatherings.
Improve your language skills with a summer, a term, or a year abroad. Opportunities for study abroad are available in Russia and many of the newly independent states of the former Soviet Union.
Sample Courses
Introduction to Russian Literature is a survey of Russian literature from its origins to the present, with emphasis on Pushkin, Gogol, Turgenev, Dostoevsky, Tolstoy, Chekhov, and contemporary works. Readings, lectures, and discussions are conducted in English.
East European Folk Ensemble is a performance experience in which instrumentalists and singers learn village-style folk dance music from Bulgaria, Macedonia, Serbia, Greece, and neighboring regions of Eastern Europe.
Imperial Russia is an overview of Siberian and North American expansion, including topics as diverse as Peter the Great, Catherine the Great, abolition of serfdom, industrialization Silver Age culture and revolution; World War I and collapse.
USSR & Contemporary Russia examines the rise, development, and collapse of the Soviet Union, the world's first communist regime. Topics include the Russian Revolution, Stalinism, war, culture, and society.
Mythology of Saint Petersburg examines the diverse literature that contributes to the history of this city known as the "cultural capital" of Russia. From guidebooks to journals to royal decrees discover how the myth of a city is created.
See more courses in Russian, East European, and Eurasian studies.
Hands-on Learning
For mastery of any foreign language, there is no substitute for living in the country in which it is spoken. You will find UO connections in Moscow, St. Petersburg and Irkutsk, one of Eugene's sister cities. There are also opportunities to study in most of the newly independent states of the former Soviet Union, including Armenia, Azerbaijan, Belarus, and Ukraine, as well as in the states of East-Central Europe—the Czech Republic, Poland, Hungary, and others.
On campus, you can polish your language and cultural skills while earning academic credit by participating in the annual Russian play production. And make sure to catch a performance of Trio Slavej, a group of UO musicians who play Balkan village styles on traditional instruments. The ensemble also offers educational programs such as lectures; demonstrations; and pre- and post-concert talks on various aspects of Balkan and Romani music, culture, and history.
Interdisciplinary Opportunities
As part of the major, you may take courses in Russian language, literature, film, history, culture, and politics, and in East European and Eurasian geography, anthropology, art history, musicology, and linguistics. You can easily apply courses in comparative literature and political science to your studies in Russian. You could also add coursework in sociology and religious studies to round out your exposure to language and culture.
The Student Experience
Jessica Jones found her niche studying in the Russian, East European, and Eurasian Studies program. The REEES faculty "provided me with both the challenge and the passion I needed in my undergraduate experience," says Jones. She spent a summer in Vladimir, Russia, on a critical Language Scholarship awarded by the U.S. State Department. Of her time abroad, the most rewarding aspect for Jones was "living and interacting with Russians, breaking down the barriers between our cultures, person-to-person."
While living in Russia, Jones' language abilities greatly improved, allowing her to play one of the main characters in REEES's annual play. Directed by Russian professor Julia Nemirovskaya, Jones says that the play helped her "connect with other Russian speakers on campus and in the community and helped me develop my Russian vocabulary and pronunciation, while at the same time being one of the most entertaining, worthwhile classes I have ever participated in."
Braden Larson, a double major in REEES and biology, combined these two academic fields to be able to use his Russian to aid research collaborations and translations of research. He studied abroad at Moscow State University in a program called "Biotechnology and Russian." All lectures and classes are conducted in Russian and are designed to give natural science majors a chance to experience a scientific research community. "Science and research is already a language in itself, and to learn all of it over again in Russian was a rewarding challenge," says Larson. Larson also played the main characters in two of the annual Russian theatre productions at the UO. He credits many of the REEES faculty members with his success and interest with the Russian language. "Russian culture is so rich," says Larson, "there is always something new to experience and the language reflects this."
Featured Faculty
The research interests of associate professor and REEES program director, Jenifer Presto, focus on Russian modernism, gender studies, and cultural studies. She teaches courses in twentieth-century Russian literature and film, modernism, gender, poetry, and cultural studies.
Katya Hokanson is an associate professor of comparative literature. Her research interests include the history of Russian colonialism, the writing of Alexander Pushkin, and Russian women writers of the nineteenth century—particularly Madame Blavatsky. She teaches courses in Russian and European literature of the nineteenth century and literary theory.
Alan Kimball is an associate professor of history. He teaches courses in Russian history and political culture, especially the late Imperial period. His research interests include pre-Soviet Russian concepts of civil society, and Russian and global energy politics.
Associate professor of sociology Caleb Southworth teaches courses in contemporary Russia and other post-Soviet societies, economic sociology, and historical-comparative methods. Southworth's research interests include investigations into social and economic change in post-socialist society, and the historical role of US labor unions in influencing political change.
Cynthia Vakareliyska, a professor of linguistics, primarily researches the features of Slavic and Baltic languages as sources of information about linguistic processes. For her research, Vakareliyska focuses on medieval Bulgarian, Serbian, and East Slavic gospel manuscripts and calendars of saints.
Career Opportunities
An in-depth knowledge of Russian language and culture will prepare you for domestic or international careers in consulting, private industry, teaching, research, and translation. You might find a position in government and foreign affairs, research analysis, writing, or publishing. There are many opportunities to study, work, and volunteer in the countries of Eastern Europe or the former Soviet Union. You might travel with the Peace Corps to Ukraine, explore Central Asia on a research trip, or teach English in Russia. Some REEES graduates pursue further study in graduate school, law school, or business school. REEES offers a master's degree program and a graduate certificate. Knowledge of the Russian language and this broad culture will give you an edge in the job market.
Russian, East European, and Eurasian Studies
Contact Information
541-346-4078
541-346-1327 (fax)