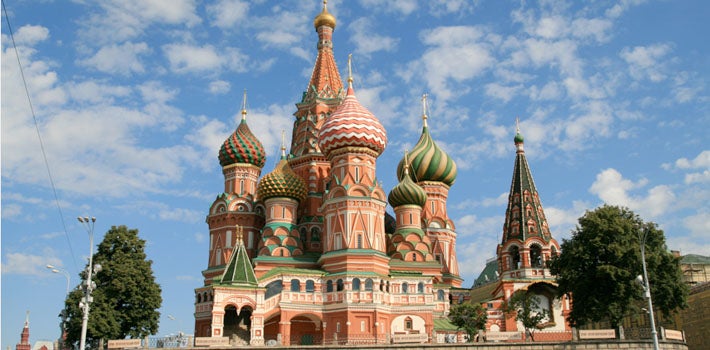 Undergraduate degree: BA
Undergraduate minor
About the major
As Russia's profile on the world stage grows larger, the University of Oregon's program in Russian, East European, and Eurasian studies (REEES) has grown to reflect that change. Students interact with native Russian speakers, perform in bilingual plays, and learn about the unique political foundations of the Russian Federation. REEES covers a wide array of subjects, allowing you to choose an emphasis in humanities or social science. Whether your interests in Russia, Eastern Europe, or Eurasia have roots in the literature of Dostoevsky and Pushkin or stem from a fascination with Russian zombie cinema, there is a place for you in REEES. 
As a REEES major, you'll study the peoples living in the eastern third of Europe, throughout the northern steppes of Central Asia and across Siberia to the Pacific Ocean. Settled over a territory that spans half the earth's time zones, these peoples have been ruled by some of the most powerful empires in history—including the Byzantine, Mongolian, Holy Roman, and Soviet empires. This expansive history has created a complex mosaic of cultures, expressed in literature and art as well as in institutions and social forms.
A little more info
REEES is one of the oldest centers devoted to the study of Russia, Eastern Europe, and Eurasia in the US.
The department sponsors films, lectures, plays, musical performances, and cultural festivals.
You can polish your language and cultural skills while earning credit with the annual bilingual
Russian play production.
Our Russian Club (Russkii klub) is an undergraduate group that sponsors activities such as holiday parties and cultural gatherings.
Opportunities for study abroad are available in Russia and many of the newly independent states of the former Soviet Union.
Career opportunities
An in-depth knowledge of Russian language and culture will prepare you for domestic or international careers in consulting, business, private industry, government and foreign affairs, teaching, research, library science, writing, publishing, and translation. Many students who graduate with a REEES major pursue further study in graduate school, law school, business school, or education. There are wide-ranging opportunities to study, work, and volunteer in the many countries of Eastern Europe and the former Soviet Union, such as going with the Peace Corps to Ukraine, traveling on a research trip to Central Asia, or teaching English in Russia. REEES offers a master's degree program and a graduate certificate. Knowledge of the Russian language and this broad culture will give you an edge in the job market.