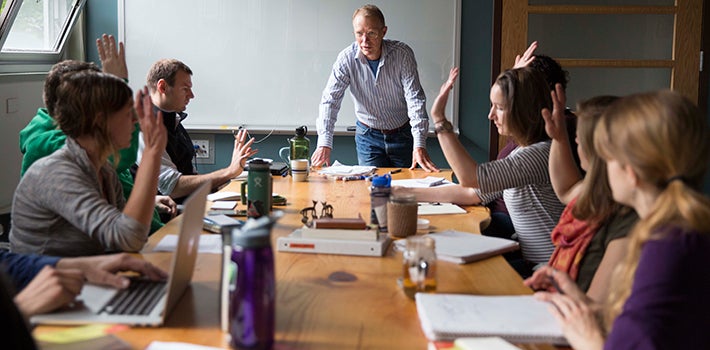 Undergraduate degrees: BA or BS
Undergraduate minor
About the Major
What do sustainable city planning, community change, food security, transportation planning, and nonprofit administration have in common? All are rooted in making a difference in our communities, states, and countries. Choose to study in the School of Planning, Public Policy and Management (PPPM) and you'll discover how governments, nonprofit organizations, and private-sector firms address some of the most important problems facing society—and how you can play a key role in finding innovative solutions.
As a PPPM major you'll gain a thorough grounding in the principles of civic responsibility, environmental sustainability, and international understanding. Experiential learning, evidence-based decision-making, and interdisciplinary study will be at the core of your PPPM curriculum. You'll learn from and work with faculty members who are internationally recognized scholars with a wide range of training and research interests. Your courses will focus on concepts and skills and explore how to implement them within communities, organizations, and governments.
More Info
Many classes work with local professionals, agencies, and organizations to help analyze and solve real issues.
PPPM students may choose to complete an internship as a way to explore and clarify career goals, apply academic learning, enhance and learn new skills, gain experience, and network with professionals.
Students can earn academic credit for their major and minor through a PPPM faculty-led study abroad opportunity. Recent examples include: Nongovernmental Organizations of Southeast Asia and Bicycle Transportation in Denmark and The Netherlands.
Career Opportunities 
Graduates are prepared for entry-level positions and fellowships in local, state, and federal agencies, as well as nonprofit organizations and private firms that address public sector issues. Examples include:
Public health advisor, Centers for Disease Control and Prevention
Transportation planner, California Department of Transportation (Caltrans)
Oakland development manager, SPUR
Economic development coordinator, City of Banks (Oregon)
Development assistant, Northwest Association for Blind Athletes
Patient access specialist, OHSU's Doernbecher Children's Hospital
Marketing and communications coordinator, School on Wheels, Inc.
Language and culture assistant, Spanish Government, Department of Language, Culture, and Sport
Coastal program analyst, California Coastal Commission