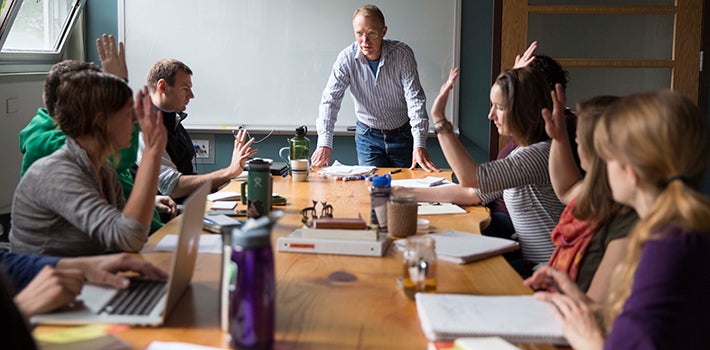 Undergraduate degrees: BA or BS
Undergraduate minor
Consciously Creating Communities
What do sustainable city planning, community change, food security, transportation planning, and nonprofit administration have in common? All are rooted in bettering the communities in which we live, work, and play. Choose to study in the School of Planning, Public Policy and Management (PPPM), and you'll discover how governments, nonprofit organizations, and private-sector firms address some of the most important problems facing society today. You'll also learn how you can play a key role in finding innovative solutions.
As a PPPM major you'll acquire the power to positively affect not just your own future, but also the people, communities, and environments around you. You'll gain a thorough grounding in the principles of civic responsibility, environmental sustainability, international understanding, and cross-disciplinary education, which have guided the department since its creation. Experiential learning, evidence-based decision-making, and interdisciplinary study will be at the core of your PPPM curriculum. You'll learn from and work with faculty members who are internationally recognized scholars with a wide range of training and research interests. Your courses will focus on concepts and skills and explore how to implement them within communities, organizations, and governments.
Whether you choose to major in PPPM, minor in PPPM, or minor in nonprofit administration, you will develop the skills necessary to take an active role within communities, and be ready to meet the complex global challenges of the twenty-first century.
Sample Courses
Introduction to Public Policy provides an overview of the planning and management of public issues and focuses on the goals of public services within their economic, social, and political context.
Introduction to the Nonprofit Sector provides a broad overview of the nonprofit sector, including its origin, growth, oversight, and varied elements. It examines theory and research into the effectiveness of nonprofit strategies and structures and exposes students to the challenges that every nonprofit faces.
Introduction to City Planning introduces students to urban issues as lenses to explore transportation, housing, environment, and social equity as critical elements shaping where and how people live.
Practice of Leadership and Change will help you develop personal skills to become a future leader through participation in communication, facilitation, and conflict resolution workshops, as well as discussing leadership concepts and interviewing community leaders.
Bicycle Transportation explores the various elements involved in planning and advocating for increased utilization of bicycles as a form of urban transportation.
Healthy Communities delves into the issues, approaches, and methodologies of the public health field and considers three modifiable factors influencing health: medical care factors, social and behavioral factors, and environmental issues.
Green Cities examines the history of—and future interface between—urban growth and environmental concerns, and the technological, social, and political forces that continue to shape it.
Justice & Urban Revitalization examines the political, economic, institutional, and social forces that affect the long-term vitality of cities and communities, and how those factors relate to community redevelopment.
Immerse Yourself
You can broaden your education and fine-tune an area of specialization by pursuing PPPM concurrently with another major. PPPM majors frequently double-major with economics, political science, environmental studies, international studies, geography, journalism, or sociology. Combining another area of focus with PPPM can prepare you for public service-oriented work or graduate school with a specific focus enhanced by an additional course of study.
The Internship Program is an integral component of the PPPM curriculum. Internships provide opportunities to explore and clarify career goals, apply academic learning, enhance and learn new skills, gain experience, and network with professionals. An internship and professional development course is offered each term, and interested PPPM majors, premajors, and minors receive internship advising and assistance with individualized learning goals.
PPPM also offers an honors program for qualified students who are looking for a challenging academic experience and an opportunity to do independent work and interact with faculty members. With help from one or two faculty advisors, you will conduct original research that may be published in academic journals or presented at conferences.
The Student Experience
For double major Hannah Crum, studying PPPM and geography at the UO was more rewarding than she had expected. "In PPPM I feel like I not only study and observe, but that I actually become engaged in interactive ways," says Crum, who felt that her interactive course work was meaningful and made an impact on local communities. "I have also greatly enjoyed the internship program. This program has helped me develop professional skills and prepare for a career after college as well as an opportunity to interact and connect with the community of Eugene." Crum attended Marc Schlossberg's Sustainable Bicycle Transportation class in Denmark and the Netherlands, which gave her new perspectives on urban transportation models. She hopes to implement bicycle infrastructure and culture here in the U.S.
Jason Shender would absolutely recommend PPPM to anyone who is willing to listen. He says that, "It's a small major, so you can get to know your professors and fellow classmates, but at the same time, the program allows you to explore a wide variety of interests and career possibilities." The program has given Shender the skills and tools he needs to be successful outside of the UO. "PPPM is one of the best-kept secrets on the University of Oregon campus."
"I chose to major in PPPM because of its emphasis on practical learning outside of the classroom," says Teresa Chan. "Few other majors offer the opportunity to learn about and engage in projects that occur in the professional field during an undergrad career." For Chan, PPPM's strong connection to nonprofit organizations and Oregon county governments provided a unique opportunity for her to hear seminars from and engage with leaders in the public policy field.
Featured Faculty
Associate Professor Gerardo Sandoval teaches about downtown redevelopment, focusing in particular on the role of migrant communities and the opportunities and difficulties of engaging diverse populations in planning decisions.
Assistant Professor Dyana Mason's courses instruct students in the role of nonprofits in advocacy and in forging solution to societal problems.
Professor Marc Schlossberg teaches bicycle planning and co-leads the Sustainable Cities Initiative, a cross-disciplinary program of courses looking at sustainability practices in partnership with a local city government.
Career Opportunities
PPPM graduates are prepared to work in positions in local, state, and federal agencies as well as nonprofit organizations and consulting firms. If you are interested in continuing your education, PPPM will provide a sound basis for graduate study in fields like planning, public policy, business, journalism, and law. You can continue your education at the UO with PPPM's master's degree programs in Public Administration, Community and Regional Planning, Nonprofit Management.