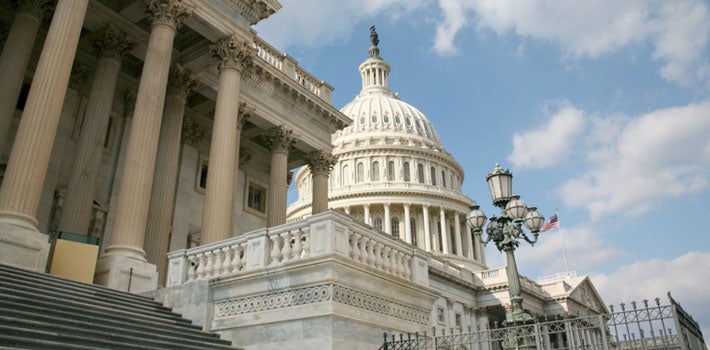 Undergraduate degrees: BA or BS
Undergraduate minor
Get Ready to Change the World
As a political science major at the University of Oregon, you'll gain an in-depth understanding of how power, politics, and people converge. Peel back the intricate layers of government policies. Explore how absolute power can corrupt absolutely. Learn how to successfully implement political strategies in the community and make a positive impact. The Department of Political Science works to show how our government works—or doesn't. By understanding how the world of politics operates, you can begin to identify ways to make it work even better.
From concentrations in global affairs and international trade to mediating local council meetings, and from analyzing societal reactions to political commentary like the Colbert Report to contemplating political philosophy, you'll be pleased to discover a wide range of ideologies within the university's political science community. "Students learn the analytical skills that allow them to be diplomatic," says Department Head Priscilla Southwell. "Our Political Science students are not all trained to be diplomats, but they will be well-reasoned and diplomatic."
As a political science major, you'll study political theory, U.S. politics, and world politics. From there, a remarkable range of course topics and approaches to the study of politics allow you to choose a focus according to your interests. For example, you may want to study classic philosophical debates about the meaning and value of democracy. You could choose to study democracy up close with a legislative internship. You might even sign up for a study-abroad program that allows you to investigate the dynamics of democratization in a different part of the world.
Points of Interest
Political science peer advisors offer services such as answering questions about internships, major and minor degree requirements, and specific courses as well as editing essays.
Upper-level undergraduate students may join Pi Sigma Alpha, the national political science honor society. Members of the UO's Beta Theta chapter are eligible to compete for scholarships.
You can earn academic credit by participating in field studies or internships. Opportunities are available at the local level, the Oregon Legislative Assembly, or even in Washington, D.C.
Reacting to the Past is a class that brings history to gritty reality. Students re-create historical events such as writing the Declaration of Independence, debating Darwin's theories in 1860, or deciding India's fate on the eve of independence.
The department sponsors an annual series of distinguished speakers—experts in fields such as foreign policy, political theory, and international relations—to add depth and unique context to academic offerings.
Sample Courses
Problems in U.S. Politics investigates current policy issues, such as unemployment, gun control, environmental policy, and education.
U.S. Social Movements and Political Change looks at the causes and consequences of American social movements. Topics may include agrarian populism, the labor movement, the civil rights movement, the women's movement, and identity politics.
Art and the State presents a comparative analysis of issues raised by state intervention in production and distribution of art, including censorship, artistic freedom, ideological domination, the regulation of the artistic marketplace, and cultural imperialism.
Terrorism and Weapons Proliferation examines causes and control of terrorism, especially preventing use of weapons of mass destruction. Students will discuss theories and policies surrounding nonproliferation and arms control.
Gods and Governments examines the politics of religion in a contemporary global context.
Games in Politics views politics as strategic interactions among politicians, voters, and countries. The course focuses on how to model these interactions using tools of game theory.
Learn more about courses offered by the Department of Political Science.
Immerse Yourself
You can effectively combine a major in political science with studies in economics, environmental studies, international studies, journalism, sociology, and planning, public policy, and management. No matter where you plan to create change and progress, political science will serve as a valuable and versatile foundation.
Take the opportunity to participate in many types of political activities at the university. Classes offer hands-on experiences such as political debates, budgeting, model UN and congressional assemblies, and re-enactments of historical events. You can get involved with local politics by volunteering with a political campaign, an environmental awareness project, or a human rights organization.
If you're interested in international issues, you can choose an internship or a study abroad program that will enhance your academic interests. Share your knowledge with high schools in a Teach for America program in Washington D.C. Implement political change in the Peace Corps. Try your hand at foreign legislation in Scotland or China.  
You might choose to earn academic credit as an intern working in a state or U.S. legislative office, for a government staff member, or with a lobbyist in Salem, the Oregon state capital. Get in touch with one—or more—of the dozens of student government or activist groups on campus through the
ASUO
. Your opportunities for involvement are virtually endless.
The Student Experience
After working with the Obama campaign in Los Angeles in 2008, Matthew Davis knew he wanted to study political science. And he knew where he wanted to study it—the University of Oregon. "I knew how well respected the school was," says Davis. "And I knew it was my best opportunity to make professional connections in a place I wanted to end up." As a student, Davis worked as the Chair of the Democratic Party of Lane County. He recommends getting out into the community as a way of understanding how Political Science applies in the real world. "Working on several political campaigns helped me gain a better understanding of what I wanted to get out of my education," he says.
The personal relationships with his professors and the emphasis on critically examining issues from all sides are two things Andrew Kitchel values about the political science program at the UO. "I really appreciated the diversity of background of the professors and the emphasis that was put on learning the facts in order to think critically, rather than learning one side of an issue," he says. While at the UO, Kitchel volunteered with multiple charities and political causes and served as the Chapter Advisory Board Chairman for the Oregon Chapter of the Phi Delta Theta Fraternity. He is currently applying to graduate programs in public policy, thanks to encouragement from his professors, primarily Alison Gash and Dan Tichenor. "My professors have always found a way to challenge me personally beyond what is expected in class," he says. "Whatever you study, study hard and love what you do."
As a fifth generation Oregonian, Hannah Picknell has some close ties to the University of Oregon. Her grandmother was one of the first women to attend the UO. The political science and biological anthropology double major stays busy. She threw discus for the UO Track and Field team and has worked with OSPIRG to end hunger and homelessness in Eugene. Her advice to incoming freshmen? "The UO is a large university, but within that large 'duck' community, there are smaller communities—within your major and within other groups—you might choose to join," she says. "The trick is to find yourself a smaller community that is right for you."
Featured Faculty
Professor Ronald Mitchell came to the UO twenty years ago. He stayed because of the vibrant environmental studies community. "Realizing the world isn't quite the way I'd want it to be, I'm trying to make it closer to that image," he says. "But I'm also training other people to do it." To that end, Mitchell created a new class called the Politics of Climate Change as well as an interdisciplinary organization, the University of Oregon Climate Change Research Group, to help build and promote understanding of climate change.
Professor Craig Parsons says he became a political scientist for the, "Not very intellectual reason that I fell in love with travel when I was young. "I wanted a career that gave me an excuse to travel and get out in the world." His favorite classes to teach are Politics of the European Union and Reclaiming Politics. Parsons takes teams of students to the Model European Union hosted by the Center for European Studies at the University of Washington each year, where students play members of the government of one or two European countries and engage in two days of negotiations with students from other universities.
Assistant Professor Alison Gash specializes in two things: analyzing the intricate world of policy making and engaging students in subject matter. Within two years at the UO, Gash created three courses in political science: Gender and the Law, Gay Rights and American Law, and Modern Civil Rights Law. "I place a premium on student participation in my classes, and I make sure students are working with current issues," says Gash. She has several recently published articles, including one for The Huffington Post about same sex couples and the right to raise children.
Career Opportunities
An undergraduate degree in political science provides a great foundation for any number of career choices. With the analytical and communication skills you master while earning your political science degree, you might pursue a career in government at the local, state, or federal level. Or you might find that you're interested in working with a nonprofit organization, a nongovernmental organization, or in private industry. Many political science graduates decide to earn graduate degrees, typically in law, international studies, business administration, or advanced studies in political science. "The analytical and diplomatic skills political science students learn will come in handy with any kind of job," says Southwell. 
Department of Political Science
Contact Information
(541) 346-4864
(541) 346-4860 fax