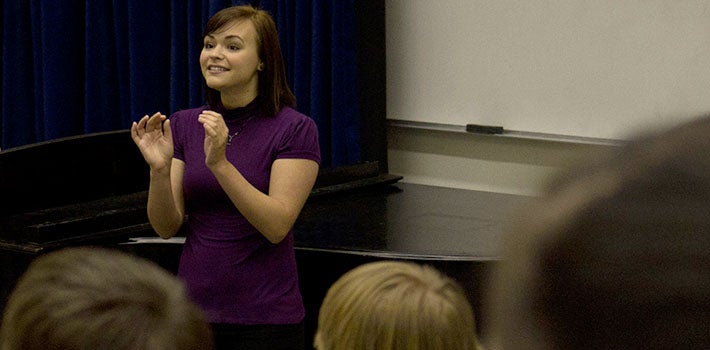 Undergraduate degree: BMME in music education (emphasis in choral, elementary-general, or instrumental)
About the Major
The UO's music education program is among the most comprehensive and innovative in the western United States, and the only one in Oregon to offer bachelor's, master's, and doctoral degrees. Our faculty members provide expertise in band, choral, elementary general, and string music education. UO is among only a handful of West Coast schools to offer music teacher licensure within the four-year bachelor's degree.
Music education faculty members publish research in all the relevant top-tier journals, author books and contribute to chapters in anthologies, and present and conduct at regional, national, and international venues. In addition to cultivating their own research agenda, Music Education Area Faculty work cooperatively with graduate students and serve as mentors for their own research. Faculty and students collaborate on a number of research projects, and share their research at conferences, poster sessions, and publications.
More Info
For more than two decades, 100 percent of UO music education graduates seeking employment as K–12 public school music teachers have received job offers upon graduation.
Alumni teach throughout the United States and internationally, including China, Italy, Spain, and Vietnam.
The Cykler Music Education Library boasts a dedicated computer lab, educational software up-to-date research and curricular materials, audiovisual equipment, and modern equipment for researching affective response, perception, and cognition.