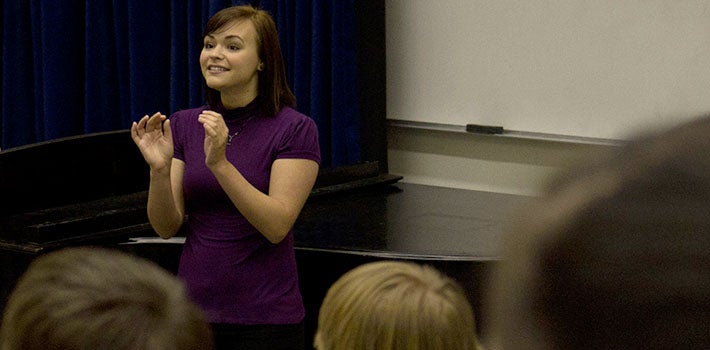 Undergraduate degree: BMME in music education (emphasis in choral, elementary-general, or instrumental)
The UO's music education program is among the most comprehensive and innovative in the western United States, and it's the only one in Oregon to offer bachelor's, master's, and doctoral degrees. Our faculty members provide expertise in band, choral, elementary general, and string music education.
Our comprehensive undergraduate program will provide you practical experience in the performance skills of teaching, including numerous clinical opportunities in our innovative Teaching Laboratory and in area public schools. Successful completion of the BMME program includes certification of teacher licensure, enabling students to teach in Oregon, throughout the United States, and globally.
Recent guest scholars include Judy Bowers, Simon Carrington, Alice-Ann Darrow, Robert Duke, Patricia Flowers, Robert Gillespie, Rebecca MacLeod, Clifford Madsen, Carol Prickett, and Jayne Standley.
A Degree of Success
For more than two decades, 100 percent of UO music education graduates seeking employment as K–12 public school music teachers have received job offers upon graduation. Our alumni teach throughout the United States, as well as in China, Vietnam, Spain, and Italy. For future music teachers, a UO music education degree signals outstanding preparation through a rigorous and comprehensive program.
Music Education Resources
Our diverse instrument inventory includes a large Orff instrumentarium (pitched and unpitched), as well as numerous ethnic instruments.
The Cykler Music Education Library boasts the following resources:
computer lab
educational software
up-to-date research and curricular materials
audiovisual equipment
modern equipment for researching affective response, perception, and cognition
Admissions
Read the latest admissions information on the School of Music and Dance admissions website.
An audition is required for all music undergraduate (freshman and transfer student) applicants, which also serves as a scholarship audition.
Mid-November—Early notification applicant auditions (undergraduates only)
January and February—Three Saturdays dedicated to all music undergraduate applicants and music graduate performance applicants.
Recorded auditions are also possible in most music areas. Learn more.
Visit Us!
Tour our facilities, meet our talented faculty and staff members, and ask your admission-related questions in person. With advance notice, we can help design a visit to fit your needs. Drop-in visits are not recommended. Schedule a campus visit online or e-mail us at SOMDAdmit@uoregon.edu.
Contact Information
541-346-5268
SOMDAdmit@uoregon.edu