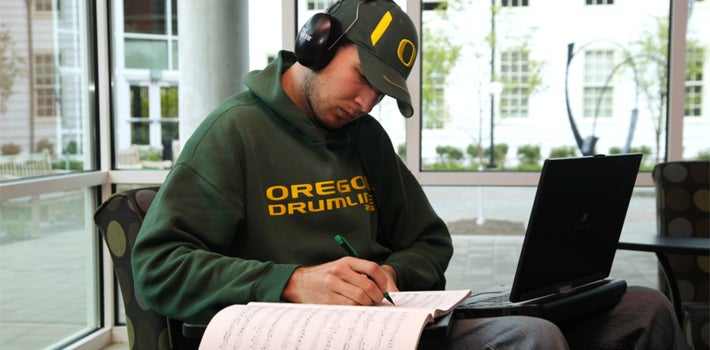 Undergraduate degree: BMus in music composition
Undergraduate minor in music
Study in the UO's music composition program and you'll join a thriving artistic community of 40 to 45 undergraduate, master's, and doctoral composers. Our comprehensive approach integrates compositional studies with theory, history, ethnomusicology, intermedia technology, contemporary performance practice, multimedia collaboration, and an intensive career development seminar.
Our diverse yet focused curriculum will prepare you for a future as a professional composer.
Performance Opportunities
Many of our students are accomplished instrumentalists, vocalists, and/or conductors. As part of our program, you'll be able to continually perform your own music and the works of your colleagues. Opportunities abound for the performance of new music through the Oregon Composers Forum, Music Today Festival, Oregon Bach Festival Composers Symposium, Composing for Orchestra Seminar, and Pacific Rim Gamelan, as well as any of our five student-run new music ensembles.
Admissions
Read the latest admissions information on the School of Music and Dance admissions website.
An audition is required for all music undergraduate (freshman and transfer student) applicants, which also serves as a scholarship audition.
Mid-November—Early notification applicant auditions (undergraduates only)
January and February—Three Saturdays dedicated to all music undergraduate applicants and music graduate performance applicants.
Recorded auditions are also possible in most music areas. Learn more.
Visit Us!
Tour our facilities, meet our talented faculty and staff members, and ask your admission-related questions in person. With advance notice, we can help design a visit to fit your needs. Drop-in visits are not recommended. Schedule a campus visit online or e-mail us at SOMDAdmit@uoregon.edu.
Contact Information
541-346-5268
SOMDAdmit@uoregon.edu