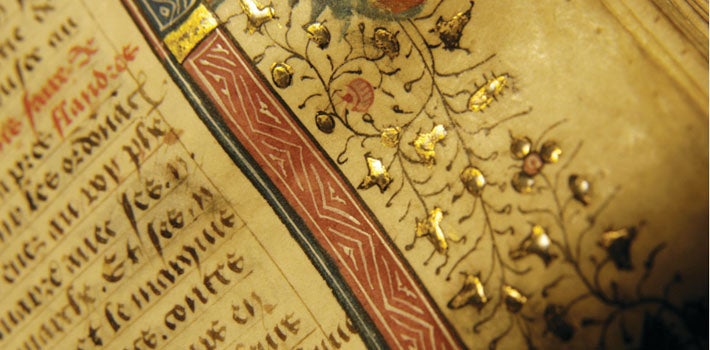 Undergraduate degrees: BA
Undergraduate minor
Positively Medieval
Have you ever imagined yourself a medieval writer, composing manuscripts in a drafty scriptorium? Research methods and technologies have changed greatly, but many of the central questions raised by medieval scholars are still pondered today. Through the lens of the Middle Ages (AD 400–1500), the Medieval Studies Program provides an important foundation for understanding modern life and culture. Plunge into the sophisticated humor of Chaucer, thrilling accounts of the Vikings, or the lilting rhythms of Arabic poetry. Travel to Europe and appreciate the intricacies of Gothic cathedrals and medieval architecture firsthand. Study the connections among medieval Middle Eastern, East Asian, and European communities.
As a medieval studies major, you will select your courses from a wide range of subjects including architecture, music, art, literature, history, and religion. You will study with expert faculty members from across campus. Your studies may include Icelandic sagas, troubadours, mystics, ancient Islamic manuscripts, castles, calligraphy, or the Crusades. The study of a range of languages is also part of medieval studies, and may include European languages, Latin, Russian, and Arabic as well as medieval languages in their original and translated forms, such as Old English, Old Norse, Old French, and Middle Welsh.
Points of Interest
Hold 12th-century manuscripts in your hands and conduct original research as part of a senior thesis.
The Special Collections Department of the Knight Library houses the impressive Burgess medieval manuscript collection donated by Julia and Edward Burgess.
Study in a medieval setting. Participate in the Cambridge University International Summer School in southeastern England.
Try your hand at several variations of the precise medieval art of calligraphy on vegetable parchment.
Medieval studies can be an area of specialization for students majoring in related departments such as humanities, history, religious studies, and linguistics.
Old English is one of the many options available that can fulfill the bachelor of arts language requirement.
Sample Courses
The Medieval Feast in Theory and Practice is an interdisciplinary course centering on a feast held at Barley Hall in York, England, in 1483. Coursework culminates in a re-enactment of the feast.
Old English provides an introduction to the grammar of the language and insights into Anglo-Saxon culture and literature.
The Inquisition begins with the inception of the first medieval tribunals in the 13th century and covers the Spanish and Roman Inquisitions in the early modern period.
Medieval Spain is a study of two related aspects of medieval Iberian history: Spain as a frontier society and as a multicultural, multireligious society.
Japanese Art II examines major Japanese art from the Jomon through Edo periods. The class examines sculpture, ceramics, painting, architecture, gardens, and calligraphy from the 10th to 16th centuries.
Collegium Musicum, Celestial harmony: Singing the Music of Hildegard Von Bingen focuses on the abbess, visionary, writer, and composer who is a unique figure in the history of medieval music.
See more courses in the Medieval Studies Program.
The Student Experience
Samuel Ferrell majored in medieval studies, focusing on the languages of French, German, Latin, and Old English. He graduated summa cum laude and was inducted into Phi Beta Kappa, but he says that learning Latin and German are what he's most proud of from his time at the UO. He spent most of his time here on the top floor of the Knight Library, studying. "To succeed," he says. "You must apply your mind and make the active effort to learn, not merely to be present."
Featured Faculty
Associate Professor Martha Bayless specializes in Old English, Welsh, and medieval humor and pop culture. Currently, she is working on a project about oral stories and how they were transmitted and changed over time. Bayless also supervises a study abroad program in Cambridge where students have the opportunity to learn from researchers who have conducted original research in the field. She says her favorite class to teach is Old English. The class re-enacts a famous Anglo-Saxon battle in front of the UO Museum of Art, including learning swordfighting from a fencing master. "The people of the medieval period were startlingly modern and like us in many surprising ways, and also startlingly different and unpredictable," she says. " I love that combination. There's never a dull moment—something interesting around every corner. And it sheds such light on our modern choices of how to live, too."
Eric Mentzel, associate professor of voice and department head of medieval studies, says medieval studies students learn to identify the roots of our culture and come to understand the forces of history that molded the modern world. Mentzel is a specialist in historically informed performance and has enjoyed an international career as a concert soloist. He has appeared on more than 40 CDs and he is the founder of Vox Resonat—an ensemble devoted to the performance of medieval and Renaissance vocal music—which has recorded two CDs for the Marc Aurel Edition label. He is a guest teacher at the Royal Conservatory in The Hague, Netherlands, and is on the faculty of the Medieval Music Summer Course at the Schola Cantorum in Basel, Switzerland.
Associate professor of Spanish David Wacks is currently working on a book about how medieval fiction in Spain (and in particular the romance/adventure novel) deals with issues of religious and political conflict between Christianity and Islam. He teaches classes in Medieval Romance and a class called Fairies, Trolls, and Dragons: Asturian Mythology in History. "Medieval Studies courses can bridge modern-day issues with pre-modern traditions," says Wacks. "And give us a broader context for understanding today's world." His advice to incoming students: major in something that fascinates you!
Career Opportunities
Bayless says the broad focus with attention to detail, analysis, and intensity of focus are skills that are required of medieval studies majors but which are also useful in many professions. Graduates from this program go on to careers in education, law, journalism, museum work, and computer science.
The medieval studies program also provides an excellent general education or a solid base for graduate work in a more specialized area such as history or literature. "For students," says Bayless. "The great thing about this program is that you can concentrate on whichever aspect you like most, history or art or whatever it is, while not sacrificing the overview. Plunge in and start having fun!"
Contact Information
541-346-4069
541-346-4118 fax