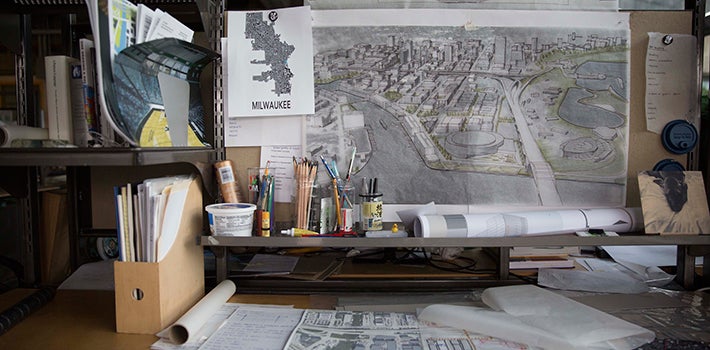 Undergraduate degree: BLA
Undergraduate minor
Design and Build the Future
As a landscape architecture major you'll combine science and art to affect positive change in communities around the world. Learn how to draw, how to calculate slopes, and how to create plans using specialized software. Collaborate with local businesses and community members to design facilities that foster social development and environmental awareness. All you need is a desire to create something new—the landscape architecture department will show you how to do the rest.
You'll learn how to create outdoor spaces that take into account people's need and ecological context. Explore the connections between design and planning, theory and practice, art and technology, school and the "real world," head and hand, and large scale and small scale. Enrollment in the landscape architecture department starts with a premajor status. Once you are on campus, you will be advised on when to complete a departmental application.
Courses in the department fall into two categories.
Subjects
Five subject areas that will ground you in the fundamentals of landscape architecture:
Landscape architectural technology and professional practice
History, literature, and theory of landscape architecture
Landscape planning and analysis
Media and communications
Design in urban spaces
Plants
Planning and Design Studios
You'll take at least one planning and design studio course each term. Studio courses focus on developing and communicating solutions to problems in architectural strategy and the natural environment. These unique classes analyze the physical and spatial implications of planning and management policies and programs.
Points of Interest
Sample Courses
Digital Landscape Media is an introduction to the fundamentals of media communications with an emphasis in using tools like Photoshop, Illustrator, InDesign, and Sketch Up to design landscapes.
Urban Farm investigates the twenty-first century movement that has swept across the U.S. It analyses a model for alternative urban land use where people grow food and build community.
Climate Change Design applies a framework for climate change adaptation based on strategies of resistance, resilience, and facilitation.
Introduction to River Restoration teaches students about the theories and realities of ecosystem restoration. The class culminates in a four-day float trip on the Willamette River.
Photography and Environmental Perception explores the major movements in landscape photography through the lens of cultural perceptions and policies about landscape and environment.
Watercolors and Planting Design is a four-dimensional experiential course that engages students in the visualization of landscape space and time.
See more courses offered by the Department of Landscape Architecture.
Immerse Yourself
One of the great benefits of studying landscape architecture is spending time outdoors. Your office will include not only your cozy studio desk but also rolling hills, waterways, forests, and cities. Travel to Pennsylvania and New York to work with experts in the field. Study in a variety of settings at the 400-acre Overlook field school. Take a week and hike or raft through the wilderness with professors and learn how landscape architecture can aid conservation efforts.
A final cumulative project wraps up the whole program. Self-motivated students, who are passionate about contributing to the local community, are encouraged to complete a rigorous program where they don't just learn how to design but how to think about design. Students can also present their projects at the annual HOPES conference hosted by the Ecological Design Center (EDC).
The Student Experience
For Karim Hassanein it was the UO's beautiful campus and interdisciplinary programs that brought him all the way from Cairo, Egypt. He applied to both the landscape architecture program and the Clark Honors College and launched a busy college career. Hassanein finished an award-winning thesis and a comprehensive project that tackled social and ecological issues in urban Cairo by establishing a space where citizens can artfully express their ideas. While he is currently working at a landscape architecture firm in Eugene, Hassanein's goal is to extend his work to the international level.    
Originally from Oswego, New York, Paula Barreto found Oregon to be a refreshing change of pace. "The faculty here are amazing and there are always people around to help," says Barreto, who appreciates the collaborative nature of the studio classes and the personalized desk space students have at their disposal. After discovering the Student Veterans Center and CASL, she set to work establishing a mentorship program. With an interest in environmental studies and public policy, she hopes to find a way to use permaculture to help U.S. veterans transition back into civilian life. Barreto has received scholarships through the landscape architecture program and the Nontraditional Student Union.        
Featured Faculty
Professor David Hulse's research focuses on how to conserve and develop large areas of land for long periods of time. After nearly three decades of conducting research on the Willamette River Basin, Hulse's project won the International Riverprize. He puts just as much energy into teaching as he does his research. From starting a doctoral program for landscape architecture to teaching classes on GIS systems and river restoration, Hulse works hard to give students the tools they need to design a better future. 
In 2001, Associate Professor and Head of the School of Architecture & Environment Liska Chan came to the UO in search of a landscape architecture program that prioritized sustainability and collegiality. She found exactly what she was looking for. In her classes, Chan organizes hands-on group projects and physical exercises to familiarize students with different perspectives. Her research centers on how the manipulation of waterways has affected disenfranchised communities and how patterns of displacement follow topographic lines.
Associate Professor Roxi Thoren couldn't wait to take part in the alternative classrooms and experiential learning experiences at the College of Design's landscape architecture department. As director of the Fuller Center of Productive Landscapes, Thoren seeks ways to collaborate with other departments like environmental studies and journalism. When she isn't teaching or accompanying students on internship programs in Pennsylvania and New York, she is conducting research on the benefits of landscape design and sustainable landscape architecture such as green roofs.
Career Opportunities
Be at the forefront of green roof design. Make waves in river restoration. Envision buildings that benefit the environment as well as inhabitants. As a landscape architect, you could be involved in a wide scope of design projects, from airports to sanctuaries. You could also work on residential landscape developments; city plans and urban open-space networks; city, state, and national parks; and land use planning.