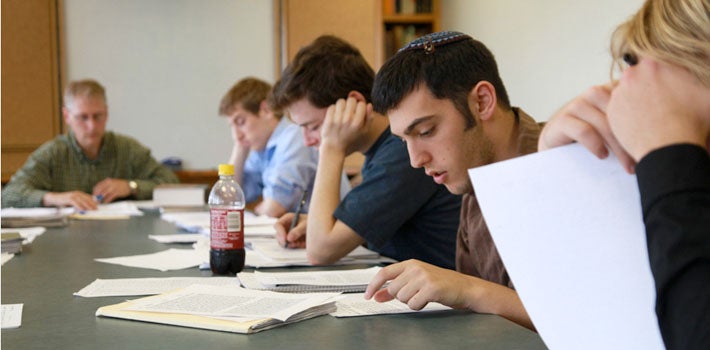 Undergraduate degree: BA
Undergraduate minor
A Look into the Jewish Experience
The Harold Schnitzer Family Program in Judaic Studies offers students with diverse interests and backgrounds a deeper understanding of the history of Western civilization through the Jewish perspective. Translate the Dead Sea Scrolls and ancient Hebrew manuscripts. Critically examine attempts to resolve conflicts between Israel and Palestine. Explore the relationship between Jewish culture and Hollywood cinema.
Associate Professor Daniel Falk, an expert on biblical studies and ancient Judaism, says the program attracts a range of students with different reasons for studying Judaism. "Some students are interested in Judaic studies as a personal exploration," he says. "Others are interested in general subjects such as religious studies, sociology, and history; they find in Judaism a fascinating case study."
The program provides a comprehensive undergraduate curriculum in the history, religion, and civilization of the Jewish people and offers two years of instruction in Hebrew language and literature. The Judaic studies major is highly interdisciplinary, allowing you to create your own focus by choosing classes in departments such as anthropology, history, geography, Germanic languages and literature, women's studies, and philosophy. In addition, you'll take core classes in biblical Hebrew, introduction to the study of the Bible, the American Jewish experience, and a three-part series about Jewish history. By offering students a venue to study the history of Judaism, the program contributes to increased cultural awareness on campus.
Points of Interest
Guest speakers and special visitors—such as cultural historian Sander Gilman, author Helen Epstein, and Israeli folk artist Dov Noy—enrich on-campus resources.
You'll have the opportunity to develop a fluency in biblical Hebrew, which will enable you to read from original ancient scriptures. "Hebrew is a beautiful language that is earthy and full of double entendres. And how cool is it to read right to left?" says professor Daniel Falk.
Multiple conferences are held each year covering a variety of topics including art and architecture in Jerusalem, Eastern and Western Jewish communities, Judaism in music, Holocaust survivor testimonials, as well as discussions on modern conflicts in the Middle East.
Program flexibility allows you to take classes in more than a dozen departments and programs while working closely with a cohort of peers and professors.
Take your skills across the globe with a study abroad program in Israel or Europe. Walk through Jerusalem's most visited synagogues and read ancient manuscripts at world-renowned museums.
Sample Courses
Biblical Poetry introduces readings in poetic passages from the Hebrew Bible. The class emphasizes reading, translation, vocabulary formation, and Hebrew syntax.
Medieval and Early Modern Judaism is an interdisciplinary introduction to Jewish life, literature, religion, culture, and thought in the Middle Ages and early modern times in both Muslim and Christian environments.
American Jewish Cultures delves into aspects of culture, ritual, and identity from the 1880s to the present. The course examines pluralism within the American Jewish community and its relationships with other religious and ethnic groups.
Israelis and Palestinians examines the political struggle between Israelis and Palestinians during the past century and related human, societal, and cultural issues as well as exploring contemporary attempts at resolution.
Biblical Hebrew is a year-long sequence of three courses that prepare students to read biblical and post-biblical texts. There is an emphasis on the Hebrew grammar of biblical literature, vocabulary, syntax, and reading skills.
See more courses in Judaic studies.
Immerse Yourself
Interview Holocaust survivors and gain valuable insight from their perspectives. Discuss myriad topics with fellow students and instructors over coffee and sandwiches. Attend local concerts by Jewish musicians and interpret the meanings behind their notes. As a Judaic studies student, you'll have plentiful opportunities to learn about Judaism outside the classroom. Hear renowned speakers brought in for the Singer family lecture series or the Lowenberg lecture. Attend a series of films in classes such as The Bible Through Film. You may also choose to participate in an internship to enhance your understanding of Jewish culture and history with one of the many local Jewish organizations such as Temple Beth Israel or Oregon Hillel.
"Judaic studies is more than just a body of knowledge for many students, it inspires new ways to think critically about future endeavors," says
Deborah Green
, department head. "You have to work hard to reap the benefits which are abundant and lifelong."
The Student Experience
From her first visit to the University of Oregon as a sophomore in high school, Lauren Greenhall knew she was destined to be a Duck. After taking an introduction to the Bible class, Greenhall decided to add Judaic studies as a second major to her curriculum. When she isn't in class or studying Biblical Hebrew with her peers, she enjoys drinking chai at Café Roma. With Deborah Green's tough love teaching paradigm, Judith Baxter's challenging assignments, and Gantt Gurley's fun and unique lecture style, Greenhall has discovered her full potential as a student.
"I will always remember everything about my college experience," says Jessica Roberts as she cheerfully describes her time in the Judaic studies program. With a central focus in cultural anthropology and archaeology, Roberts gained a critical skill set that will help her understand groups outside the Jewish community. Having learned the intricacies of Jewish history and how to effectively communicate with a variety of audiences about complex topics such as religion, politics, and tradition, she plans to travel to Europe to visit Worms Synagogue in Germany.                
For Jacob Sembler, it was the Judaic studies program's welcoming and comfortable atmosphere that inspired him to enroll. "The most challenging part of the major was deciding which courses not to take, they were all incredible," says Sembler. After assembling presentations at the local synagogue, listening to myriad guest lecturers, and absorbing as much knowledge as possible from professors, he has broadened his perspective on his own heritage. While his Judaic studies degree may not play a role in his anticipated career in animal care, he says he wouldn't trade the knowledge he gained for any other major. 
Featured Faculty
Associate Professor Daniel Falk is thrilled to read, study, and teach Jewish and Christian scriptures in their original languages. He is currently researching the connection between the Dead Sea Scrolls and multiple aspects of the lifestyle chosen by members of the Jewish sectarian movement. Falk has translated the majority of the Dead Sea Scrolls and traveled to Jerusalem to study their fragments. "The rush of handling manuscripts over 2000 years old and being trusted to publish them was amazing." Falk teaches several classes including Jesus and the Gospels, Prophecy and Apocalyptic, Dead Sea Scrolls, and Post-biblical Hebrew.
When she isn't analyzing incense or traveling across the globe to visit ancient royal gardens, Associate Professor Deborah Green enjoys teaching courses on classical Hebrew, early rabbinic Jewish culture, introduction to the bible, and martyrdom. Green has won numerous awards for her research and teaching, and she delights in challenging her students to go above and beyond to obtain success. Her latest book, The Aroma of Righteousness: Scent and Seduction in Rabbinic Life and Literature delves into the interconnection between rabbinic incense and biblical interpretation. 
Career Opportunities
The Judaic Studies Program provides an excellent and sturdy foundation in the humanities with a strong focus in linguistics and historical analyses. Majors have pursued careers in Jewish education, academic Judaic studies, and social work—some majors have even become cantors or rabbis. Many students have gone on to pursue degrees in law and medicine as well.
Contact Information
(541) 346-5288
(541) 346-4118 fax