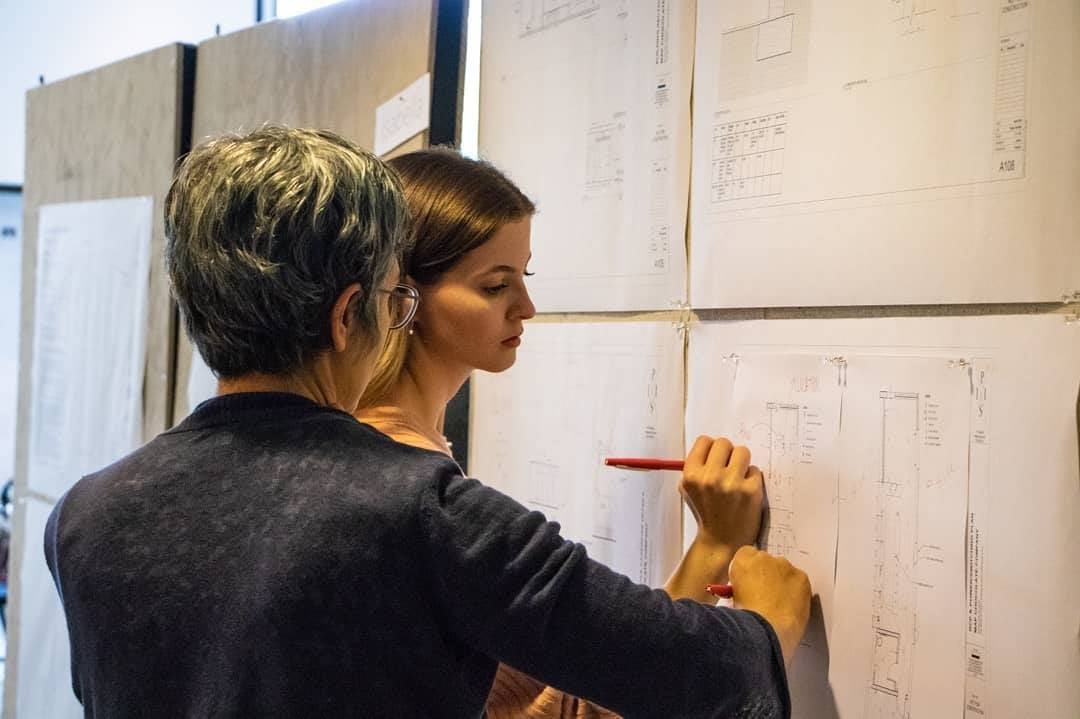 Undergraduate degree: BIArch
Undergraduate minor
Investigate Fully, Design Thoughtfully
In interior architecture, we revitalize, reuse, and adapt existing buildings and interior spaces to enhance quality of life for users. We focus on design and research strategies to make spaces and objects that resonate with users and provide uplifting, healthy, and sustainable interior environments.
The interior architecture curriculum at the UO is strongly design-oriented, augmented by theory and professional course work. Beginning course work is shared with architecture and provides a solid foundation from which to develop professional knowledge and skills. Our curriculum is student-driven. Students select from a variety of topical, mid-level design projects that integrate knowledge they learn in required courses. Our curriculum is "hands-on" with the opportunity to engage with real-life projects and stakeholders and to design and fabricate real designed elements such as furniture and light fixtures. A comprehensive project in the final year of study allows in-depth study and research into specialized areas of interest.
The UO's interior architecture program is a rigorous limited enrollment program. Applicants must complete the UO application for admission in addition to the departmental application. Program applicants should remain aware of departmental deadlines. Portfolio submission is strongly encouraged, but not required. If you do submit a portfolio, please include projects that will give us a sense of your creative potential related to your interests in the program.
Points of Interest
The UO interior architecture program is consistently ranked in the nation's top 10 among accredited programs.
You'll have access to high-quality digital output printers, a model shop, computer labs, furniture design shop and the Materials Resource Center. The Design Library and Visual Resources Collection houses an extensive collection of print and digital resources. 
Each year we bring visiting designers from around the world to teach and lecture about their work.
Several study abroad programs are open to you—for example, in Rome, Vicenza, and British Columbia. The school also works with the Danish International Study Programs in interior architecture and furniture design, to facilitate study in Copenhagen.
Sample Courses 
Understanding Contemporary Interiors covers an introduction to the theory of interior architecture as explored through illustrated lectures and projects involving analysis of space. This course is open to non-majors.
Color Theory and Application for the Built Environment includes principal color systems, methods of color harmony, effects of visual phenomena, and various psychological, cultural, and historical implications.
History of Interior Architecture I, II, and III examines the history of the built environment from a standpoint of human inhabitation. Interior spaces are studied in context with architecture, decorative arts, products, and visual design. These courses are open to non-majors.
Furniture Design Studio teaches students how furniture supports people and activities and requires that each student make a full-scale working prototype of their own design.
See more courses offered in the Interior Architecture Program.
Featured Faculty
Associate Professor Kyuho Ahn combines design and research with social equity. Ahn examines how the built environment improves wellbeing and quality of life for people, including those with disabilities. His courses and studios integrate projects and people that help students learn to design inclusively, and he mentors students from interiors and other design disciplines who are earning a minor in the Disability Studies program.
Visiting Faculty Ella Dickey practiced interior design in London as a designer for Perkins and Will and TP Bennett. Her projects included corporate design projects for financial, medical, municipal, and legal services as well as student residential and healthcare training facilities. In addition to teaching design studios and subject area courses, Ella will be working closely with students in the Materials Resource Center.
Associate Professor Esther Hagenlocher combines her expertise in color with a background as a cabinet-maker and architect in Germany. In addition to teaching IARC 4/547 Color Theory, Professor Hagenlocher integrates color and light into a wide spectrum of design studios in interiors and architecture, including shared beginning studios, interior design studios, and furniture design studios. 
Career Opportunities
Designers create innovative learning, healing, working, and living spaces that adapt to new technologies, incorporate new materials and respond in new ways to people. Students with a degree in Interior Architecture possess highly desirable design and technical skills that focus on adaptive reuse of existing buildings (a growing sector of the design industry). Studying interior architecture prepares you to practice interior design at the forefront of professional practice while also allowing you to expand into related fields, such as branding, exhibit design, and lighting design.
Interior Architecture Department
School of Architecture and Environment
College of Design