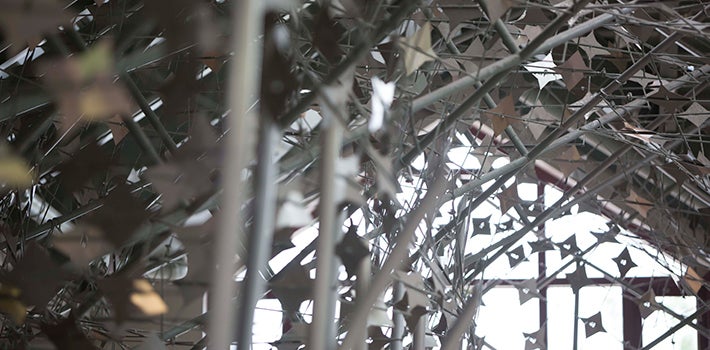 Undergraduate degree: BIArch
Undergraduate minor
Design a Stunning Career in Interior Architecture
Interior architecture is a major within the Department of Architecture in the School of Architecture and Environment. The UO has offered interior design course work since 1922. The College of Design's interior architecture program has a national reputation for excellence and consistently ranks in the nation's top 10 among accredited programs. Council for Interior Design (CIDA) accredited degrees are offered at both the undergraduate and graduate levels.
The interior architecture curriculum at the UO is strongly design-oriented, augmented by theory and professional course work. Beginning level course work is shared with architecture and provides a solid foundation from which to begin design studies. Advanced course work includes color theory, electric lighting, and furniture design. Detailing allows in-depth study and research into specialized areas of interest.
To gain admission to the College of Design's five-year interior architecture program, you must complete the UO application for admission in addition to the departmental application. Program applicants should remain aware of departmental deadlines. You must also have a portfolio that includes samples of your creative work, a personal essay, letters of recommendation, and academic transcripts that meet the department's own standards of academic excellence.
Sample Courses 
Understanding Contemporary Interiors covers an introduction to the theory of interior architecture as explored through illustrated lectures and projects involving analysis of space.
Color Theory and Application for the Built Environment includes principal color systems, methods of color harmony, effects of visual phenomena, and various psychological, cultural and historical implications.
Working Drawings in Interior Architecture includes preparation of working drawings for project designed in interior architecture studio.
Working Drawings for Furniture focuses on development of full-scale working drawings and as-built drawings of furniture projects from a furniture studio course.
See more courses offered in the Interior Architecture Program.
Career Opportunities
Opportunities for work in interior architecture abound. You could be an interior designer within an architecture firm or act as a consultant. You could specialize in furniture design, facilities management, lighting design, set design, and interior design education.
Interior Architecture Program
Department of Architecture
College of Design