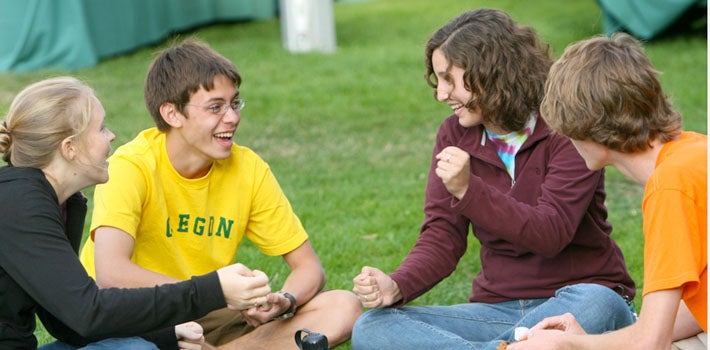 Undergraduate degree: BA
Bridging the Disciplines  
Majoring in humanities lets you take an interdisciplinary approach to topics that interest you. Are you fascinated by a specific chronological period or geographic area? Maybe you want to study literature, music, and art, but you're not sure how to tie those interests together. With help from advisors in the Humanities Program, you can combine components from several disciplines to create a strong, practical major offering great preparation for a wide range of careers.
The study of the humanities explores the elements at the core of our Western and world traditions and how they relate to one another. The humanities encompasses the study of literature, history, languages, philosophy, and the social sciences, among other fields of inquiry. Faculty members will help you establish intellectual coherence and integration across the disciplines. An education in the humanities prepares you to think critically, write clearly, and speak compellingly.
Points of Interest
Join the 70 percent of humanities majors that choose to study abroad.
Explore life in the middle ages with classes from music, art, history, religion, and other academic fields of inquiry.
Enjoy lectures and discussions with poets, writers, anthropologists, and philosophers at the Oregon Humanities Center.
Study the origins of the modern world with faculty members from diverse disciplines.
Sample Courses
Introduction to the Humanities examines the ideas and views that Western culture has inherited from the classical period. Readings and discussions focus on literature, philosophy, history, the arts, and religion.
Food, Art, and Literature examines the foodways of various cultures through their representation in art and literature. The cultures explored depend on the expertise of the instructor.  
New Media and Digital Culture is the study of media emerging from computer-based and digital techniques, including digital cinema, cyborgs, interactive games, multiplayer online simulations, and viral videos.
Introduction to African Studies surveys the cultural, social, political, and economic diversity of historical and contemporary sub-Saharan Africa.
The Ancient City explores urban cultures of the ancient world—particularly the relationships between the laws, traditions, and beliefs of ancient societies.
The Modern City looks at urban cultures of the modern world, emphasizing the links between legal, social, and religious structures.
Science and Culture traces the complex relationship between science and culture from the ancient Greeks to quantum mechanics.
See more courses offered by the Humanities Program.
Interdisciplinary Opportunities
Proficiency in a second language is a requirement for the BA degree and is central to the humanities major. Humanities majors are encouraged to take upper division classes in the foreign language of their choice. Humanities can be easily integrated with a major or minor in business, international studies, history, anthropology, or sociology. If you have a strong interest in international relations, you might combine your humanities major with courses in political science or ethnic studies.
Hands-on Learning
You may pursue internship opportunities in fields related to your humanities major through the UO Career Center. You may also find study abroad opportunities in your area of interest. The primary objective in the Humanities Program is for you to see how all the disciplines relate to one another.
Some humanities majors have found work-study employment at the Jordan Schnitzer Museum of Art or as undergraduate research assistants, working with participating faculty members.
The UO's Oregon Humanities Center administers a rich array of free public programs, including faculty member presentations, lectures by renowned thinkers, poetry readings, art exhibitions, conferences, symposia, and debates.
The Student Experience
After investigating 12 universities across six states, Maggie Rayfield's decision to enroll at the UO was easy due to its comfortable atmosphere and challenging curricula. "The Humanities Program at the UO encompasses everything that is attractive about the liberal arts," says Rayfield, "it challenged me to think in a structured, analytical way and to understand how people think, how people work together, and how people can be influenced." With guidance from supportive professors, Rayfield went on to finish a master's degree in politics and globalization at King's College in London. Now, she lives in the United Kingdom, working as a research assistant in the House of Commons in Parliament.
For Laura Stankis, it was the breadth of subjects offered by the UO that influenced her decision to enroll. Having multiple interests wasn't a hindrance once Stankis learned that specializing in many topics is encouraged and that the Humanities Program emphasizes the connections between different subjects. She attended a study abroad program in London and, with a little persuasion from professors John Nicols and Ina Asim, completed an undergraduate honors thesis in ancient history. Stankis says she is incredibly thankful to have accomplished those goals. Her thesis centered on the Emperor Augustus's use of coins for political propaganda in ancient Rome. While Stankis followed her dream of becoming a pastry chef after graduation, she says the value of her UO education is unmatched. 
Featured Faculty
Associate Professor Ina Asim's research concentrates on premodern Chinese history with an emphasis on unofficial historiographical as well as archaeological sources. Gender related questions are an additional focus of her research.
Professor Mary Jaeger is director of the Humanities Program. She teaches Latin and Greek as well as courses on food in the classical world and other topics in Greek and Roman culture. She is particularly interested in the stories that Romans told about their past and the monuments they built to preserve it.
John Nicols is emeritus professor of history and classics. His research and writing focuses on civic patronage in the Roman Empire and Latin epigraphy. Together with physics professor Greg Bothun, he teaches Science and Culture, which traces the complex relationship between science and culture from the ancient Greeks to quantum mechanics.
Career Opportunities
A degree in the humanities will serve you well in any number of fields—education, journalism, law, communications, community service and private business. Within the Humanities Program's curriculum, you will find opportunities to increase intellectual coherence and integration, build your awareness of cultural contexts and traditions, and find connections between humanistic theory and practice. This major is designed to provide essential skills and understanding for intelligent action and preparation for a wide range of careers.
Contact Information
541-346-4069
541-346-4118 fax