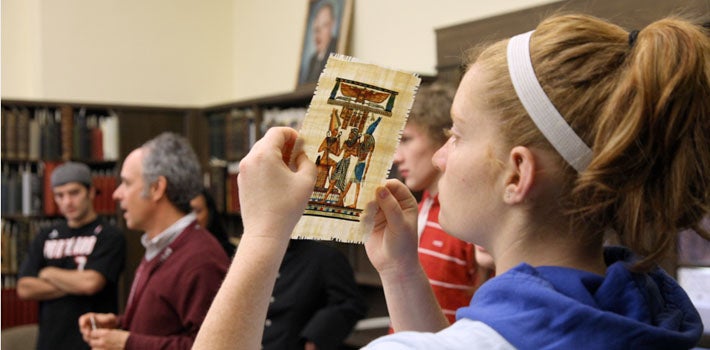 Undergraduate degrees: BA or BS
Undergraduate minor
Discover How the Past Shapes the Future
Examine criminal records from 18th-century England. Investigate the connection between soccer and societies in Latin America. Learn how the American West was settled and what was lost in the process. Tease out the truth about the African Diaspora, the Chinese Cultural Revolution, and other pivotal points in history. The past will come alive as you learn a variety of in-depth cultural and geographical points of view at the University of Oregon.
The Department of History offers courses on classical antiquity, Africa, Asia, the Middle East, Europe, Latin America, the United States (colonial and national periods), and the world as a whole. "We have a department that's nationally and internationally renowned and has a strong commitment to teaching and the quality of the undergraduate experience," says David Luebke, head of the department. To that end, all majors take a research seminar during their senior year. These seminars are limited to 15 students and focus on a variety of topics, such as late medieval holy women, Latin America in the 1960s, Stalinism, and consumer culture in modern America.
The study of history can lead you in a direction of your own design. Taste-test a wide variety of classes before choosing a specialty. You'll have opportunities to participate in meaningful internships, work closely with professors, and conduct independent research.
History majors learn a host of skills that prepare them for numerous career paths. Learn how to analyze information, write and think critically, and use primary sources to piece together the truth. History majors recreate and re-imagine past events using these lifelong skills.
Points of Interest
Sit with George Washington and Alexander Hamilton and compose your own constitution. Courses in the Reacting to the Past program allow students to step into the shoes of historical characters and reenact pivotal events in history such as the Constitutional Convention in Philadelphia.
Each year the department traditionally bestows a number of undergraduate prizes for outstanding achievement including the Faculty Recognition Award, the Robert E. Lang Memorial Scholarship, and the Turner Prize.
The UO history department's Mapping History Project provides students with interactive graphs and maps of fundamental historical problems and illustrations of historical events, developments, and dynamics.
A growing number of faculty members from diverse backgrounds have joined the history department in recent years. Their groundbreaking research and creative teaching techniques have made an increasingly positive impact on the department and its students.
Sample Courses
History of Women in the United States is a survey of the diverse experiences of American women from colonial times to the present.
Mexico looks at Mexican history from pre-Hispanic times to the present. Special attention is given to nationhood, economic development, church-state relations, the Mexican identity, and the Revolution of 1910.
Precolonial Africa surveys African history before the mid-19th century. Students analyze processes of state formation, regional and long-distance trade, religion, oral tradition, and systems of slavery.
War in the Modern World gives students the opportunity to survey changes in the nature and conduct of warfare in light of social, political, and technological developments.
Early Modern Science explores the subject, practice, and social place of science in the early modern world.
Japanese History through Film examines issues of personal identity and choice in selected periods of Japanese history, emphasizing individual and group responses to transition and social change.
See more courses offered by the Department of History.
Roam Far and Wide
Dig into the history of 20th-century Germany. Discover the intricacies of dining etiquette in China. Consider the passage of time through Charles Darwin's eyes. The study of history can lead you in the direction that interests you most. Students can explore a wide range of classes before choosing an area of expertise. In addition, students are given the opportunity to conduct research and write a thesis with guidance from faculty members.
Enhance your degree with a study abroad experience. Walk the streets of Rome while earning college credit. Help archeologists uncover artifacts that future generations will read about in textbooks. Under the early blossoms of spring, venture out into Oregon's landscapes and learn about the history, geology, and biology that make the state unique in Matthew Dennis' Oregon Abroad program.
The history department supports double majors who have studied history along with anthropology, political science, journalism, or other subjects. History can be paired with international studies to provide a breadth of understanding about global dynamics. It is also a key component in the study of law. You can even pair history with a second language to round out your understanding of another culture.
The Student Experience
For Kandis Jordan, history is more than an academic discipline; it is the lens through which she views and experiences her world. After developing an interest in Balkan history and culture, Jordan quickly realized she wanted to study multiple facets of history. With support from her instructors, she finished an honors thesis by the end of her sophomore year and organized and executed a historical display of the basket technologies, such as eel traps, used by Native American communities in southwestern Oregon.
When she isn't curled up with a book in the Design Library, Jordan enjoys reading historical comics and devising her next project. Inspired by her studies in history, she plans to study humanities abroad in Greece.
Since he was a child, Eli Paris enjoyed looking at maps in his children's atlas and reading about the history of the world. After taking an inspiring and thought-provoking course about the history of war, he knew the UO was the right place to be. With support from faculty such as Lindsay Braun and Alex Dracobly, Paris wrote extensive research papers, earned a scholarship, and studied abroad in Spain.
From acting as the President of the Assembly for the moderates in a French Revolution role-playing course to finding a niche in African history, Paris says he wouldn't trade his college experience for anything. He plans to continue to graduate school and eventually share his knowledge of African history with grade-school students.
Featured Faculty
Among many interests, Professor Ellen Herman specializes in the intellectual and cultural history of the modern United States. Her work encompasses exciting topics in the history of science and medicine, the history of adoption, psychology and public policy, the history of sexuality, and most recently, the history of autism. Herman established The Adoption History Project, a website highlighting the people, organizations, and theories that shaped child adoption during the 20th century in the US. She teaches classes about the history of childhood, women as thinkers, modern U.S. history, and more.  
Since 1988, Professor Matthew Dennis has taught engaging classes at the UO. His main areas of focus include colonial US history, environmental history, and the cultural and political implications of public memory. Among other courses, Dennis teaches courses in Reacting to the Past, a hands-on experience that allows students to study specific characters and immerse themselves in historical events. He also teaches Oregon Abroad, a field-trip intensive adventure that engages students in the history, geology, and biology of Oregon. His latest book, Seneca Possessed: Indians, Witchcraft, and Power in the Early American Republic was published in 2010.        
Assistant Professor, April Haynes teaches the history of women, gender, and sexuality from the fifteenth century to the present. From writing books and articles to enjoying teaching students and studying delicate 19th-century manuscripts, Haynes is always ready to encourage others. Her most recent book is, Riotous Flesh: Gender, Race, and the Solitary Vice in Antebellum Physiology, andher research has won several awards.
Assistant Professor Lindsay Braun is dedicated to researching and teaching students about Africa's history. He also assists students in their work with his vast collection of historical texts as well as shares anecdotes about startling encounters with baboons. Braun enjoys exploring new realms of knowledge including colonial-era struggles in southern Africa over notions of territory and state control. He teaches classes in environmental colonialism, the South African War, and the Apartheid era.
Career Opportunities
History majors learn a variety of skills that translate well to the workplace. Effective writing, the ability to analyze data, and the ability to organize information are just a few of them. Many librarians begin their studies in history departments. A solid grounding in history is helpful in careers as diverse as the diplomatic corps, journalism, and museum work. And of course history majors can become teachers. A major in history opens doors in business, academia, and the arts, or just about anything else you want to do.
Contact Information
(541) 346-4802
(541) 346-4895 fax