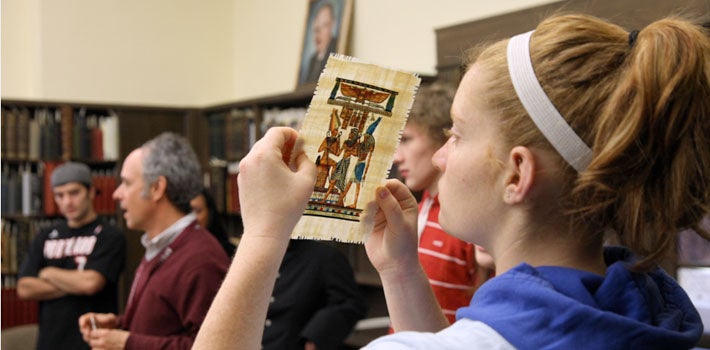 Undergraduate degrees: BA or BS
Undergraduate minor
About the major
From the controversies over monuments to the "Lost Cause" of the American south to the impact of pandemics on indigenous communities to the roots of authoritarianism, understanding the past and its resonance in the present and future is more important than ever. Studying the past trains majors to think rigorously, to write clearly, and to interpret events and problem-solve with creativity and confidence.
The bachelor of arts and bachelor of science in history are amazingly versatile degrees. The history major cultivates learning and skills that are crucial for careful and systematic thinking and, more broadly, are integral to a liberal arts education.
A little more info
The history major is highly flexible, with only two required courses and the rest customized to a student's interest.
"Reacting to the Past" classes allow students take on the roles of history-makers and re-enact key historical moments.
Each year the history department awards competitive scholarships to sophomores, juniors, and seniors.
Career opportunities
Besides paving the way to careers in fields like government, law, journalism, and education, the study of history cultivates critical skills useful in all careers. The top occupations for the department's majors are: lawyers, teachers, management and administration professionals, marketers, public relations specialists, and fundraisers. One in four history majors will go on to careers in business and business management.