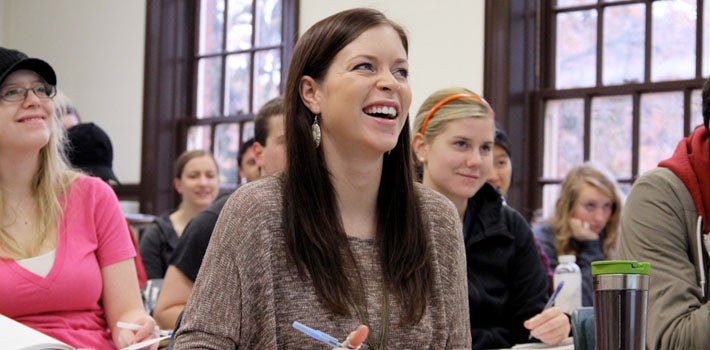 Undergraduate degree: BA
Undergraduate minor
Sprechen Sie Deutsch?
Learning another language fulfills the primary purpose of a university education: It prepares you to reason, analyze, solve problems, and communicate in a world of widely differing cultures. Within the Department of German and Scandinavian, students can choose a major focus in German Literature and Language, German Studies, or Scandinavian. Language instruction extends beyond German, but also includes Swedish, Norwegian, Danish, and Finnish.
More than 100 million people speak German as a first language, and it is the official language of six countries. More than one thousand companies based in German-speaking countries have subsidiaries in the U.S. In all of these firms there is a need for employees with an understanding of German language and culture.
Approximately 20 million people's mother tongue is a Scandinavian language, and notable Scandinavian literature spans a broad range from the beloved children's stories of Hans Christian Andersen to the modern crime novels by Stieg Larsson.
The UO Department of German and Scandinavian ranks among the top 10 colleges and universities in the number of students majoring in German. The UO also has the only program in Oregon in which students can get a major or a minor in Scandinavian. Classes are discussion-based with engaging activities designed to involve and engross students, with both group and individual writing assignments.
Many students choose to study abroad, some with awards from The Fulbright Program and the German Academic Exchange Service (DAAD). The UO offers a local internship program for advanced students of German to teach German in an elementary or middle school. Or you might take advantage of an opportunity to intern in a German-speaking or Scandinavian country.
Points of Interest
Get a taste of music, art, philosophy, and literature while building your language skills through on-campus course work.
Experience the magic of study abroad programs in Austria, Denmark, Finland, Germany, Norway or Sweden. Ski, take a dip in a frozen lake, research your ancestors, learn culture and idiom from native speakers—all while receiving UO credit.
Join the department's weekly German conversation group—Stammtisch—in an informal setting at a nearby restaurant. The group includes native Germans from the Eugene area.
Every other year, the department produces a German play. Past performances have included plays by Bertolt Brecht and Arthur Schnitzler.
Sample Courses
First-Year and Second-Year German provide a thorough grammatical foundation and promote the active practice of speaking, listening, reading, and writing in German. Students also learn about the cultures of German-speaking countries and the changes taking place in unified Germany.
Postwar Germany: Nation Divided is an introduction to literary and cultural movements of public dissent, including 1960s student revolutions, in postwar Germany.
German Fairy Tales explores German fairy tales in historical, cross-cultural, and theoretical context, from the Brothers Grimm and romantic tales to adaptations by Tchaikovsky and Sendak.
Emergence of Nordic Cultures and Society looks at the early history of the Nordic area from pre-Viking days to the mid-1800s. The curriculum includes Scandinavian and Finnish folklore, Shamanic traditions of polar peoples, and folk art and music.
Periods in Scandinavian Literature includes topics such as modern breakthrough and modernism in Scandinavian literature. Course work includes student discussion, oral presentations, and written papers.
Die neue Frau—The figure of the New Woman appeared in literature in the late 19th and early 20th centuries to explore the obstacles that women confronted as gender roles were changing.
See more courses offered through the Department of German & Scandanavian.
Interdisciplinary Opportunities
Course offerings both introduce students to key moments in modern German and Scandinavian literature and history, and explore connections between literature and related areas such as film, philosophy, the arts, social and political history, Judaic studies, and folklore.
Students interested in teaching can pursue a certificate in Second Language Acquisition and Teaching (SLAT). The SLAT certificate documents that the student has solid grounding in second language acquisition and in teaching in a specific second language.
Hands-on Learning
Many German students enhance their studies through one of the three University of Oregon-sponsored exchange programs: the year-long Baden-Württemberg program, the spring intensive German-language program in Tübingen, or the new year-long program in Vienna. Another possibility is the five-week, total-immersion summer program at the Deutsche Sommerschule am Pazifik in Portland.
Students who want to practice their German in a creative way on campu can take part in the biannual German theater production. Students interested in teaching German can develop skills through a two-term internship (GER 409) teaching local middle school German. Yet another option at advancing language skills is the weekly Stammtisch, or conversation table.
The Student Experience
By his sophomore year at UC Santa Cruz, Joshua Heath knew something in his education was missing. After considering a suggestion from one of his professors, Heath decided to transfer to the UO where he immediately dove into the linguistic and literary world of German. With supportive professors who attended study sessions, hundreds of hours tucked in a cozy corner of the library, and interactive workshops designed to engage younger audiences in German culture, Heath grew confident in his interpretive skills. Before enrolling in graduate school, he plans to travel to Germany for a highly anticipated test of his new skill set.
From pursuing an early interest in German at his Medford, Oregon, high school to breaking the language barrier and becoming fluent at the UO,
Tyson Striley
has always had a love for German. With support from rigorous, creative, and accessible professors like Matthias Vogel and Martin Klebes, he earned academic scholarships as well as a certificate in German elementary education. He also made time to pursue his second passion for playing the trombone for the
Oregon Marching Band
and traveling across the country with the
Green Garter Band
. Striley hopes to return to Medford to teach German to high school students before continuing on to a graduate degree.
Initially Grant Barba had no intentions of majoring in German, but a freshman year study abroad experience in Germany changed his mind. Barba says that he has enjoyed the small class sizes and intimate academic environment of his UO German classes. The Department of German and Scandinavian "offers a wide breadth of courses with emphasis on cultural, philosophical, political, and other aspects of German society," says Barba, including his favorite class, Professor Alexander Mäthas's seminar on the student movement and counterculture of the 1960s.
Joanna King's performance as Pauline in the department's production of Arthur Schnitzler's Die Frau mit dem Dolche (The Lady with the Dagger) helped most with her German pronunciation and inflection. "I feel more confident speaking in German now because of it," says King. "I remember I would leave rehearsal in a German mindset and would want to continue speaking it outside of the classroom." The play also benefitted her personally. "The class really helped develop my character," says King. "I knew that my performance would reflect the amount of work I put into it, which made me more motivated."
Featured Faculty
Professor Susan Anderson focuses on German and Austrian literature from the late 19th century to the present. Recent courses have explored the epic tradition in German novels, postwar and post-wall German culture, and diversity in contemporary Germany.
Professor Kenneth Calhoon's research and teaching interests range from the late eighteenth through the early twentieth centuries with particular emphasis on drama, early cinema, aesthetics, and the history of manners. Courses include enlightenment, romanticism, literary theory, and film studies.
Professor Alexander Mathäs has taught courses on drama, the Doppelgänger motif, postwar literature, and German culture. He is interested in how writers attain a sense of who they are through the creation of literature. His current research explores whether humanist ethics might still have purchase in a postmodern world.
Associate Professor Dorothee Ostmeier's research and teaching focus on German literature and culture of the 18th to the 20th centuries. Her courses on fairy tale traditions, especially on their magic and uncanny realities, tackle the moves from utopian to anti-utopian tales and link these to questions of social marginalization, gender imbalance, imaginary friends, and schizophrenic characters.
Career Opportunities
German heritage permeates Western society, particularly in the areas of classical music, literature, science, philosophy, and theology. There are many useful applications for a working knowledge of German and Scandinavian languages.
Recent graduates of the department have applied successfully to schools of law and business. Students can also pursue careers in teaching, tourism, international business, and government or foreign service. Many universities look favorably on applicants with degrees in German and Scandinavian, and alumni pursue graduate degrees in nationally prominent programs in German, Scandinavian, linguistics, history, and comparative literature.