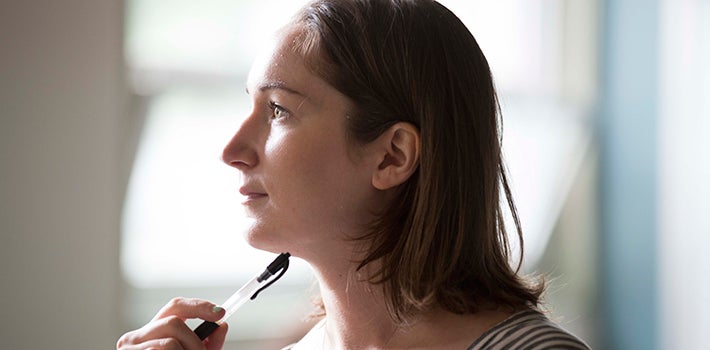 Undergraduate degrees: BA or BS
Undergraduate minor, undergraduate minor in queer studies
In Pursuit of Meaningful Work
Who selects the canon in literature? Who is left out of the history books? What do our constructions of gender say about our society? In the Department of Women's, Gender, and Sexuality Studies you'll challenge the status quo by asking critical questions. The department strives to give women and others who have been silenced a voice and tools to effect change. As a women's, gender, and sexuality studies major you'll revisit history, evaluate economic disparities, look for solutions, and generate ideas about cultural constructs. Take an in-depth look at social pioneers who have shaped our world as well as issues ranging from Title IX to colonialism to queer studies.
The wide range of classes explores the intersections of gender, race, class, and sexuality; the institutional structures that have an impact on women's and men's lives; and the broad range of feminist theory that seeks to explain and influence women's status in society.
"What students in this program find is small classes where they are challenged to think about the social world in which we live, and how gender has structured social, political, and economic systems," says department head Ellen Scott. "It opens a whole new lens on the world, not just on personal lives, but on the world."
Among the areas of emphasis in the women's, gender, and sexuality studies department are gender and sexuality, postcolonial feminism, cultural representation and literature, women and labor, feminist theory, critical race feminism, immigration and citizenship, and social activism. In addition, students take classes in History, Political Science, Anthropology, Ethnic Studies, International Studies, and Philosophy that all count toward the major requirements.
In addition, more than 70 faculty members are affiliated with the department. Scott calls it one of the most flexible departments on campus. "Sometimes I think students stumble into the women's, gender, and sexuality studies major," Scott says, "but what they find is what keeps them there."
Points of Interest
Women's, gender, and sexuality studies majors have the opportunity to write a senior paper that may be nominated by their advisor for honors distinction.
The department offers a minor in queer studies. The minor is a multidisciplinary and interdisciplinary program where students study sexuality as a complex historical and cultural formation. Queer studies approaches the study of sexuality in relation to the social construction of gender, race, ability, class, and citizenship.
Gain hands-on experience and develop professional skills working as an intern in a nonprofit agency.
Work is also being done to expand student diversity in the program, building and supporting a critical mass of underrepresented minority students and encouraging them to pursue postgraduate studies and professional occupations.
The department works closely with campus organizations like the ASUO Women's Center, the Center for the Study of Women in Society (CSWS), and the Office of Equity and Inclusion.
Fembot, an organization closely connected to the CSWS, launched the first issue of its peer review journal Ada: Journal of Gender, New Media, and Technology in 2012.
Sample Courses
Women, Difference, and Power examines the diverse experiences, status, and contributions of women in the United States. Students study topics like the social construction of gender, race, sexualities, work, class, violence, and health.
Women's Literature, Art, and Society is an exploration of women's literacy, artistic, and intellectual contributions to women's culture and dominant cultures in the nineteenth and twentieth centuries.
Science, Technology, and Gender investigates the role of gender in scientific practice and looks at the impact of sexism and racism on the development of science and technology.
Gender, Travel Writing, and Tourism addresses contemporary issues including queer theory, sexualities and genders, feminism and race, and global feminist theory in the context of tourism.
See more courses offered by the Department of Women's, Gender, and Sexuality Studies.
Immerse Yourself
Roll up your sleeves and dig into real social justice work by participating in internships in the community or pursuing your own research project. The department's internship program requires volunteer work with a community service or women's advocacy agency. Internships offer practical work experience and career preparation with a variety of public and private agencies such as Planned Parenthood or the ASUO Women's Center.
The Student Experience
It didn't take long before Chelsea Leonard found her niche at the UO. In the women's, gender, and sexuality studies department, she focuses on social justice and oppression and analyzes issues that are close to home. As a child of gay parents, Leonard couldn't help but notice certain stereotypes. "I remember looking at the cereal boxes in the store that said, 'hey mom!' instead of 'hey parents!'" says Leonard. Her experience at the UO has taught her to challenge herself and reevaluate her own thought processes. After accomplishing several goals including working for more than a year to have Frank Warren of PostSecret visit the UO, Leonard is excited to see what is in store for her next.  
Starting with a variety of classes in sociology,
Samuel Jay
quickly grew to love the women's, gender, and sexuality studies department and added it as a second major. With support from his professors Jay tackled a senior thesis on how masculine or feminine perceptions affect the individuals that have them. He became an intern at
Ophelia's Place
, using his skills as an amateur boxer to conduct boxing clinics and empower young women. He also gives presentations at local high schools about healthy relationships and bullying. Jay's next steps are law school and making an impact at a social justice organization.
Featured Faculty
Ever since she joined the UO in 2008, Professor Carol Stabile has enjoyed teaching interactive lecture courses and directing the CSWS. "I'm always surprised by the talent I see in my classes," says Stabile, who is working on a new learning model that incorporates professional careers into group projects. "Much like the teams created in online games, students will take on challenging character roles. Instead of spell-casters or healers, students will be writers, researchers, image specialists, or managers." Currently, she is conducting research on gender identities formed in online gaming communities. Stabile is also completing a book on female television writers in the 1950s and the complex issues they faced.
Before pursuing her graduate degree, Assistant Professor
Kristin Yarris
gained first-hand experience with global heath issues in Latin America. There she began to discover her niche in global health, multigenerational caregiving, and migration patterns. Yarris is excited to see her latest articles published in respected journals and is enjoying collaborating with students on their research projects. "Students here are adept at thinking critically about material which challenges me to stay four steps ahead of them," she says. One of the classes Yarris enjoys teaching is Population Displacement and Global Health, which looks at several factors for migration during economic and political violence and environmental instability. 
Career Opportunities
Become a lobbyist for women's reproductive issues in the state legislature. Research the laws on gay marriage for your nonprofit agency. Build a career in public service, nonprofit work, or education. Counselors, human rights advocates, medical professionals, human resources managers, and others who are passionate about providing a voice to the disempowered often benefit from a deep understanding of gender and its relationship to other systems. With this understanding they are better able to identify and address disparities in their social context. This major will teach you how to articulate the right questions and where to look for answers.
Department of Women's, Gender, and Sexuality Studies
Contact Information
(541) 346-5529
(541) 346-0652 fax