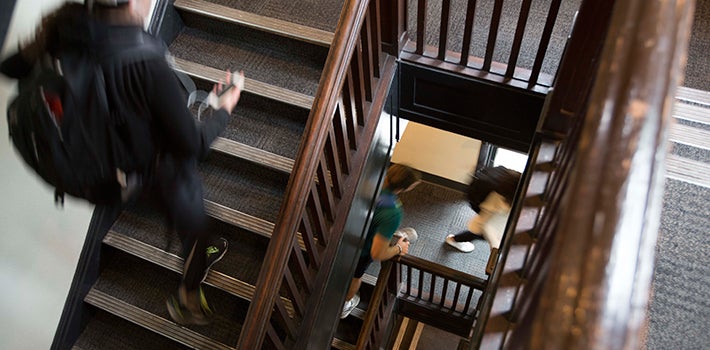 Undergraduate degrees: BA or BS
An Interdisciplinary Approach 
The general social science major at the UO offers students the practical focus of professional training with the classical skills of a liberal arts education. The GSS curriculum allows students to build a major that includes courses from across several social science fields as well as courses outside the College of Arts and Sciences. Students majoring in GSS will specify their interests by choosing from among four tracks:
The Crime, Law and Society track provides you with a broad exposure to problems confronting society relating to the causes, consequences, and policy proscriptions regarding crime and socio-legal studies. This concentration offers a flexible curriculum that prepares students for law school or careers in criminology, law enforcement, or social services. 
The Applied Economics, Business, and Society track is built around a core of courses in economics and the business school. Combining business training with a broader social sciences perspective, this concentration gives you the skills to pursue a career in business or government and makes you a competitive candidate for MBA programs.
The Geo-politics, Environment, and Policy track focuses on applied policy relating to broad social-political and environmental issues at the regional, country-specific, and global levels. This concentration trains you to work in the green industry, NGOs, and governmental and international policy.
The Social Studies Teaching track is designed to ensure that students meet the coursework requirements for admission to the graduate teacher licensure program at the University of Oregon

—

UOTeach. This undergraduate program does not lead to a teaching license, but provides a well-defined curriculum for students interested in teaching social studies at the middle or high school levels, and provides them the appropriate background for post-baccalaureate study and licensure.
Pursuing this interdisciplinary major will expose you to a variety of teaching methods and research themes. Each concentration within the GSS major has its own set of core classes that can be complemented by a number of classes from many different academic programs. Students will benefit by drawing from many departmental resources across campus, including programs in political science, anthropology, economics, business, journalism, international relations, and many more.
Points of Interest
Flexible college curriculum

—

students have a say in designing their own academic paths.
The major requires students to cross-departmentalize, which offers access to benefits and resources from several different academic programs.
Students receive practical training toward a career, but with the intellectual rigor and benefits of a liberal arts education.
Students can specialize early on and choose classes, with the help of an advisor, that are pertinent to their personal tracks.
Great resources already exist at the UO, the GSS program allows students to more easily access these academic opportunities.
Sample Courses
Social Inequality (SOC 207) provides an overview of social inequality, cross-culturally and within the United States, and examines relationship of social inequality based on social class, race, and gender to social change, social institutions, and self-identity.
Prevention of Youth Violence (FHS 482) addresses research and practice in community interventions designed to prevent youth violence. Includes home, school, and community-based interventions.
Introduction to Business  (BA 101) orients students to historical, social, political, economic, and legal environments within which business operates, and examines interrelationships of the functional areas of management, finance, marketing, accounting, and international studies.
Introduction to Economic Analysis: Microeconomics (EC 201) asks how consumers, firms, and governments make decisions when facing scarce resources and how those decisions affect market outcomes such as prices and output.
Geography, Law, and the Environment (GEOG 463) explores the values underlying American legal approaches to environmental issues, as well as the role of laws in reflecting and shaping human understanding and use of the environment.
The United States in the 1960s (HIST 352) explores a watershed era in American history, including civil rights, student activism, educational crisis, the Vietnam War, gender revolution, and environmentalism.
Selected Faculty Work
Instructor and undergraduate advisor of political science John Davidson's research interests include constitutional law, intergenerational justice, animal rights, property rights, and the right to life. He has clerked for the Oregon Court of Appeals and has worked as a public interest attorney.
Professor David Dusseau is known on campus for his innovative approach to teaching Introduction to Business. The course revolves around a computer simulation program in which students make managerial decisions for a fictional business firm that competes with those of other students—an efficient way to learn the foundations of business. His areas of interests include organizational strategy, structure, and process management, as well as technology and decision making processes.
Assistant Dean of Academic Programs and Student Services Margaret Mahoney of the College of Education (COE) staff coordinates teacher training and implements participation in Teacher Standards and Practices. Mahoney also works to partner the COE with local school districts and helps to place student interns.
Professor Lise Nelson is a political and cultural geographer whose interests include rural development, social movements, and democratization; emigration to the United States from Latin America; and the cultural construction of place and belonging. She teaches Geography of Latin America, upper-division courses on development, and a variety of graduate seminars.
Career Opportunities
Graduates can apply major course work to a variety careers, from law and business to teaching and human rights activism to international politics and diplomacy. Become the communications director for a non-profit organization. Launch a career as a field organizer working to convince industry CEOs that helping the environment makes sense. Teach, write, or land a job in public policy. Become a conservation technician. A major in general social science will prove to be a strong foundation for far-reaching professional futures that can take you around the globe or put you to work in your own community. 
General Social Science Program
Contact Information
(541) 346-5907