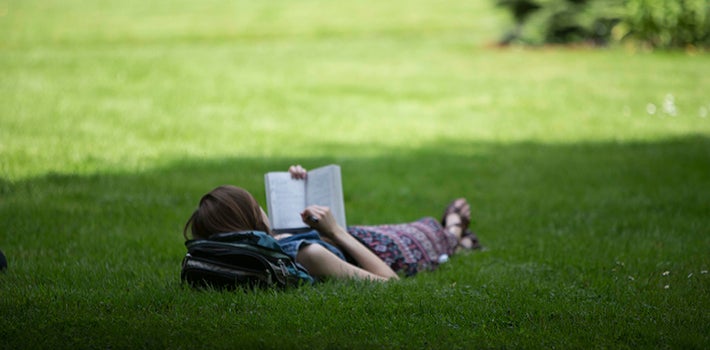 French is one of four Latin-based (or Romance) languages taught in the Department of Romance Languages, along with Italian, Portuguese, and Spanish.
Undergraduate degrees: BA
Language, Culture, and Travel
In the eighth century, the emperor Charlemagne, "the father of Europe," declared that, "to speak another language is to possess a second soul." There's something wonderful about studying another language, being able to think and express yourself in a new way. Using that skill to communicate with people whose culture and life experiences are very different from your own can be very exciting.
More than 250 million people in more than 50 countries speak French. It is an official language in 29 countries and maintains its status as a major language of culture, diplomacy, and economics. The Organisation Internationale de la Francophonie, established in 1970 and usually referred to as "La Francophonie," includes 57 member states on four continents. French is a passport to much of the world!
You may want to study French language and culture to get in touch with your family's history or to learn about the rich cultural legacies of France in Europe and across the globe. Perhaps you're looking forward to traveling through some of the countries and regions of Europe, Africa, North America, or Asia, where French is spoken and you want to build your language skills. Or, maybe you're interested in a diplomatic or global business career that involves multinational companies. Whatever the basis of your interest, a major in French in the University of Oregon's Department of Romance Languages will help you to expand your knowledge and horizons.
The Department of Romance Languages is a diverse multicultural and multilingual unit with a first-rate faculty from around the world. As a major or minor, you will gain an extensive knowledge of languages and cultures and will have invaluable opportunities for intellectual growth. You'll also be able to engage in a wide variety of extracurricular activities, including lectures and film festivals, language conversation groups, study abroad programs, and internships.
Points of Interest
Immerse yourself in French and French-speaking cultures—experience the magic of a study abroad program in Europe, Africa, or Quebec.
Earn UO credit for a Participatory Learning Experience, a bilingual internship program that allows students to use French language skills as volunteers in Lane County.
Practice your language skills in the Cercle Français, casual weekly gatherings of speakers with varying abilities and experiences.
Apply for an internship in a foreign country. French majors have found great international internships, including with a ski manufacturer and a vineyard in France, a biodiversity research institute in Gabon, and as English language assistants in French schools.
Sample Courses
Cultural Legacies of France explores cultural stereotypes while examining some of the social and cultural phenomena we associate most strongly with France: language, romance, food, fashion, revolution, democracy, and cultural imperialism. Conducted in English. FRE 150 fulfills both Arts and Letters and Multicultural (IC) requirements.
Francophone African Literature and the Popular Novel looks at how contemporary African fiction in French is crossing the limits of the realistic novel and inscribing new configurations of a coming-of-age story in the African context. Readings and discussion in French.
Baroque Theater is an intensive study of representative plays by Molière, Racine, or Corneille with emphasis on modern criticism. Readings and discussion in French.
French/English Translation focuses on the acquisition of practical translation skills, from English to French and from French to English and offers additional practice in interpretation (simultaneous oral translation) and the basics of translation theory. Readings are in French and English. Discussions are in French.
See more courses offered through the Department of Romance Languages French program, such as language courses, emphasizing real-world proficiency as well as the history and culture of the French-speaking world, or upper-division courses, covering a broad range of geographic areas and historical periods of French cultural production.
Interdisciplinary Opportunities
While studying other cultures, you will learn from experts across the disciplines. A student majoring in French can complement the program in a cross-disciplinary fashion with a double major, minor, or elective courses in European Studies, Business Administration, International Studies, Humanities, Comparative Literature, Women's and Gender Studies, Ethnic Studies, Medieval Studies or African Studies. You might also consider adding courses in history, art history, music, or linguistics to your academic plan.
Hands-on Learning
You already know the benefits of gaining intercultural experience and language skills. A study abroad program is one of the best ways to expand your language abilities and enrich your undergraduate career. The University of Oregon sponsors study abroad programs in nearly 90 countries around the globe. You may be able to study abroad by the end of your first year at the university, so talk with your adviser as soon as you choose a focus. The UO offers study abroad programs in Angers, Poitiers, and Lyon, France, as well as opportunities in the Francophone world, such as programs in Quebec, Morocco, Cameroon, Senegal, and Tunisia. Your studies may include humanities, social science, business, or medieval studies.
Featured Faculty
André Djiffack, associate professor of French, teaches 20th- and 21st-century French and Francophone literatures with an emphasis on the colonial and postcolonial Francophone literatures of sub-Saharan Africa. He is a specialist on the work of Cameroonian author Mongo Beti.
Karen McPherson, professor of French, specializes in 20th- and 21st-century French and Francophone literatures with an emphasis on the literatures and cultures of Québec and the Caribbean. Her research focuses on contemporary women writers, feminist and gender theories, narrative theories, and postcolonial studies. She is also a poet and literary translator.
Fabienne Moore, associate professor of French, specializes in 18th-century French studies. Her teaching and research range from the late 17th century to the early 19th century, with a focus on the literary history of the French Enlightenment and early French Romanticism. Her interests include the links between the political, religious, and aesthetic in Enlightenment poetry, and issues of gender, genre, and translation. She is a member of the European Studies Committee faculty.
Career Opportunities
French majors have gone into a wide variety of careers, including education, international business, law, international development, information technology, finance, library science, tourism, translation, and interpretation. You can use a bachelor's degree in French to pursue a career in teaching or in any field that requires fluency in your second language. You might go into international business, diplomacy, government, or Foreign Service. You could pursue a career in translation, interpretation, or editorial work. You might decide to go on to graduate school in Romance Languages or in another discipline, such as international law. The faculty members in French are ready to talk with you about options.