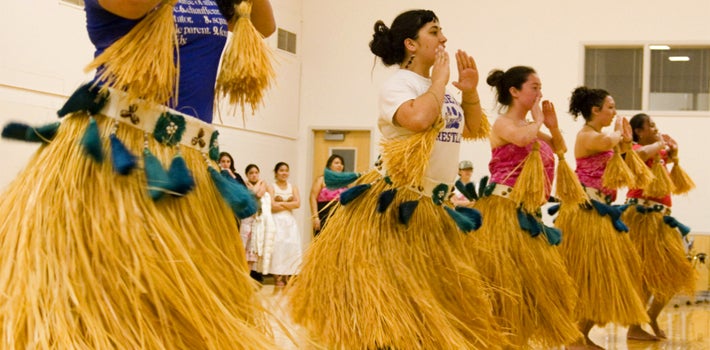 Undergraduate degree: BA
Undergraduate minor
Undergraduate certificate
More Than Just a Fairy Tale
Do you ever wonder why vampires, werewolves, and zombies have flooded popular culture? Why people tell the jokes they do? Or where a recipe that has been passed down for generations originated? "Folklore is all around us and we participate in it all the time. I like to say I'm a professional people-watcher," says Associate Director Lisa Gilman, director of the UO's Folklore Program. "Take our classes, and it's a light bulb moment. Everyday things have new significance." If you consider yourself a member of a community such as a fraternity, a choir, a swim team, a squad of elite zombie hunters, or even a UO Duck, you are taking part in folklore.
As a folklore major, you'll use theoretical analyses, research methods, and fieldwork techniques to study the ways tradition continues to enrich human behavior throughout the world. You'll examine the historical, cultural, social, and psychological dimensions of expressive forms such as mythology, legend, folktale, music, dance, art, belief, food, ritual, and ceremony. And you'll gain fresh perspectives on the ethnic, regional, occupational, gender, and other identities of individuals in specific communities.
Points of Interest
The Folklore Program is one of a few major centers of folkloristic research in the United States. With more than thirty participating faculty members, the program takes an interdisciplinary approach, allowing you to forge your own path.
The Oregon Folklife Network documents, sustains, and promotes Oregon's diverse folklife and cultural heritage. It works to provide access to folk arts through investing in traditional artists and cultures and advancing accessible learning opportunities for all Oregonians.
The Randall V. Mills Archives of Northwest Folklore collects fieldwork and research materials on folklife in Oregon and the Pacific Northwest. Collections include books, periodicals, student and faculty research papers, fieldwork projects, photographs, sound recordings, and documentary videos.
The surrounding city of Eugene has a vibrant folklife culture. Volunteer at the Oregon Country Fair, the Lane County Historical Museum or Eugene's Saturday Market.
Developing skills in filmmaking is a key component in the Folklore Program. Learn how to tactfully use a camera, conduct interviews, and capture cultural paradigms in a balanced and ethnographic way.
Selected Courses
Introduction to Folklore delves into the process and genres of traditional (i.e., folk) patterning and the relationships between these forms of expression and other arts, especially English and American literature. Students interview a practitioner of some type of folklore and create a short documentary film.
Folklore and Sexuality looks at intersections between folklore and sexuality and provides an entry point for examining contemporary social issues relating to sexuality, including sexual identities, courting practices, sexism, pride, violence, body image issues, and resistance.
Video Production examines various theoretical approaches, conceptual issues, research strategies, and techniques used for folklore fieldwork as a framework for creating a video.
Folklore and the Supernatural explores supernatural beliefs in modern society as expressed in folklore and film. Topics include apparitions, miracles, prophecy, apocalyptic cults, magic, ghosts, angels, vampires, fairies, UFOs, possession states, and supernatural assault.
African Folklore investigates a variety of expressive forms practiced by different groups of people living in Sub-Saharan Africa. Students examine the folklore (oral narratives, songs, popular music, dance, and tourist art) of specific groups to explore issues of aesthetics, identity, politics, gender, class, and globalization.
See more courses in folklore.
Immerse Yourself
Many students have found that combining folklore with other majors has helped them develop an even deeper understanding of their interests. Studying folklore alongside English, anthropology, cinema studies, comparative literature, medieval studies, Romance languages, or other areas of study can help you gain useful and relevant insight into the world around you.
Gain professional experience by interning, volunteering, or getting involved in work-study at the Oregon Folklife Network on campus. Enroll in a study abroad program such as in Senegal, which gives students the opportunity to get acquainted with the culture, society, politics, and language of West Africa while living and studying in a vibrant and cosmopolitan city; or participate in a four-week program in London and Edinburgh studying fantasy, folklore, and popular culture.
The Student Experience
"Folklore is the study of everything and anything, so there is a lot of freedom when pursuing original research," says Sarah Wyer, a double major in folklore and anthropology. "The interdisciplinary nature of the program also provided a lot of breadth when it came to choosing classes and designing my interests within the program's framework." While a student, Wyer has written for Ethos Magazine and The Siren, traveled to England to participate in an archaeological excavation, and has presented original research at the UO Undergraduate Research Symposium.
Sarah Knerl started at the UO as an English major, but after taking Intro to Folklore, realized that she was not only interested in stories, but also in the people and cultures who tell them. Knerl is now a double major in French and folklore. She hopes to teach or do fieldwork as a folklorist after graduating. As a mother of six children, Knerl is a non-traditional student, but says that fitting in at the UO is not a problem. "Everybody fits in because everybody is unique," she says. "That uniqueness is not only expected, but it's highly respected."
Featured Faculty
When Professor Daniel Wojcik isn't teaching classes or conducting research on popular religion and alternative art forms, he is working with his colleagues to further enrich the Folklore Program. After finishing his latest book, Outsider Art Realms: Visionary Worlds, Trauma, and Transformation, he focused on one of his earlier interests—end of world mythology. From ancient Mayan prophecies to pop culture's zombie apocalypse, he plans to unravel cultural beliefs about our world's end. Wojcik enjoys inspiring students to pursue things that interest them, "It has been so gratifying for me to work with students and hear about their accomplishments once they have graduated."
Anthropology Professor Carol Silverman says folklore was a hobby for her before it was her profession. She was a folk dancer, folk singer, and a folk music collector. Then she realized she could devote her career to something she loved. Silverman's research has focused on gypsy cultures and her most recent book is Romani Routes: Cultural Politics and Balkan Music in Diaspora. "My main goal is to overcome our natural ethnocentrism and give an historical perspective," she says. In her Gender, Folklore, and Inequality class, students compare life cycle ceremonies for women, such as puberty, marriage, and first birth. "What are the variations," she says. "What are the artistic parts of those ceremonies and what are the political implications?"
Assistant Professor John Fenn from the Arts and Administration Program focuses on the intersection of community art and folklore. His research centers on ethnomusicology. Fenn's Community Programming class is project-based and encourages students to conceptualize and plan community events. "Folklore is a dynamic and current set of beliefs and cultural practices, as well as a discipline. It doesn't have to be old to be folklore," he says. "There's plenty of folklore on campus that's worth investigating that has relevance in our everyday lives."
Career Opportunities
Program Director, Lisa Gilman says that the Folklore Program teaches critical thinking, reading, writing, oral and written communication. In addition, students learn library and ethnographic field research skills, as well as how to document research using video, audio, and written techniques. Folklore graduates work in various public and private agencies as educators, archivists, editors, librarians, arts and humanities consultants, museum curators, festival planners, and more. Become a specialist in intercultural communication, an administrator of the arts, or a moderator between communities. If you can't get enough of folklore, continue at the UO with one of the most exciting folklore graduate programs in the country.