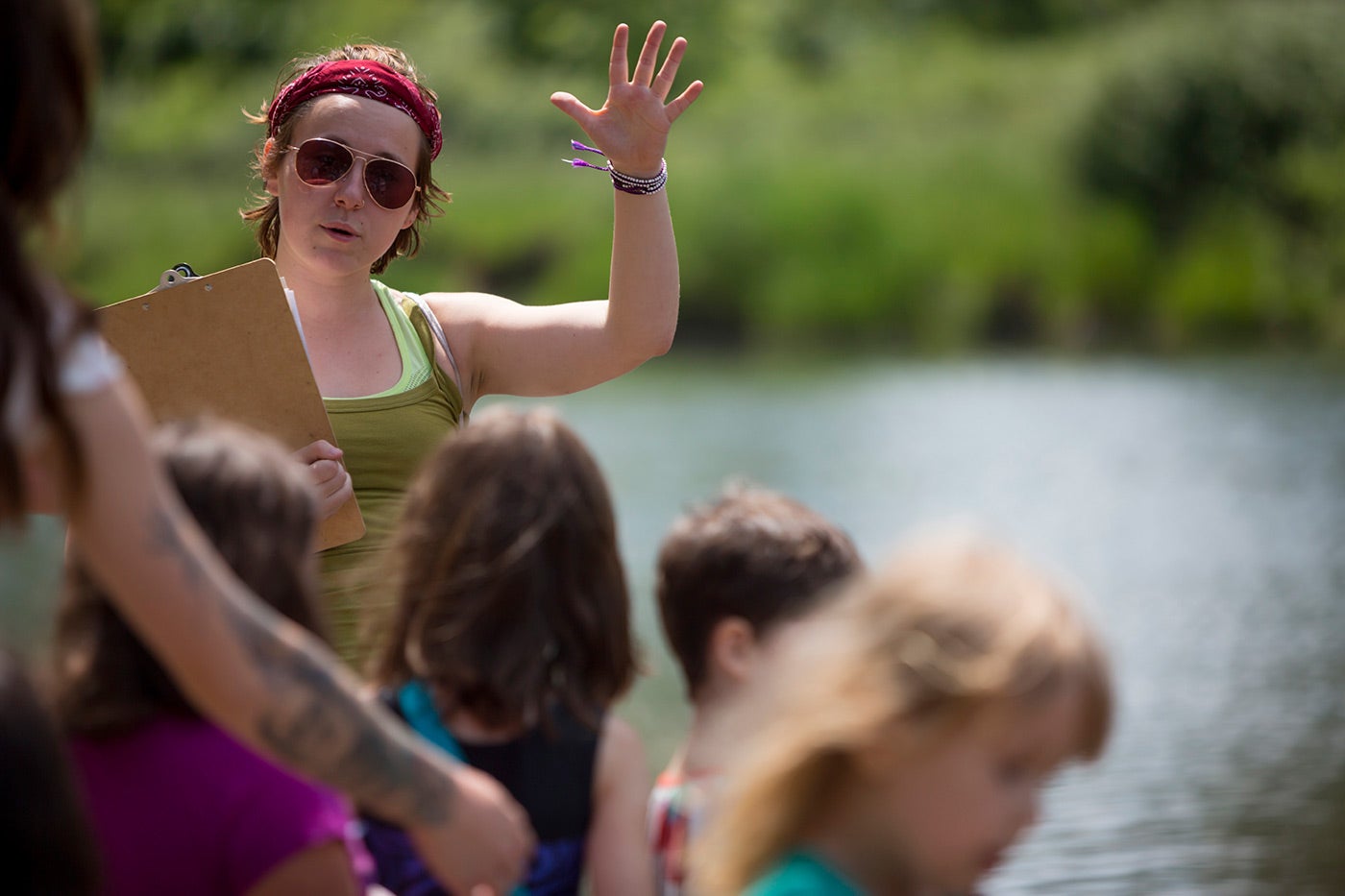 Undergraduate degrees: BA, BS, or BEd
Passion and Compassion at Work
If you want to help children, youth, adults, and families address issues in their lives, the family and human services (FHS) major is a program you should explore. Alongside like-minded peers, you'll analyze and develop ways to create a seamless system of community care for children and families. Working in community settings, you'll learn how to help children and families develop effective ways to succeed in today's complex world. You'll also gain a broad understanding of evidenced-based interventions, basic interviewing skills used with individuals and groups, prevention, and agency policy and practices. As an FHS major you'll gain a thorough understanding of what common terms, such as family and social system, really mean in today's culture and how they interact with each other.
As a graduate of the FHS program, you'll be prepared to meet the challenges of new learning environments, taking on roles such as case manager, youth outreach worker, family support worker, and residential care provider. You'll be able to pursue a career in a variety of fields, including child protection services, juvenile justice, corrections, mental health, drug and alcohol rehabilitation and treatment, and education. Or you can choose to conduct research or obtain an advanced degree in areas such as special education, social work, counseling psychology, and family therapy.
Points of Interest
The program is continuing to grow with more instructors joining the faculty and more classes being introduced into the curriculum.
You'll be required to take part in field studies internships throughout your junior and senior years amounting to more than 500 hours of community work by the time you graduate.
More than 150 different agencies in the Oregon community are open for you to hone your skills and practice the theories you'll learn in class. Gain real experience working for health care facilities, educational institutions, homeless shelters, juvenile centers, and many other local organizations.    
Join the National Organization for Human Services and take advantage of conferences and events, where you can publish and present your undergraduate research.
Before jumping into the FHS program, you can test the waters with the Substance Abuse and Prevention Program and the Service-Learning Program. These programs don't require applications for admission, and they provide opportunities to start early internship and course work.
Faculty members have connections with international programs where you can travel to India, Vietnam, Laos, Cambodia, Romania, Thailand, and many other countries to learn about social service and justice work in different environments.
Interning abroad is an incredible chance for you to learn to navigate social justice issues on a global scale.
An online and hybrid early childhood emphasis area is another option for students interested in working with infants, toddlers, and preschoolers and their families in settings such as Head Start.
Sample Courses
Issues for Children and Families looks at challenges children and families have to confront in modern society. Issues such as disability, poverty, health care, addictions, racism, and violence are addressed. Watch this short video to learn more about the class.
Prevention of Interpersonal Violence examines interpersonal violence and community-based prevention using ecological, multicultural, and international frameworks. It emphasizes assessment, prevention, intervention, and the simultaneous occurrence of adult violence and child maltreatment.
Youth Psychopathology in Context presents child and adolescent psychopathology and problems within a diagnostic framework. Topics in the class address psychosocial issues for youth in family and cultural contexts.
Organizational Issues in Human Services analyzes theories and policies on the organization of human services. Students focus on evaluating services for children, youth, adults, and families.
Individual and Group Interventions explores strategies and interventions that promote growth and change in individuals and families. Students also practice individual and group communication skills.
See more courses offered for the Family and Human Services program.
The Student Experience
"Helping people is what I want to do," says Antonio Verdugo, who has found multiple ways of working with community members at the UO. "Something as simple as a hug or a smile or a handshake can make all the difference in someone's life." His mission to help those in need was solidified after traveling to India, where he and his classmates worked with children with disabilities. After finding his niche in FHS, Verdugo added a minor in religious studies and joined the Outdoor Pursuits Leadership program, Substance Abuse Prevention Program, First Place Family Center, and Kennedy High School. He plans on attending graduate school and becoming a certified wilderness therapist, facilitating health and well being through adventure activities in natural settings.
In high school Rachel Kovensky thought she couldn't attend college because she came from an underprivileged household. With encouragement from her friends, she applied to the UO, where she won scholarships and was on her way to an exciting future. As a Clark Honors College student, Kovensky was able to complete a thesis on the effects that war has on children in Cambodia. Her thesis passed with distinction and earned a president's award. After her sophomore year, she spent five weeks helping communities in Africa. In the FHS program, she volunteered at Big Brothers Big Sisters, Relief Nursery, and First Place Family Center. Upon graduation in 2008, Kovensky began working as a case manager for the HIV Alliance in Oregon.
Featured Faculty
Born on Teacher's Day in India, Assistant Professor Atika Khurana seemed destined to influence people around her. "Knowledge only grows when it is shared with someone else," says Khurana, who has won awards for her teaching. She leads the dynamic research course and mentors undergraduates interested in venturing into social research. Her research focuses on adolescent development and risk-taking behaviors as well as possible interventions that can be used to protect young people from making risky decisions.
After 20 years in construction engineering, Assistant Professor Kevin Alltucker decided he wanted to help people in the community. He earned his doctorate at the UO and taught one class at a time until he was teaching full time. In 2006, he was recognized as the Best "New" Teacher in the College of Education and he is working toward winning the best "old" teacher award next. "There should be a law against an instructor reading off a PowerPoint slide," says Alltucker. "I like to use graphic design, creativity, interactivity, small group exercises, and discussions throughout my courses to engage students." His research, which is centered on gang prevention, is conducted using his own resources and any grant money he receives is given back to the community.
As an undergraduate, Leslie Leve took a course on research methods and got hooked on research. Now, as a Professor in Family and Human Services and Associate Director of the UO's Prevention Science Institute, Leve leads research projects focused on understanding the risk and protective factors related to healthy outcomes for children in foster care, teens in juvenile justice, and adopted children. Her work also examines the interplay between biological (genetic, hormonal), psychological, and social influences on development. She partners closely with several Oregon agencies to help them find solutions to questions they have through the use of research.
After Graduation
One of the many things you can count on, as an FHS major, is that you will find a career that you can't wait to start each morning. By the time you're ready to graduate, the list of topics you will have detailed knowledge about will take up a full page on your resume. Among the skill sets you'll gain proficiency in are developing family wellness, working with various technologies, conducting assessments, resolving conflict, collaborating with agencies, organizing community outreach events, and designing and implementing intervention strategies. Career opportunities in community service, child development, juvenile justice, social work, and more are available for students as soon as they graduate. Over 90 percent of students quickly find jobs in the field or are accepted into prestigious graduate schools after graduation.
Family and Human Services
College of Education
Contact Information
541-346-2143
541-346-0683 fax