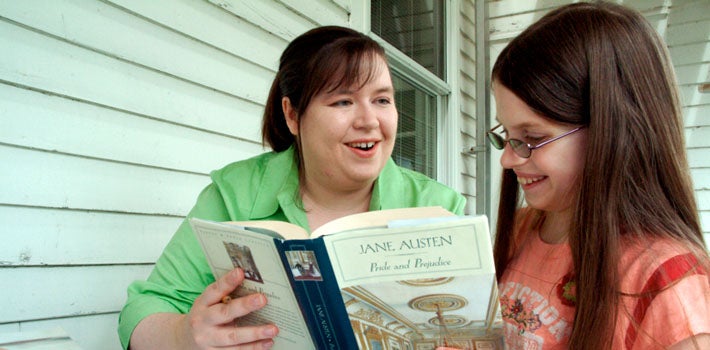 Undergraduate degrees: BA or BS
Ordinary Teachers Becoming Extraordinary
What does it take to be a good teacher in today's world?
It takes more than good intentions, books, and a chalkboard. The classroom of today can be a social, cultural, behavioral, and technological adventure, and teachers need to be well prepared to meet potential challenges.
The purpose of the Educational Foundations (EdF) major is to prepare future elementary educational professionals who are critical thinkers and well-informed about pedagogical practice, and who possess the knowledge and skills that will enable them to provide education for all students in economically, racially, culturally, and linguistically diverse communities.
The major is designed as a two-year program completed during the undergraduate junior and senior year. This is a pre-professional degree, and while the major does not result in a teaching license, it does prepare graduates who are highly competitive for admission into master's level teacher certification programs in Oregon and around the country.
Students planning to major in Educational Foundations enter the university with education pre-major status. Students with pre-majors typically spend their first two years fulfilling general education and pre-major requirements. Application to the major is made before beginning the junior year of study and may be made only during winter term of each academic year. The Educational Foundations website includes specific requirements and application deadlines. 
Points of Interest
The undergraduate major in Educational Foundations offers cutting-edge subject matter, relationships with award-winning faculty, and 100 hours of classroom observation.
With decades of classroom teaching and backgrounds in education sociology, ethnic studies, anthropology, physics, philosophy, measurement, educational psychology, sociology, and curriculum theory, the department's faculty members provide an array of expertise to help students become well-equipped teachers.
Study abroad options for Educational Foundations students include over 25 countries. With the help of the UO Study Abroad office, the Educational Foundations staff has identified education-related programs in the Americas, Africa, Asia, Europe, the Middle East, and Oceania. The Educational Foundations program of study has designated the fall of senior year the opportune time for a student majoring in Educational Foundations to study abroad.
A Four-Strand System
The Educational Foundations major consists of a core of educational studies courses organized into four strands.
The Learning, Teaching, and Assessment strand engages students in a critical reflection of life in classrooms. The juxtaposition of personal schooling experiences with disciplinary literature about assumptions underlying learning, teaching, and assessment is the driving theme of the courses within this strand. A field experience provides the foundation for more advanced explorations of learning, teaching, and assessment.
The Curriculum Theory strand examines the development of the intersecting and extensive field of curriculum studies. This overview provides an understanding of the historical/contemporary cultural, political, and philosophical concerns in the field. The relationship between pedagogy and theory is explored.
The Technology as Education strand challenges students to think critically about the theoretical, methodological, practical, and political issues related technology in schools. Students explore the sociology of technology and education along with an introduction to teaching methods utilizing technology practice.
The Equal Opportunity strand leads to in-depth study of the intersecting dimensions of the social, cultural, and political consequences of schooling. The assumption is that in-depth study of an issue like racism, homophobia, or ecological sustainability helps students appreciate the level of critical thought and practice required to provide education that transforms our society in positive ways. Students choose two courses of their interest, and a field experience accompanies each student choice course. 
Featured Faculty
Associate Professor Jill Baxter focuses on educational psychology, studying barriers to effective math and science instruction with a National Science Foundation grant.
Assistant Professor Joanna Goode is an educational sociologist researching the institutional and psychological reasons why underrepresented youth are prevented from entering computer science in high school.
Associate Professor Edward Olivos is a curriculum theorist with expertise in critical pedagogy, biliteracy, and bicultural parent involvement.
Educational Foundations Program
College of Education
Contact Information
(541) 346-3404
schmitke@uoregon.edu