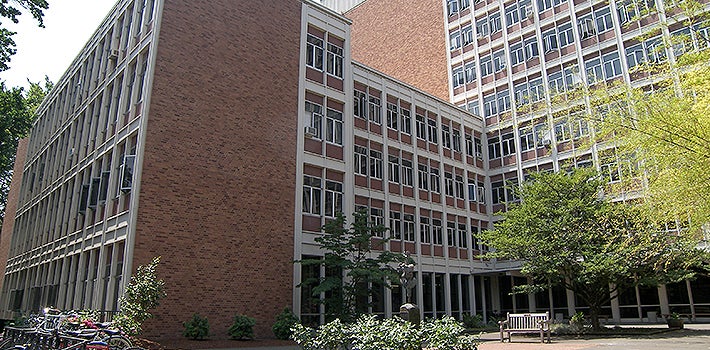 Undergraduate degrees: BA or BS
Undergraduate minor
Think Decisively
Economics is all about making decisions. It addresses the problem of using scarce resources to satisfy society's unlimited wants. From selecting a location for your multinational business to how you pick your mate, economists examine decisions from an analytical and critical point of view. Choose to become an economics major at the UO, and you'll learn to evaluate how people make the thousands of decisions they make on a daily basis, as well as how those choices combine to affect larger issues such as how environmental conditions affect the economy and how societies should manage natural resources.
More broadly, the discipline of economics is divided into two general areas: microeconomics and macroeconomics. Microeconomics explores questions about the way society allocates resources; it applies to public policy in such areas as urban, industrial organization, and labor markets. Macroeconomics considers such questions as the causes of inflation and unemployment; it applies to such areas as monetary development and international trade.
One of the most popular, relevant, and fastest growing majors at the UO, the economics department in the College of Arts and Sciences has a reputation for excellences in both teaching and scholarship. Majoring in economics will give you a unique perspective on a broad range of topics. From decisions being made in the White House to choices children make on the playground and every decision in between, studying economics at the UO will give you the tools you need to help others make positive and informed decisions in their own lives.
Points of Interest
As an economics major you'll have many opportunities to expand your academic activities beyond coursework, including participating in faculty-supervised research projects and internships and joining student organizations and clubs.
Economics, with its focus on analytical abilities and problem solving skills, is one of the best preparatory majors for students interested in business, political policy, and law school.
Graduates from the department have gone on to work for top businesses like Nike, Intel, American Express, Boeing, and other international organizations.
Students majoring in economics have consistently scored among the highest on graduate placement tests such as the LSAT, GMAT, and GRE.
Professor Mark Thoma's blog Economist's View and Professor Tim Duy's Fed Watch are recognized around the world as authoritative resources on economics by prominent news groups like the New York Times, CBS, and the Wall Street Journal. 
Career and Advising Services Director Bill Sherman has worked diligently with students to develop a strong sense of community in the economics department, creating an economics club, helping students with professional resumes and interviews, organizing exciting events, and establishing effective advising processes.
Sample Courses
Problems and Issues in the Developing Economies includes topics on the role of central planning, capital formation, population growth, agriculture, health and education, interaction between economic and cultural change, and more.
Behavioral and Experimental Economics investigates the "rational choice" model and behavioral alternatives using laboratory experiments. Topics may include altruism, auctions, bargaining, behavioral finance, hyperbolic discounting, and decision-making under uncertainty.
Economy of the Pacific Northwest delves into the locational factors influencing development of the region's major industries, recent changes in income and population, and problems and governmental policies in the areas of taxation, environment, and planning.
Introduction to Game Theory is an introductory course that develops game-theoretic methods of rational decision making and equilibriums, using many in-class active games.
Health Economics analyzes moral hazard and adverse selection, incentives faced by health-care providers through reimbursement, managed care, and malpractice, and rationales for government intervention in the health-care sector.
Econometrics is a sequence of courses that introduces topics in probability theory and statistical inference.
See more courses offered by the Department of Economics.
Immerse Yourself
Gain experience relevant to your future career while earning academic credit by taking an intense two-term honors class in nonprofit and community economics. Conduct social experiments in a lab to learn how hormones affect competitive behavior. Assist professors with their research on a plethora of topics. Work closely with local businesses and organizations collecting and analyzing data and developing applicable solutions to problems. "The classroom is the real world here," says Associate Professor Glen Weddell.
As an economics major you can easily combine your studies with other subjects such as international studies, pre-law, mathematics, or computer and information science. Economics is also highly compatible with political science, history, and sociology. All of these subjects come together to build a strong understanding of business and world economics.
The Student Experience
During her senior year in high school, Kathryne Maurer decided that Oregon was where she wanted to stay for her college education. After trying out a few academic programs, she discovered economics and loved everything about it. With support from professors, Maurer found a niche in labor economics and was chosen to be a McNair scholar, which gave her the opportunity to research parental preferences for the gender of their children from 1850 to the present. When she isn't working on research or finishing her minor in computer science, Maurer enjoys presiding over the UO's College Democrats club.
With a double major in economics and music and a minor in mathematics, Jake McGrew has kept himself busy playing the saxophone for athletic bands (including the Green Garter band) and taking part in economics projects. From teaching a Rock and Science FIG course to conducting original research for United Way of Lane County, McGrew found it easy to take advantage of many of the opportunities the UO and the economics department have to offer. He was accepted into the Peace Corps to teach English in Eastern Europe after graduation. When he returns, he plans on pursuing a doctorate in economics.
After following a hockey scholarship to a college in Rhode Island, Derek Wolfson decided he wanted a rigorous academic experience that was closer to home. At the UO, he quickly found his niche in the economics department. "Economics has given me a really interesting lens to look at the world through," says Wolfson who enrolled in the Honors College, double-majored in mathematics, and coordinated student mentors to reach out to high school audiences. Recently, he was invited to the Southern Economic Association conference to present his research on the relationship between park visitation and hazardous weather events. Next, Wolfson is looking forward to assisting professor Alfredo Burlando with economic research in Uganda.
When Megen Ickler first visited the UO's campus, she noticed how many students were wearing yellow and green. "Is it spirit day today?" she asked her friend. "Every day is spirit day," her friend said. As a double major in economics and planning, public policy and management, Ickler has developed a comprehensive view of the world. She participated in the UO's study abroad program in Amsterdam studying environmental planning and social policy. "I did a lot in a little bit of time," says Ickler who is excited to have a strong portfolio to show at interviews. Next, she plans on traveling to South Africa to work with the Social Justice Coalition.
Featured Faculty
After hitchhiking across the country, handling dynamite for an oil company, and finishing his college career, Professor Bill Harbaugh decided he wanted to move out west. His research focuses on several aspects of decision-making, including altruism, charitable giving patterns, hormones and competitive behavior, and neuroeconomics. His research in altruism caught the attention of the Dalai Lama who met with him during the Mind and Life XX Conference in Zurich. In one of his classes, Harbaugh instructs his students to give $100 to the class at the beginning of the term; the money is used for class experiments and, at the end, students get their money back and sometimes even more.
For Associate Professor Glen Weddell, Eugene has been an easy place to live and the UO has been a great place to work. With outstanding colleagues and curious students, the economics department has given him an ideal environment to teach and conduct research. "Economics provides an environment where you can actually make a difference in the world," says Waddell, whose research centers on topics including economics of education, health economics, risky behaviors, personnel economics, and the importance of physical and qualitative spaces in determining economic outcomes.
Since high school, Professor Mark Thoma has been searching for answers and solutions to economic problems. In 1988, he was welcomed to the UO by the economics department. Research in monetary theory and policy allows Thoma to find answers to questions like, "How does bad economic advice lead to financial bubbles?" and "How does policy change the way in which income is distributed throughout the economy?" The Huffington Post rated him as one of the top 25 economists to follow on Twitter. Every year, Thoma looks forward to senior graduation, "You suddenly see how much all of this has meant to the students," he says.
Career Opportunities
Economic majors have some of the highest starting salaries across all college graduates. Careers in economics are stable and economists' median pay in the US is more than $100,000 annually, according to the Bureau of Labor Statistics. Career opportunities in economics are found in federal, state, and local government agencies, corporate and private industries, business administration, various nonprofit organizations, and journalism. Economics is a great background for continued education in law or any business field, as well. Banks and other financial institutions employ economists to undertake specialized analysis in evaluating market positions and profit possibilities, federal government economic policies that have important implications for their business, and international economic events that affect the operation of their firms.