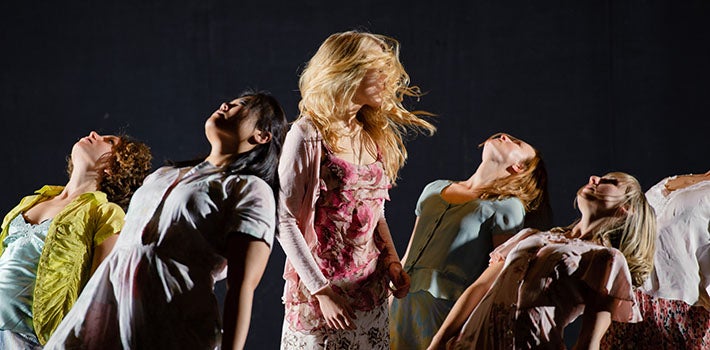 Undergraduate degrees: BFA, BA, or BS
Undergraduate minor
About the Major
The Department of Dance offers curricula leading to a bachelor of fine arts (BFA), a bachelor of arts (BA), a bachelor of science (BS), or a certificate in teaching dance, as well as opportunities for nonmajors. The goal of the department is to provide comprehensive dance training within the liberal arts framework of the university.
The study of dance involves intellectual, artistic, and physical development. The Department of Dance emphasizes all three areas of growth, a commitment made possible by the breadth of its curricular offerings and the depth of faculty expertise. In addition to the academic components, dance students experience the rigorous professional discipline that is inherent in studio classes. The department explores diverse idioms in dance: African dance and drumming, ballet, contact improvisation, contemporary, jazz, hip-hop, modern, partnering, and Salsa
Regardless of a student's career goals, education in dance at the University of Oregon provides the opportunity to develop motivation and self-discipline, intellectual curiosity, and creative imagination. These attributes are essential not only for a successful career but also for experiencing a fulfilling life.
More Info
Up to ten student-centered concerts and showings take place each academic year. Both majors and nonmajors are eligible to audition.
Groups such as Dema, an African dance ensemble, and the UO Student Dance Collective, tour Oregon and the Northwest.
Students may also earn credit and gain experience in teaching, lighting, production, choreography, and management.
Career Opportunities 
Art history grads attain among the highest LSAT scores and GRE scores nationally, and they are competitive applicants for law school and graduate school. Graduates from our department have worked for institutions, organizations, and businesses around the globe, including the Portland Art Museum, the J. Paul Getty Museum in Los Angeles, the Franklin Park Conservatory and Botanical Gardens in Columbus, Ohio, Princeton University in New Jersey, and Vogue International in London, England.