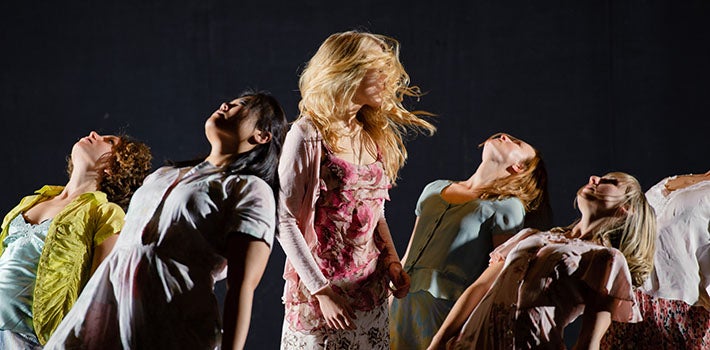 Undergraduate degrees: BA or BS
Undergraduate minor
Performance Opportunities
The department supports and produces up to ten student-centered concerts and showings each academic year. Both majors and nonmajors are eligible to audition.
The University of Oregon Repertory Dance Company (UORDC) tours throughout the state to forge community partnerships. UORDC is pleased to serve as company-in-residence for arts organizations and schools on the Oregon coast and in southern Oregon.
Dance Africa brings internationally known artists from African cultural groups to campus throughout the year to teach classes and perform.
Dance Oregon
The department partners with the student organization Dance Oregon to plan an annual trip for UO dancers to attend the American College Dance Festival. Dance Oregon also invites guest artists to campus during National Dance Week to discuss creativity and craft. Recent guests have included Zoe Scofield, Kathleen Hermesdorf, and Mark Haim.
Active Alumni
Since founding somebodies dance theater in 2008, UO alumni Gina Bolles Sorensen, MFA '08, and Kyle Sorensen '09 have energized San Diego's contemporary dance scene, garnering numerous accolades and touring in Mexico and throughout the United States. The artistic codirectors say that their UO connections continue to provide opportunities for performance and collaboration.
"Our professors not only instilled in us a solid understanding of the fundamentals of dance technique and choreography," says Bolles Sorensen, "they encouraged us to forge relationships with fellow students as we nurtured our own unique voices."
Admissions
There is no audition for BA or BS dance majors, but students seeking the BFA in dance must audition. Students may audition for the BFA program prior to their first or second year at UO. Please contact the Department of Dance for more information: 541-346-3386; dance@uoregon.edu.
School of Music and Dance
Department of Dance
Contact Information
541-346-3386
541-346-3380 fax
dance@uoregon.edu