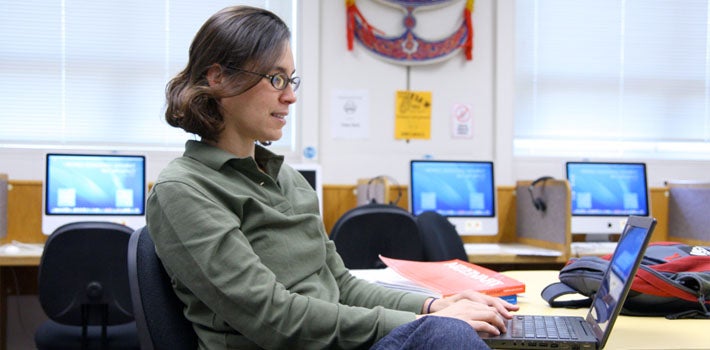 Undergraduate degrees: BA or BS
Undergraduate minor
About the major
As a computer science major, you'll study the computer as a machine—both concrete and abstract—and as a powerful tool for solving problems and exploring in a wide variety of areas. Through your computer science courses, you will learn how to design, analyze, and implement algorithms and programs, computer systems, and programming languages. You will have the opportunity to take classes in topics such as data science, artificial intelligence, networks and security, graphics and visualization, and more. From research and web design to data mining and software engineering, students in this field are on the cutting edge of prospective careers.
As computer science becomes increasingly intrinsic to countless aspects of daily life, the spectrum of career opportunities in this field continues to expand. By the time you graduate with a degree in computer science, you'll be a computational thinker prepared to flourish in any profession you choose.
A little more info
A technical degree from a liberal arts school provides students with the best of both worlds. Computer science combines well with a variety of other fields for multidisciplinary research and career opportunities.
Students can participate in undergraduate research experiences with renowned researchers in areas including artificial intelligence, data science, networks and security, and programming languages.
The Computer Science Career and Internship Seminar, offered each term of the academic year, connects students with UO career advisors, job recruiters, and the UO Career Center.
Career opportunities
Recent graduates are currently working at Amazon, CBT Nuggets, Concentric Sky, DocuSign, eBay, Google, IDX, Intel, Lawrence Livermore National Labs, Microsoft, Nike, Palo Alto Software, Pipeworks, and SheerID. Other recent graduates are pursuing graduate degrees in schools such as Carnegie Mellon, Leiden University, Northeastern, University of Michigan, University of Oregon, USC, and Yale.