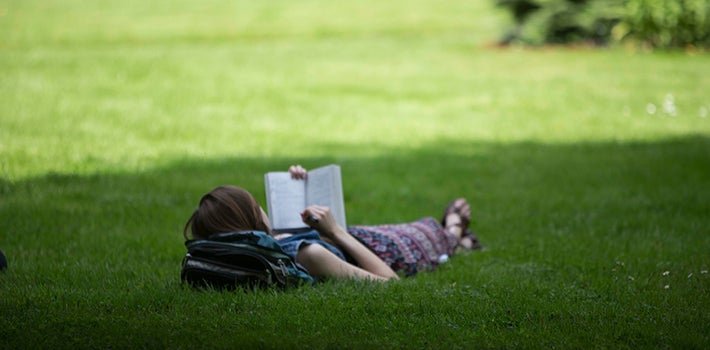 Undergraduate degree: BA
Undergraduate minor
What is comparative literature?
The study of comparative literature dissolves boundaries between the literatures of different national traditions as well as between literature and other forms of cultural expression—film, comics, digital media, and more. Students are encouraged to delve into the literatures of more than one language but also to study literature alongside fields such as journalism, psychology, philosophy, political science, art history, and cinema studies.
What can you do with a BA in comparative literature?
In an age in which communication has become the very soul of the professional world, the ability to tell a story is paramount. Whether your career path leads in the direction of journalism, public relations, advertising, (screen-)writing, multimedia design and production, environmental planning, non-profit work, political activism and organization, or even teaching, you will likely be responsible for developing narratives meant to grab people's attention, stir their imaginations, and capture their hearts.
Consider how powerfully your approach to such storytelling would be enhanced by the study of stories which, though told in earlier centuries or even millennia, have not lost their hold over the mind and often acquire new life in the versions that flash across our many screens, large and small. Consider how your mastery of "creative strategies" could be sharpened by a knowledge of epics, plays, poems, films, and other artistic forms in which creativity finds its fullest expression, or how your ability to frame a presentation might profit from an understanding of the myriad labors that words and pictures perform. Imagine how the comparison of literatures from different hemispheres will better enable you to position yourself professionally within our global community.
Graduates of our program go on to have interesting careers and fulfilling lives. Click here to see profiles and career trajectories of several former majors.
Where can comparative literature take you?
Our students typically love to travel, and our majors often take advantage of study-abroad opportunities afforded by the university—in places such as Italy, Spain, Sweden, Russia, China, Germany, Japan, Ecuador, and Argentina.
Students majoring in Comparative Literature (COLT) are likely to enjoy the study of languages, with some pursuing a double-major in COLT and a national literature, for example Spanish, Japanese, German, French, or Russian. The major requires superior language training—on average an additional one-and-a-half years beyond the university's minimum requirement for the bachelor of arts.
How is the major structured?
In comparative literature, you will gain critical skills within a flexible and intellectually challenging curriculum designed to engage you in the study of language, literature, media, and culture. There are two tracks within the Comparative Literature major. Which one is for you?
In the Language and Culture track, you will choose two national linguistic traditions. The language chosen to fulfill your foreign language requirement should coincide with one of these. If you want to study abroad, gain an in-depth understanding of one or more cultures, or pursue a graduate degree in literary study, then this is the emphasis for you.
The Disciplines in Dialogue track allows you to integrate literary study with work in a nonliterary tradition such as philosophy, film studies, psychology, or art history. If you want to combine literary study with creative writing, performance, or visual arts, choose this emphasis.
Points of Interest
As part of your undergraduate curriculum, you can participate in our NOMAD mentorship program where you will compose and present a research paper on a topic of your choice. Outstanding papers will be published in the NOMAD undergraduate comparative literature journal.
The comparative literature department also publishes the distinguished journal Comparative Literature. The official journal of the American Comparative Literature Association, this is the leading academic journal in the field.
In many cases, intensive summer language programs supplement those offered during the academic year. The UO's Yamada Language Center offers audio, video, and software support for the study of many languages and provides these programs and other cultural events during the school year. 
Sample Courses
Comparative World Cinema introduces the principles of comparative analysis, exploring the aesthetic, ideological, and socioeconomic exchanges between national cinematic traditions. Recent course themes include gypsies, zombies, and queer cinema.
Gender and Identity in Literature looks at gender and colonialism. The business of building and managing Europe's empire has been understood as a masculine domain, but the textual work of anticolonial writers focuses on the status of women in colonial cultures.
Comparative Comics examines genre of narrative from a comparative and global standpoint, reviewing the impact of comics and other visual media on questions of national, regional, and ethnic identity.
Comparative Media Critical analysis of a range of media from a transnational and/or intercultural perspective. Taught as a hybrid course blending face-to-face and online learning. Recent topics include Tokyo Cyberpunk, Asian Horror, and Listening to Cinema.
Literature and Philosophy Establishes a dialogue between philosophy and literature—as disciplines, as historical constructions, as value systems.
See more courses offered by the Department of Comparative Literature.
Immerse Yourself
Beyond your foreign language studies, you can choose classes from a wide variety of disciplines, including history, philosophy, sociology, art, theater, journalism, and women's and gender studies. Faculty members come to the comparative literature department from an eclectic variety of disciplines and advise students in their diverse areas of interest.
The comparative literature department sponsors a major lecture series that features speakers, films, and symposia based on an annual theme. Linking this series with curriculum, undergraduate students work one-on-one with faculty and graduate student mentors to develop, present, and publish their own comparative work on the topic. You'll have the opportunity to participate in this series of events and build your creativity in a literary project that combines your writing skills with comparative investigation.
Almost half the students in the comparative literature program have taken advantage of study abroad, either through programs that are administered by the university or through other avenues. With a bit of imagination, you can expand your language skills and enjoy a firsthand cultural experience while earning academic credit. Travel to London and walk the same streets traveled by Thomas More and Arthur Conan Doyle. Test your language and samurai sword skills in Sapporo, Japan. Compare Argentinean tango with the lasting influences of leaders like Che Guevara and Eva Perón in Buenos Aires. 
Featured Faculty
Associate Professor Michael Allan is always excited to learn from new experiences. "Growing up between Canada and the United States, studying in French and English, living abroad in France and Japan as a teenager, and working in Egypt after college has provided experiences that have shaped my intellectual outlook," says Allan. While he enjoys teaching several courses, his favorite classes focus on Orientalism in nineteenth-century Europe and the Middle East, Third Worldism, and the role of multiculturalism in America's involvement in Iraq and Afghanistan. He has recently published In the Shadow of World Literature: Sites of Reading in Colonial Egypt.
After more than 25 years at the UO, Department Head Kenneth Calhoon still loves coming to work every day. Since his high school days of searching for words in German dictionaries in Switzerland and Austria, Calhoon has had a passion for German literature and culture. His latest book, Affecting Grace: Theater and Subject from Shakespeare to Kleist, looks at the implementation of Shakespearean theater in Germany during the later eighteenth century. He enjoys engaging students in comparative literature in his introductory courses and seminars. In 2009, he won the Thomas F. Herman Faculty Achievement Award for Distinguished Teaching.