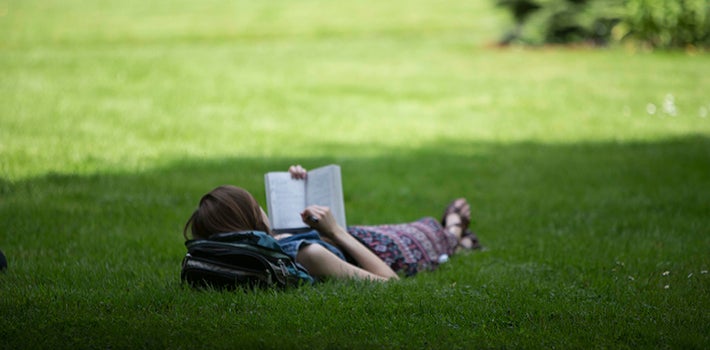 Undergraduate degree: BA
Undergraduate minor
About the major
Comparative literature students have a passion for words, for images. Many are enthralled with stories and aesthetic forms. They are avid readers and film buffs, who like to think about the way words and images communicate, create moods, address the ambiguity of human experience. Comparative literature teaches students to analyze these words, images and stories as the bases of culture. The discipline goes on to take a look at how culture and cultures interact with each other over time, in history and across spaces.
The comparative literature major offers different tracks and different focus fields that allow students to design their own unique course of study. Students in comparative literature read and interpret texts, in both original languages and in translation. The major offers two tracks: the language and culture track emphasizes proficiency in languages other than English, as well as in critical reading and thinking. Disciplines in dialogue trains students to study culture across disciplinary boundaries, as well as political and geographic ones. This track offers a manageable path for double-majoring in comparative literature and another field.
A little more info
The Comparative Literature Department is home to the Nomad Mentorship Program, which offers undergraduate students a year of personalized mentorship in reading and writing often leading to publication.
The Department of Comparative Literature publishes a journal of undergraduate writing (nomad).
Students in comparative literature at UO can take advantage of multiple study abroad opportunities to increase their language proficiencies and their cultural agility and sensitivity.
The Department of Comparative Literature offers for-credit internship experiences with an associated academic support program.
The department also offers credits for students who participate in the Department of Romance Languages' participatory learning experience internship courses.
Career opportunities
Comparative literature majors pursue careers arts, design, and media; legal occupations; education and training; journalism; library occupations; the entertainment industry; management; social justice; and office and administrative support.
The top occupations for the department's majors are: lawyers, editors, teachers and instructors, advertising and promotions managers, producers, chief executives, and elementary school teachers (source: EMSI).