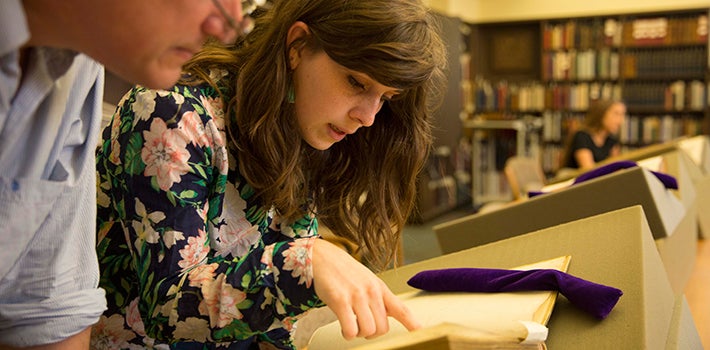 Classics, Greek, and Latin are all academic programs within the Department of Classics.
Undergraduate degree: BA in classics
Undergraduate minors: Classical civilization, Greek, Latin
About the major
The Department of Classics introduces students to the study of the ancient Greco-Roman world and two of its languages, Greek and Latin. The field is interdisciplinary by nature, because classics majors explore aspects of Greek and Roman life and culture by studying art, architecture, and artifacts, as well as language and literature. The expanse of time covered extends from prehistory to the early middle ages. Students of classics, moreover, learn about the ancient Greco-Roman world's influence on the arts and literature of later cultures, as well as on the social and political structure of the modern world. They also learn how the world of classical antiquity was very different from our own. Classics majors can concentrate on language—either Greek or Latin or both—or they can concentrate on classical civilizations by work in archaeology, and by studying artwork and artifacts, as well as translated texts.
A little more info
Classics majors can access the UO's digital Lowenstam Collection of Greek and Roman Archeological and Art Historical Images for study and research.
Students in classics can attend and present research at the Classical Association of the Pacific Northwest's annual conference, whose hosts include the UO.
The Department of Classics is active in the Archaeological Institute of America, which presents a regular series of lectures by visiting archaeologists and historians.
Classics students regularly study abroad in Italy and Greece.
The department has connections with archaeological excavations and summer field schools.
Career opportunities
Classics majors pursue careers in management, in education, in library, archival, and museum work, in computer and mathematical occupations, and in the arts and media. The top occupations for the department's majors are: public relations and fundraising managers, chief executives, tutors, lawyers, and administrative support (source: EMSI).