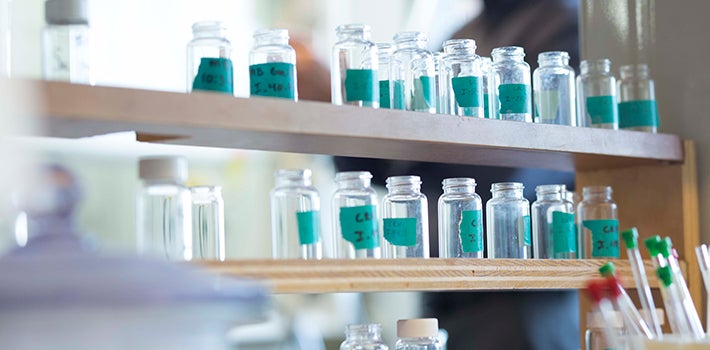 Undergraduate degrees: BA or BS
Undergraduate minor
Chemical Attraction
The University of Oregon's Department of Chemistry and Biochemistry has been busy updating its facilities and curriculum to provide the best opportunities for undergraduate research and learning. With brand new lab courses, equipment, general chemistry labs, and smaller personalized organic chemistry classes with private tutorials, the department is home to one of the top chemistry programs in the country.
"I've been here 20 years and have had 60 undergraduate students work with me in my lab; over half of them were published before graduating," says Professor Michael Haley, who advises students to take full advantage of the resources within the department, ask lots of questions, and take any classes that sound interesting.
Chemistry students at the UO enjoy the advantages of an established institute framework, which provides the strength and flexibility to move into rapidly emerging areas of chemical science. Students and faculty members are free to work with other departments and disciplines to follow their research interests. The chemistry department has the equipment, classes, faculty, support, and flexibility you'll need to explore the things that interest you.
Points of Interest
The chemistry department is home to the Green Chemistry Program, where students learn about aspects of sustainable building implementation.
In 2008, the UO inaugurated the Lorry I. Lokey Laboratories, a research facility where students can work with highly specialized instruments, gaining valuable hands-on experience.
SUPeR Chem (Success Utilizing Peer Resources) is the department's number one source for helpful advice. 
A brand new lab sequence gives students the opportunity to use a microwave reactor, a device that saves hours of time and allows for more in-depth research.
Sample Courses
The Chemistry of Sustainability illustrates how chemistry provides innovative materials, processes, and consumer products that support sustainable solutions to problems of energy utilization, global warming, and pollution prevention.
Green Product Design investigates how green chemistry, product design, advertising, and sustainable business practices are used to design greener consumer products and accelerate their adoption in the market.
Research Instruments is an advanced experimental and theoretical concepts course that focuses on the operation of instrumentation used in chemical research. Topics include Fourier transform nuclear magnetic resonance, Fourier transform infrared spectroscopy, electron pair magnetic resonance, and computers.
Bioinorganic Chemistry addresses the array of interactions between metals (zinc, iron, magnesium) and biological molecules (such as those in human blood). The course delves into biological systems, coordination chemistry, reactions, spectroscopy, metalloclusters, synthetic modeling, and solid-state inorganic chemistry as well as the electrical, magnetic, and mechanical properties of materials and their physical descriptions.
Quantum Chemistry and Spectroscopy gives students the opportunity to measure elements of physical chemistry using lasers and brand new technologies. You'll study molecular structure theory, perturbation theory, time-dependent quantum mechanics, theory of spectra, and selection rules as well as the experimental spectra of atomic and molecular systems and surfaces.
See more courses offered by the Department of Chemistry and Biochemistry.
Immerse Yourself
As many as 80 percent of the UO's chemistry undergraduates take part in research. You can develop tools for analyzing organic compounds, create new technologies to build inexpensive and efficient solar panels, or even discover cures to illnesses. As early as sophomore year, hard working students who express interest in a faculty member's research can join a research team.
You'll also have the opportunity to join student unions or clubs where you'll find a supportive network of like-minded colleagues. SAACS (Student Affiliates of the American Chemical Society) is a club for students interested in a variety of scientific topics. CMiS (A Community for Minorities in STEM) provides a comfortable space for students to come together to solve problems and present their research.
Motivated and academically accomplished students have a chance to participate in a fifth year internship master's program. The program combines classroom instruction and laboratory work with a six-to-nine-month industrial internship that pays $2,000 to $5,400 a month. At the end of the internship students receive their graduate degrees.
Organic Chemistry Goes Green
In 1998, Ken Doxsee and Jim Hutchison developed a groundbreaking approach to teaching organic chemistry that placed environmental concerns at the forefront of chemical procedures. The UO's Green Chemistry Program provides a comprehensive laboratory experience that focuses on low-waste, high-efficiency chemical processes without the typical levels of exposure to toxic materials. Unlike traditional labs, the green labs don't require limited space with special exhaust systems; students can use regular lab space, which is more readily available. This means more hands-on experience for more students.
Since the program's creation, over 200 schools across the country have adopted the UO's model and the UO chemistry department has recently been enlisted by the National Science Foundation to share the program with institutions around the world.
The Student Experience
Riti Gupta grew up in Corvallis, Oregon. When it was her turn to choose a university, a change of scenery, a promising neuroscience program, and a scholarship made it easy for Gupta to choose the UO. Biochemistry quickly won her over with cozy labs, great instructors, and interesting research. She dove into the myotonic dystrophy lab during her sophomore year and studied theoretical chemistry in Spain throughout her junior year. Gupta teaches basic chemistry courses in the Science Literacy Program and is codirector of the Students of the Indian Subcontinent group on campus.
Originally from the small town of Coburg, Oegon, Gabriel Lovinger couldn't wait to work with the chemistry resources at the UO. After enrolling in the Clark Honors College and adding a second major in math, Lovinger took advantage of the TASSEP program and studied abroad in Spain for a year. There he learned computational chemistry and later implemented a new computational workstation at the UO's organic chemistry lab. Lovinger has earned a McNair scholarship and presented his research at two major conferences. He also organizes outreach event with the Mortar Board honors society on campus. He plans on taking a year off to publish his research before starting graduate school.
Featured Faculty
For UO alumnus and Assistant Professor Shannon Boettcher, doing stuff that no one has ever done before is one of the many highlights of working in the chemistry department. When he was a freshman, a chemistry professor encouraged him to get involved in research and now he encourages his students to do the same. "Suddenly, coursework starts to make sense and everything becomes very interesting," says Boettcher, who specializes in materials chemistry, which includes the creation of biodegradable products, cost effective solar panels, and efficient energy storage.
Assistant Professor Michael Pluth couldn't wait to work at the same university he had graduated from. As a teacher, Pluth shares his knowledge of physical organic chemistry and the mechanisms of chemical reactions. Outside of class, he and several undergraduates are focusing on two different research projects: developing fluorescent probes to discover more about organic compounds, and developing different kinds of catalysts. Pluth is a big track and field fan and has enjoyed watching the Olympic Trials right outside his window. In his spare time, he teaches science to middle school children during furlough days.
Career Opportunities
Chemistry can provide the foundation for interesting careers in medicine and medical laboratory work. It can lead to a career in pharmaceutical design as well as in genetic research. Chemistry provides the strong background needed to research and develop discoveries in countless real-world materials—from plastics to food to modern materials used in housing, transportation, solar energy, and computer technology.