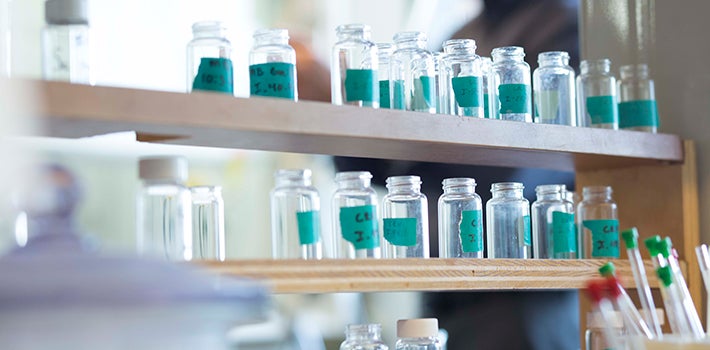 Undergraduate degree: BS
Undergraduate minor
About the major
The Department of Chemistry and Biochemistry offers majors in chemistry and biochemistry. Biochemistry majors complete an integrated, rigorous program that includes foundational course work in chemistry and biochemistry and additional course work in related fields. Undergraduate majors benefit from taking graduate courses in synthetic modeling, physical chemistry, materials, computational chemistry, biochemistry, molecular biology, and modern instrumental techniques.
The American Chemistry Society-certified degree emphasizes laboratory experience and the development of professional skills. A unique strength of the department is the opportunity for undergraduates to participate in the activities of a dynamic research group that considers problems extending well beyond textbook instruction.
A little more info
The Department of Chemistry offers students the great advantage of working in a research-equipped laboratory on a scientific problem that will take the student beyond textbook instruction, beginning as early as their first year.
The Chemistry Club promotes a greater understanding and appreciation of chemistry by sponsoring chemistry-related science activities.
The Society for Advancement of Chicanos/Hispanics and Native Americans (SACNAS) encourages students of all backgrounds to pursue a career in any STEM field (sScience, technology, engineering, and math).
SUPeR Chem Peer Learning Assistants offer drop-in, small group review sessions.
The department offers scholarships and fellowships for undergraduate students.
Career opportunities
Biochemistry majors pursue careers in environment and health, research and development, quality control and regulatory industries, and law and policy. The top occupations for the department's majors are medical scientist, chemist, family and general practitioner, chief executives, teachers, and industrial engineers (source: EMSI).