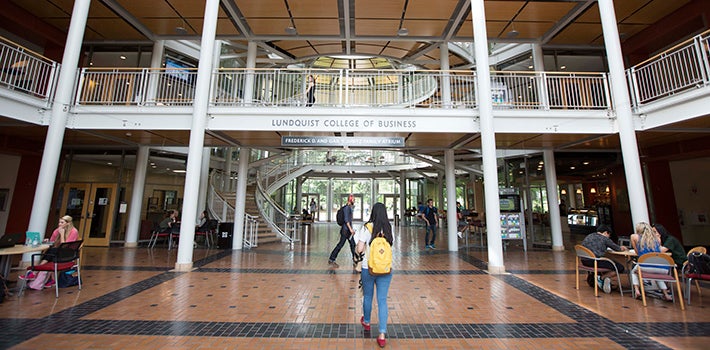 Undergraduate degrees: BA or BS
Undergraduate minor
Ready to Lead
Get ready to make a difference. Build your ideas into a small business—or a small business empire. Lead a Fortune 500 company. Market an NFL franchise. Realize your financial goals. Take Wall Street (or Main Street) by storm. The Lundquist College of Business at the University of Oregon can take you where you want to go. Here, you'll join an intelligently informal community of thinkers and doers who are serious, determined, focused, and hands on. You will learn in a collaborative and supportive environment while being constantly challenged and pushed to new levels of success. We'll teach you the skills you need to succeed and give you the confidence to meet any challenge. And you'll come out the other side stronger, smarter, better—prepared to lead, seize career opportunities, and realize what it truly means to be a Duck.
BS and BA degrees in business administration are just part of the story. You can pursue a general business focus or choose a concentration in entrepreneurship, finance, marketing, operations and business analytics, or sports business. You could also choose to minor in business administration. No matter which degree or concentration you choose, the UO's Lundquist College of Business will provide you with ample opportunities to apply your knowledge to real projects and scenarios, giving you first-hand experience in a variety of career options before you even graduate.
If you want to pursue an undergraduate degree in business at the UO, the first step is to apply to the university through the UO Office of Admissions and select "pre-business" as your major. Once admitted, you will receive advising from Lundquist College of Business staff as you work toward full major status. Admission to the college is competitive and the coursework is intense. You'll be able to apply for full major status during your junior year after completing pre-major requirements.
If you wish to pursue a minor, you must declare a major other than pre-business, business, or accounting. You can declare the minor at any time during your studies. If you choose an economics or journalism major and want to also minor in business, you are encouraged to contact an adviser in 203 Peterson regarding additional options.
Points of Interest
U.S. News and World Report's "Best Colleges 2017" ranked the Lundquist College of Business undergraduate program among the top 50 in the nation and in the top 12 West of the Mississippi River.
The Princeton Review ranked the college's MBA program the #1 Green MBA in the nation in 2015 and 2016.     
The college is home to the Warsaw Sports Marketing Center, the first sports business program housed at a college of business.
The college's Lillis Business Complex was the first certified ecofriendly business school facility in the United States: LEED silver.
In January 2016, the college's Lundquist Center for Entrepreneurship put on the first-ever collegiate gaming hackathon, which saw more than 150 entrepreneurship, computer science, engineering, and science students from 14 universities prototype new business ideas in just 36 hours.
The UO's three Academic All-Americans of the Year were all business students: Jordan Hasay (2011), Galen Rupp (2009), and Bill Musgrave (1990).
Sample Courses
Leadership and Communication addresses personal leadership and communication skills. The course focuses on self-awareness for leading, persuading, and working with others; effective business writing and speaking; and team development.
Cross-Cultural Negotiation overviews the theory and practice of negotiating effectively across cultural lines. The course offers research and analysis of culturally specific models for negotiating, as well as experience using these models in cross-cultural simulations.
Business Strategy and Planning is the capstone course focusing on strategy formulation and decisional processes. The curriculum includes writing a business plan that applies knowledge, and develops courses of action to accomplish organizational objectives.
Project and Operations Management Models addresses frameworks and solutions for managing complex projects and operations, and implementing optimal strategies for producing profitable new products and services in the competitive global business environment.
Supply-Chain Operations and Information focuses on strategic and tactical issues pertaining to the distribution and delivery of products and services. Topics include methodologies and systems for designing, tracking, and managing complex global operations.
Personal Finance offers an overview of lifetime personal financial strategies. Topics include financial goals and building net worth, major purchasing decisions, credit use, tax planning, retirement, and estate planning.
Financial Markets and Investments teaches students about financial markets and security investment decisions, analysis of risk and return, portfolio policies for individual and institutional investors, and financial instruments.
Human Resources Management focuses on the management of employee relations by an organization. Topics include hiring and developing a productive work force in the context of the legal and competitive environment.
Marketing Communications is a course focused on advertising, sales promotions, public relations, and personal selling. Also addressed are emerging communication media, legal regulations and ethical considerations in mass media advertising, media planning, and promotional budgets.
Sports Marketing addresses the essentials to understand and promote products, events, and teams in a sport-centered market. Topics include research, segmentation, product development, pricing, licensing, and communication channels such as advertising, sales promotion, and publicity.
Hands-on Learning
Learning-by-doing, or experiential learning, is a hallmark of a Lundquist College of Business education. Your academic coursework provides the foundational knowledge, and a host of experiential opportunities puts that knowledge into action with real projects for real companies, with real stakes (and money) on the line. 
Through the University of Oregon Investment Group, you help manage and invest more than $1 million in real money in stocks and other securities.
Partnerships with the business community enable students to execute projects for US Bank, Intel, Portland Trailblazers, Trimble, and more.
The college's CEO Network and Building Business Leaders (BBL) program connects and engages underrepresented minority students in an exciting experience while in the pre-business program and opens doors to career opportunities in business and accounting fields.
Junior and senior business majors can gain professional experience working as actual consultants via the Oregon Consulting Group (OCG). OCG is student-run and works with companies and nonprofit organizations to deliver market research, financial analysis, and business plans.
The international reputation of the Warsaw Sports Marketing Center means students receive ample opportunities to partner with such entities as ESPN, which often enlists sports marketing students to coordinate College Game Day activities on campus.
The Lundquist Center for Entrepreneurship acts as an entrepreneurial incubator for its students, with numerous alumni building successful businesses from ventures they launched while in school.
The Job Shadow Program pairs students with host professionals in Portland, Eugene, Seattle, San Francisco, and beyond for intensive and rewarding career exploration.
More than a dozen student clubs actively supported by the college provide opportunities to learn from peers and apply lessons learned in class. Club activities include everything from organizing events, seminars, fundraising for local nonprofits, guest speakers, field trips, site visits, and career development workshops.
Overseas Study
All business administration majors are required to fulfill a Global Context requirement, which can be satisfied by studying abroad. Business students can choose to travel together for service-learning projects on spring break, participate in intensive summer programs chaperoned by professors, or select and independent study-abroad opportunity. Locations where business students often choose to complete overseas studies include:
Austria
China
Germany
Guatemala
India
Italy
Japan
Korea
Russia
Singapore
Spain
South Africa
And more
Career Opportunities
The Lundquist College of Business maintains a Career Services office just for business students, helping you identify job opportunities that best meet your goals and objectives. Below are some sample titles and employers from recent business graduates to give you a sense of the types of careers and companies for which you might work someday.
Sample Job Titles
Account Executive
Area Manager
Assurance Associate
Banker
Brand Analyst
Brewery Representative
Business Intelligence Specialist
Campaign Manager
Chain Sales Merchandiser
Credit Analyst
Data Analyst and Health Officer
Development Associate
District Sales Manager
Executive Team Leader
Financial Advisor
Financial Analyst
HR Payroll Administrator
Inside Sales Executive
Investment Analyst
Loan Officer
Manger, Online Marketing
Marketing and Communications Strategist
Music Services Associate
Portfolio Management Analyst
Purchasing Manager
Real Estate Analyst
Recruiter
Research Analyst
Sales Manger
Search Engine Marketing Analyst
Social Media Marketing Coordinator
Supplier Relationship Manager
Tax Specialist
Technical Team Leader
Example Employers
Amazon
ADP
Cambia Health Solutions
Hershey
Kaiser Permanente
Puppet
Act-On Software, Inc
Anheuser-Busch InBev
Barclays
Bridgestone
Citigroup
Delta Air Lines
Disney Parks & Resorts
E. & J. Gallo Winery
Enterprise
ESPN
Frito-Lay
Frost & Sullivan
Goldman Sachs
Houlihan Lokey
Intel
Kendall Auto Group
Kroger
LA Clippers
LeEco
LG Display
Liberty Mutual
Lithia Motors
Los Angeles Angels
Mercedes-Benz Japan
MGM Resorts International
MLS
Morgan Stanley
National Bank of Kuwait
Ninkasi Brewing
Northrop Grumman
Northwestern Mutual
Oracle
Oregon Athletics
Pac-12 Networks
PepsiCo
RE/MAX Integrity
San Jose Sharks
Sherwin-Williams
Sony Pictures Entertainment
Target
Techtronic Industries (TTi)
TrackTown USA
UBS Financial Services
Universal Music Group
US Army
US Bank
Warby Parker
Wavefront
WeWork
Yelp
Zulily
The Student Experience
At the beginning of her senior year, a business student concentrating in sports business went on a study tour in Germany with 30 other students and instructor Whitney Wagoner. While there, she met representatives from Adidas, FC Bayern Munich, and more. By the time she returned home, she had a job offer waiting in her email inbox for a position in Berlin when she graduated.
In 2016, three separate teams of entrepreneurship students pitched their startup ideas at the community-based Pitch Stream business competition. Their business ideas took 3 of the top 5 cash prizes and included DuckFeet, a rain jacket for your shoes, and Portlandia Innovations, a bicycle accessories business developed during a management course.
A team of business, journalism, and product design students advanced to the nationwide finals in the Toyota + Net Impact Mobility Challenge. The team was one of only 3 national finalists among hundreds of entries at universities across the country. Their concept leveraged the food truck craze to promote community engagement via free WiFi, public health monitoring, and mobile charging stations.
Through the college's Oregon Consulting Group, a team of business students were hired by Rosen Aviation, the leading supplier of in-flight entertainment systems to airlines, to complete a key technology trend analysis that the company is now implementing.
A team of six business majors concentrating in operation and business analytics won the 2016 SAS Analytics Shootout Annual Student Competition, beating 78 other universities (many of whom fielded teams of graduate students).
Featured Faculty
Professor of marketing T. Bettina Cornwell's path to the UO Lundquist College of Business is an unexpected one. She earned her undergraduate degree in marketing and fine art, but when she had a difficult time parting with her first painting, she decided to earn her income elsewhere and express her art in  different ways. While art is not currently an area of study for Cornwell, her work does involve finding patterns. Regarded internationally as an expert in sports and brand sponsorships, Cornwell has studied the power of logos for both good (helping charities) and bad (obesity implications). Whether understanding the emotional attachment of brands or investigating the perils of celebrity endorsements, Bettina brings fresh and engaging ideas to the classroom that will give you enlightening insights into consumer behavior and the power of marketing.
Assistant professor of finance Vineet Bhagwat knows a thing or two about money. No matter what industry you're in, knowledge of economics and business tradeoffs is a necessity. Bhagwat illuminates the frameworks that businesses and individuals use for decisions with money in Finance 316: Financial Management, a core course all business majors are required to take. Lauded by students for his entertaining courses, mastery of teaching, and use of real-world examples, Bhagwat makes the world of finance accessible and enjoyable.
If you want to get your hands dirty and delve into the nitty-gritty of optimizing business operations for efficiency, you'll want to take a course with associate professor of operations and business analytics Nagesh Murthy. Murthy's courses have engaged more than 140 company sponsored projects using a pool of firms that include Intel, Hewlett-Packard, Tektronix, Keen, States Industries, weyerhaeuser, Monaco Coach, Nike, Columbia Distributing, Lyle, NW Natural, Organically Grown Company, and more. Murthy is also a well-respected and connected researcher in the areas supply chain management, new product development, and sustainable operations, and he is often a source for summer internships all over the world.
When it comes to innovation and entrepreneurship, associate professor of management Andrew Nelson literally wrote the book. He is the coauthor of Technology Ventures: From Idea to Enterprise, used in entrepreneurship courses worldwide. As if that weren't enough, the topics he researches and brings into the classroom provide eye-opening accounts of how new technologies revolutionize our world. From investigating how computers disrupted music composition and distribution to exploring how librarians unexpectedly came to be at the forefront of internet adoption in the 1990s, Nelson shares stories from the past that provide invaluable lessons related to technology adoption and disruption today and in the future.
Contact Information
541-346-3303
Search Keywords:
business, economics, finance, financial, math, cpa, actuary, actuarial, entrepreneur, entrepreneurial, entrepreneurship, tax, business major, business minor, undergraduate business, business concentration, business administration, management degree, management major, marketing major, finance major, finance degree, marketing degree, entrepreneurship degree, entrepreneurship major, bachelor's of business administration, BBA, bachelor's of marketing, bachelor's of management, bachelor's of entrepreneurship, bachelor's of finance, bachelor's of operations, business analytics major, business analytics degree