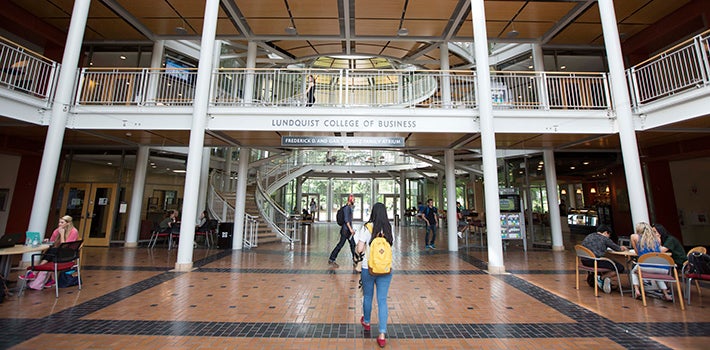 Undergraduate degrees: BA or BS (degrees also available from the business honors program)
Undergraduate minors: business administration, entrepreneurship, and sports business
Certificate in global business
About the major
Get ready to make a difference. Build your ideas into a small business—or a small business empire. Lead a Fortune 500 company. Market an NFL franchise. Realize your financial goals. Take Wall Street (or Main Street) by storm. The Lundquist College of Business at the University of Oregon can take you where you want to go. Here, you'll join an intelligently informal community of thinkers and doers who are serious, determined, focused, and hands-on.
A degree in business administration is just part of the story. You can pursue a general business focus or choose a concentration in entrepreneurship, finance, marketing, operations and business analytics, or sports business. You can also minor in business administration, entrepreneurship, or sports business. No matter which degree or concentration you choose, the Lundquist College of Business provides a collaborative environment where you will find ample opportunities to try out real-world projects and scenarios, giving you career experience before you even graduate.
A little more info
U.S. News and World Report's "Best Colleges 2022" ranked the Lundquist College of Business undergraduate program #41 in the nation and in the top 15 west of the Mississippi River.
The college is home to the Warsaw Sports Marketing Center, the first sports business program housed at a college of business.
The college's Lillis Business Complex was the first certified eco-friendly business school facility in the United States: LEED silver.
We are part of the elite 1.4 percent of the world's business schools accredited in both business and accounting by the Association to Advance Collegiate Schools of Business. Ninety-seven percent of CEOs with business degrees on the Fortune 500 list attended an AACSB-accredited school.
Learning-by-doing is a hallmark of a Lundquist College of Business. You can study abroad or work with the University of Oregon Investment Group, Oregon Consulting Group (OCG), and more than a dozen student clubs.
Career opportunities
The Lundquist College of Business maintains a career services office just for business students. Mohr Career Services helps you explore options, put together a portfolio, and identify job opportunities that best meet your goals and objectives. Business students have gone on to graduate school, to work at companies like Amazon and Oregon Athletics, and to build their own businesses. In fact, the founder of Brew Dr. Kombucha graduated from the UO with a degree in business administration. We're here to help launch your business career.