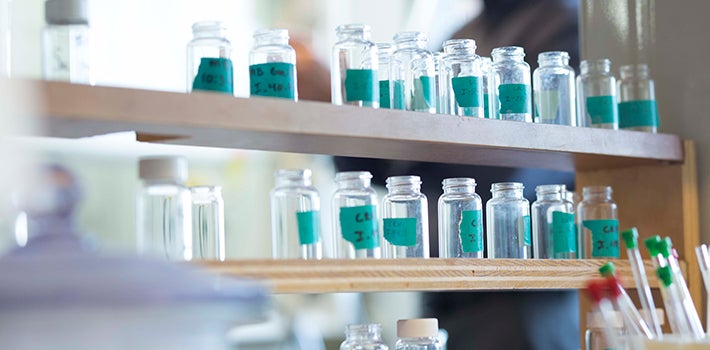 Undergraduate degrees: BS or BA
Undergraduate minor
Learn in Cutting-Edge Labs
Ready to study life at the molecular level in some of the most advanced university labs in the country? Biochemisty majors at the UO clock plenty of hours in the lab as they explore the mysteries of mitochondria and biomembranes alongside faculty members doing groundbreaking research.
The UO dedicated the multimillion-dollar Lorry I. Lokey Laboratories in 2008 and invested millions of dollars in state-of-the-art equipment to furnish the underground facilities. Julie Haack, assistant head of the chemistry and biochemistry department, says the integrated science complex acts as a "high-tech extension service" by attracting a mix of researchers in government, industry, and from universities around the world.
Assist scientists in making discoveries in neuroscience, physics, chemistry, and other disciplines. Rub elbows with experts in the nanofabrication facility, the X-ray diffraction lab, or the bio-optics center.
On a green note: The University of Oregon is known worldwide for developing green chemistry, a set of design principles that help scientists to minimize the hazardous impact of certain materials and chemical processes on the environment. Work in labs with some of the best scientific researchers who are putting the environment front and center.
While the biochemistry program is a recommended degree program for students who are interested in medical school, nursing, or other medical careers, a degree from the UO is specifically designed to train professional chemists and biochemists. Many doors open for those with an interest—and a degree—in biochemistry.
Points of Interest
The interdisciplinary nature of biochemistry research has resulted in a cross-pollination with modern genetic techniques and sophisticated chemical approaches. Biochemistry faculty members have close associations with the UO's Institute of Molecular Biology and Institute of Neuroscience
As a UO biochemistry major, you will have the opportunity to graduate with departmental honors by working on research projects for one academic year and receiving an endorsement from a university faculty member
Embark on a career in industry or government, or enter graduate-level studies. The biochemistry program is a natural stepping stone for students embarking on a career in the health professions
The UO chemistry and biochemistry department practices green chemistry, which focuses on reducing, recycling, or eliminating the use of toxic chemicals in chemistry by finding creative ways to minimize their impact on humans and the environment without stifling scientific progress
Sample Courses
Physiological Biochemistry is a course geared toward preprofessional health science students. Topics include protein structure and function, enzyme mechanisms, central metabolism and bioenergetics, and the integration and regulation of metabolism by hormone action
Biochemistry examines the structure and function of macromolecules, metabolism and metabolic control processes, mechanisms and regulation of nucleic acid, and protein biosynthesis
Organic Chemistry looks at the structure, properties, and bonding of organic molecules, reactions and mechanisms of organic chemistry, and the organic chemistry of biomolecules, with a focus on chemical aspects
Physical Chemistry incorporates methods of physics applied to chemical problems, including inorganic, organic, and biochemistry, and provides an introduction to chemical thermodynamics, rate processes, and quantum chemistry
See more courses offered by the Department of Chemistry and Biochemistry
Practical Learning
As a biochemistry major, you'll have a host of options for real-life learning. Work in the university's laboratories, where you'll assist professionals performing high-level experiments in nanotechnology, neuroscience, and other disciplines. Or participate in the NanoNet program. NanoNet allows K–12 teachers to design experiments that they are unable to conduct in their classrooms. With the help of its students, the UO connects these far-flung classrooms to the UO labs via the web. Help kids get hooked on science in a big way.
Interdisciplinary Opportunities
Because the biochemistry major is part of the Department of Chemistry and Biochemistry, interdisciplinary opportunities in the program abound. You can choose to minor in biology, business, computer and information science, human physiology, economics, environmental studies, geological sciences, mathematics, or physics.
Undergraduate research opportunities are available with faculty members in biology, molecular biology, neuroscience, chemical physics, physics, and geology. Study with professors who are leaders in their field of expertise.
The Student Experience
Renee Arias started her scholastic career in art history, but after a presentation about locating proteins using green florescence from jellyfish, she was captivated. While switching to the biochemistry major was daunting, she didn't back down. With the support of her mentor and advising staff, she earned an Undergraduate Research Fellowship for research in manipulation of a specific spatial recognition protein in zebrafish. Her research results have contributed to the understanding of hippocampal irregularities, such as autism. After finishing as an undergraduate, she intends to earn a graduate degree and go on to work at a pharmacological company.
For Matthew Hendricks, the UO's biochemistry major offered everything he was looking for: innovative scientific research, inclusive laboratory experiences, small classroom sizes, and personalized feedback from instructors as well as a direct relationship with the medical profession. He began his undergraduate career in physics and eventually became interested in the biological elements of the human body. By his junior year, he decided to switch gears and enroll in the biochemistry major with an interest in medical sciences. Ultimately, he plans to pursue a doctorate in microbiological research and virology.
Adam Struck didn't have to move far from his home in Portland, Oregon, to get the education he was looking for. The UO offered accessible professors, high-quality research facilities, a wide variety of comprehensive classes, and unique research opportunities that helped him hone in on his interests. During his scholastic career at the UO, he enjoyed getting students excited about organic chemistry as a teacher's assistant, taking on the role of treasurer for his fraternity, working side by side with his professors, and taking as many biochemistry classes as possible. He plans to attend graduate school with a focus in applied biotechnology and aims to contribute to the solving of real world problems.
Featured Faculty  
Professor Victoria DeRose is an inorganic spectroscopist who investigates chemical activity and structure in nucleic acids and proteins with an emphasis on metal interactions. Her work is innovative in its interdisciplinary effort to use tools of biological and bioinorganic chemistry and spectroscopic methods to examine biological and chemical processes that are extremely difficult to study with conventional methods. Her research promises far-reaching impact on our understanding of fundamental biological and chemical systems. She is the recipient of a UO Faculty Excellence Award.
Career Opportunities
As a biochemistry major, you'll have an array of opportunities after graduation. The degree is a good choice if you're planning to enter a profession in the health sciences such as medicine, dentistry, clinical chemistry, biotechnology, genetics, pharmacology, physiology, or toxicology, and is also useful in related fields such as forensic science and cell biology. Industrial employers include chemical companies, food processing plants, drug manufacturers, cosmetics companies, and agricultural chemical companies. In addition, research-oriented biochemists work in hospitals, universities, and both governmental and private research labs. You might work as an environmental advocate or a policy adviser, or evaluate biotechnology companies for investors.