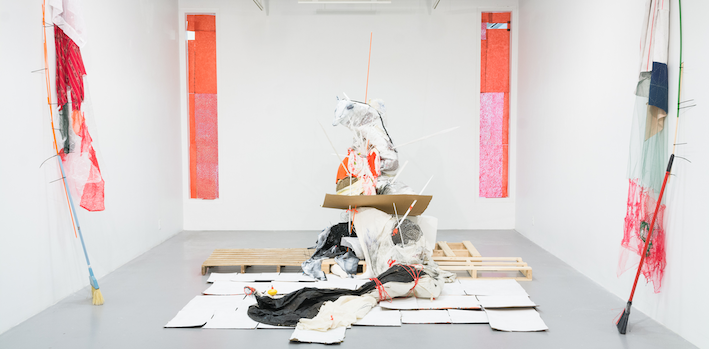 Undergraduate degrees: BA, BS, BFA
Undergraduate minor
About the major
As an art student, you will learn to think critically, communicate clearly, and work creatively. With studio practice and interdisciplinary work you will develop an understanding of materials and tools, technical skills, strategies of experimentation, as well as fluency in visual languages and articulating meaning.
The art curriculum includes core art foundation courses, art history, and studio art in art and technology, ceramics, fibers, jewelry and metalsmithing, painting and drawing, photography, printmaking, and sculpture. While all art majors share the basic requirements, you have the flexibility to pursue advanced course work in the areas of your primary interests.
The bachelor of fine arts (BFA) degree offers a studio-intensive opportunity to concentrate your expertise. In the BFA program, you will create an individual approach to making and thinking through advanced studio, interdisciplinary critique colloquia, history of art and architecture courses, seminars in art theory and criticism, and develop a body of work culminating in the BFA creative project in your declared concentration.
A little more info
Visiting Artist Lectures: Our lecture series introduces students and community members to innovative and influential artists, curators, critics, and historians from around the world.
Student Galleries: Four designated gallery spaces are available for students to exhibit current work.
A+D Academic Residential Community (ARC): Art + Design's ARC is for students dedicated to sharing creative ideas and making new works of art and product design. Living and working together, students have their own collaborative studio space in Kalapuya Ilihi Hall.
Studios, Fabrication, and Technology: Art students have access to specialized tools and equipment including woodshops, media area studios, large-format inkjet printers, a CNC milling machine, laser cutters, video and photographic equipment, 3D printers, RISO digital duplicators, and others. 
Study abroad programs: Study-abroad opportunities in Athens, Greece, and China and other collaborative programs are offered through the university's Global Education Oregon program.
Career opportunities
The College of Design is dedicated to helping students forge their own unique career path in any art concentration. Professional advisors work with students to develop strategies for long- and short-term goals both during and after college. The BFA program is specifically intended to prepare you for entry into professional practice or further advanced study.