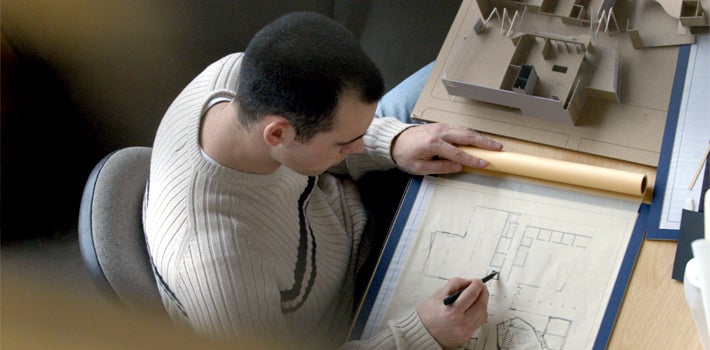 Undergraduate degree: Bachelor's in Architecture (BArch), Minor in Architecture​​​​​​​
About the Major
Architecture is about learning to make physical changes to our surroundings that enhance the quality of the built environment and our experience of life. This broad purpose includes providing shelter and environmental protection with the highest standards for energy efficiency and environmentally sustainable architecture, designing appropriate settings for human activities, and creating forms that are aesthetically pleasing and supportive of social well-being and environmental health.
While basics are taught in Eugene, as an advanced student, you may also study and work in the exciting urban setting of Portland at the UO's White Stag Block. The Department of Architecture at the UO offers a large number of special topic courses, and a robust program of visiting architects from around the world who come to campus to lecture and teach. The department's exceptional faculty bring strengths to a wide variety of areas that include:
healthy built environments
sustainable, resilient design
housing and urban design
design process and theory
art and science of building
computational design
lighting and lighting design
Several 12-credit study abroad programs are open to you—in Vicenza and Rome, Italy, Vancouver, Canada (architecture); and Barcelona, Spain (data-driven urban design). The school also works with the Danish International Study Program in architecture and urban design and furniture design, facilitating student travel to Copenhagen. You might also choose to participate in an exchange program in Stuttgart, Germany; Tokyo, Japan, Singapore or Hong Kong, China.
To gain admission to the UO's five-year architecture program, you must complete both the university application for admission (due January 15) and select your interest in the major in Architecture on the application. Portfolio submission is strongly encouraged, but not required. For more information on the process, visit the architecture website.
Points of Interest
The UO architecture program consistently ranks in the top 6 for sustainable built environments among the nation's approxmated 150 accredited architecture programs.
The Department of Architecture offers accredited degree programs in architecture at both the undergraduate and graduate degree levels.
Resources available on site include the Design Library and Visual Resources Collection, as well as the Portland Architecture Library. You'll have access to high-quality digital output printers, a model shop, computer labs, and the Materials Resource Center.
The department encourages student leadership and active participation. Each spring, for example, the Ecological Design Center sponsors a major ecological design arts conference, Holistic Options for Planet Earth Sustainability (HOPES).
Student groups within the College of Design lead community design charettes and join in the local arts community in unique and inspiring ways.
Sample Courses
Architectural Design I, II is an introductory design studio sequence that introduces fundamental concepts and considerations in environmental design. Through design exercises and studio critique, you'll develop basic knowledge and skills to continue with intermediate studios and professional course work.
Seminars cover a variety of topics, including the following recent offerings: Virtual Lighting, Housing Prototypes, Inclusive Urbanism, Passive House Design, Minimal Dwellings and Principles of Urban Design.
Architectural Contexts: Place and Culture uses historical and contemporary examples to help students develop a deeper understanding of how the design of buildings interacts with the physical and cultural contexts of human traditions, landscapes, settlements, cities, and suburbs.
Introduction to Architecture examines places, design procedures, and the use of architectural principles. Open to non-majors as a general education satisfying course.
Find more courses from the Department of Architecture.
The Student Experience
After surviving the 2015 earthquake that devastated her country, Dristi Manandhar ('17) helped thousands find shelter. With friends, she formed the design team called Aashraya, which delivered more than 2,300 emergency shelters across Nepal within weeks of the earthquake.
Interior architecture student Jess Kokkeler ('18) created a new type of lookout tower for a game reserve in Zimbabwe that aims to stop the slaughter caused by poaching.
Agent of change, Ali Lau fights for equity and inclusion for under-represented minorities in the College of Design.
Thomas Kosbau (BArch, '05) founded ORE Design and Technology Group, a New York firm that's been winning awards since its inception in 2009. His Brooklyn-based firm combines architecture with visionary interdisciplinary ecodesign projects based on biomimetics (where biological systems serve as models for design and engineering of materials).
Featured Faculty
Professor Nico Larco leads the Urbanism Next Center, which focuses on how new autonomous vehicles (AVs), e-commerce, and the sharing economy are having profound effects not only on how we live, move, and spend our time in cities, but also increasingly on urban form and development itself.
Assistant Professor Siobhan Rockcastle uses virtual reality to understand how different kinds of skylights make people feel. Her students create visualizations of buildings that show different lighting possibilities and invite their friends to take a tour.
Because people spend 90 percent of their time indoors, understanding what makes a healthy building is important. Associate Professor Kevin Van Den Wymelenberg is bringing together scientists, engineers, and architects to study how a building's light, air, and chemistry interact with microbes through the Institute for Health in the Built Environment.
Learn More: Major Websites
https://archenvironment.uoregon.edu/architecture