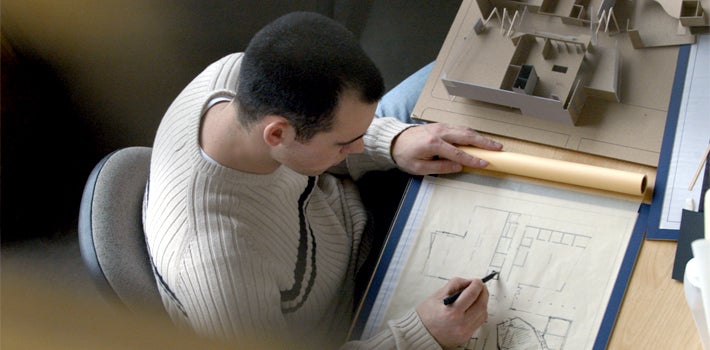 Undergraduate degree: BArch
Blueprint to Success
Architecture is about learning to make physical changes to our surroundings that enhance the quality of the built environment and our experience of life. This broad purpose includes providing shelter and environmental protection with the highest standards for energy efficiency and environmentally sustainable architecture, designing appropriate settings for human activities, and creating forms that are aesthetically pleasing and supportive of social well-being and environmental health.
As an advanced level student, you may also study and work in the exciting urban setting of Portland at the UO's White Stag Block. The Department of Architecture at the UO offers an extremely large number of special topic courses, with focus areas in a variety of concentrations and a robust program of visiting architects from around the world who come to campus to lecture and teach.
The department's exceptional faculty bring strengths to a wide variety of areas that include:
structures and construction technology
energy conscious design and environmental sustainability
housing and urban design
design process and theory
computer-aided design
lighting and lighting design
environment and behavior
vernacular architecture
Several 12-credit study abroad programs are open to to you—in Macerata and Rome, Italy (architecture); Kyoto, Japan (landscape architecture and architecture); Oira, Italy (historic preservation); and Finland (architecture). The school also works with the Danish International Study Program in architecture and urban design, facilitating student travel to Copenhagen. You might also choose to participate in an exchange program in Stuttgart, Germany.
To gain admission to the UO's five-year architecture program, you must complete both the university application for admission (due January 15) and the departmental application. Program applicants should remain aware of departmental deadlines. You must also have a portfolio that includes samples of your creative work, a personal essay, letters of recommendation, and academic transcripts that meet the department's own standards of academic excellence.
Points of Interest
The UO architecture program consistently ranks in the nation's top 15 among accredited programs.
The Department of Architecture offers accredited degree programs in architecture and interior architecture at both the undergraduate and graduate degree levels.
Resources available on site include the Design Library and Visual Resources Collection, as well as the Portland Architecture Library. You'll have access to high-quality digital output printers, a model shop, computer labs, and the Materials Resource Center.
The department encourages student leadership and active participation. Each spring, for example, the Ecological Design Center sponsors a major ecological design arts conference, Holistic Options for Planet Earth Sustainability (HOPES).
Student groups within the College of Design lead community design charettes and join in the local arts community in unique and inspiring ways.
Sample Courses
Architectural Design I, II is an introductory design studio sequence that introduces fundamental concepts and considerations in environmental design. Through design exercises and studio critique, you'll develop basic knowledge and skills to continue with intermediate studios and professional course work.
Seminars cover a variety of topics, including the following recent offerings: Case Studies in Sustainable Design, The Façade, The Window, and Theory of Urban Design.
Architectural Contexts: Place and Culture uses historical and contemporary examples to help students develop a deeper understanding of how the design of buildings interacts with the physical and cultural contexts of human traditions, landscapes, settlements, cities and suburbs.
Introduction to Architecture examines places, design procedures, and the use of architectural principles. Open to nonmajors as a general education satisfying course.
See more courses from the Department of Architecture.
The Student Experience
Alumna Megan Espinoza combined her studies in architecture with a historic preservation minor. Her interests led her to a summer internship in Alaska, where she documented the measurements of a power plant in the abandoned mining town of Kennecott for the National Park Service.
PPPM alumna Kate Lenzser helped distribute funds to a local charity with her American philanthropy class during her freshman year. In her junior year, she worked with an award-winning student team on the Lane County Community Wildfire Protection Plan.
Featured Faculty
Associate Professor Ihab Elzeyadi's architecture research focuses on the relationship between people, buildings, and healthy environments, His research also includes post-occupancy evaluations of work environment, lighting and daylighting guidelines, and adaptive re-use of historical buildings.
Assistant Professor Nico Larco is leading designBridge, a student-run design/build program that focuses on designing and constructing structures for community organizations.