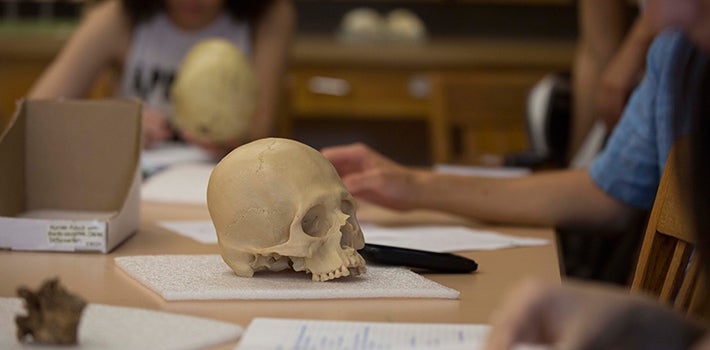 Undergraduate degrees: BA, BS
Undergraduate minor
Uncover Fossils and Understand People
Maybe you are like Margaret Mead, hungry to learn about the cultures of various populations; or like Jane Goodall, fascinated with the biological aspects of anthropology. Perhaps you've always wanted to hunt for ancient relics and artifacts. At the UO's Department of Anthropology you can pursue any of these courses of study through the three subfields in cultural, biological, and archaeological studies.
Cultural anthropology at the UO embraces an array of approaches to the study of culture and society. You'll learn from anthropologists who study culture in Africa, Latin America, the Middle East, South Asia, Europe, Oceania, and the Caribbean. Using ethnographic research and comparative/historical analysis, you'll work with faculty to conduct research on a wide range of issues concerning social and cultural systems and beliefs in today's globalized and transnational world.
In the biological concentration, you'll study a variety of aspects of the human species from comparative, ecological, and evolutionary perspectives. Courses on nonhuman primates add a wide range of skill sets to the program as well. You'll also have access to the biological anthropology lab that stores dental collections of skeletal models from South Asia and other regions.
The department is renowned for its archaeological work in the Northwest, Pacific Islands, and California Channel Islands. The UO offers a summer field school for undergraduates to work on digs in Oregon. Camp out for six weeks while surveying and digging for artifacts. Then identify and analyze collected materials in the archaeology lab.
Points of Interest
Customize your degree to one or more of the department's five areas of expertise: evolution, ecology and environment; sex, gender and sexuality; indigenous and minoritized groups; food, health and society; and identity, heritage, and globalization. 
The anthropology department's strong relationship with the Museum of Natural and Cultural History provides internship and employment opportunities.
Archaeology students analyze and document artifacts from actual project sites in the Pacific Islands, East Asia, Egypt, and more.
The Department of Anthropology is affiliated with the Northwest Primate Conservation Society and the Southwest Oregon Research Project, which involves the repatriation of 110,000 archival documents to 44 Tribal Nations in the greater Oregon area.
Participatory learning experiences are available for undergraduates interested in earning extra course credit while working with professors or graduate students on their research.
The Anthropology Club helps students get to know each other and talk about a variety of issues. Events are planned around student interests and guest speakers are invited to talk about relevant and helpful topics.
Sample Courses
Human Paleopathology introduces methods and techniques for studying the disease process and how diseases affect hard tissues.  
Primate Conservation Biology evaluates the conservation status of various primates. Students explore biological-ecological issues and social-cultural influences on primate biodiversity, distribution, and abundance.
Gender and Archaeology examines case studies from around the world to investigate how archaeological remains can illuminate gender in precontact societies.
Food and Culture is an anthropological approach to the role of nutrients in human development (individual and group); cultural determinants and differences among populations; world food policy; and applied nutritional anthropology.
Anthropological Perspectives on Africa promotes a critical historical perspective and a comparative analysis of the anthropology of Africa.
See more courses offered by the Department of Anthropology.
Immerse Yourself
"Anthropology is an interesting crossover between science and social science that allows students to study a wide variety of things including health, conservation, nutrition, and forensics," says Department Head Diane Baxter. "On top of that, we often accept UO courses outside of our department that apply to a student's research interests."  
The Archaeological Field School allows you to gain practical skills. In the summer, you'll pack up and head out for six weeks to various sites in Oregon. Student-faculty research teams have carried out major archaeological studies in the Great Basin desert east of the Cascade Mountains as well as locations in Africa and East Asia.
Study a variety of aspects of human and primate biology in the department's eight different laboratories. You'll be encouraged to take full advantage of lab resources and to work with state-of-the-art technology like the Minolta laser surface scanner, which builds 3-D surface models of bones and fossils.
The Student Experience
When Katie Schweber was little, she loved digging up bones and daydreaming about mummies. Now, she has uncovered her niche in biological anthropology. With help from professors like Josh Snodgrass, she conducted research in the Human Biology Research Lab on the physiological effects of stress on the human body and presented her research at the 2013 AAPA conference. Schweber spent several weeks on the island of Minorca, Spain, excavating Roman remains and has reached out to help her community through the Students for Global Health club.
Originally from Nome, Alaska, Jon Krier always wanted to discover history's buried secrets. After dabbling in several other careers, he decided to go back to school and follow his dream in archaeology. In the anthropology department, he gained real world experience working in the collections department and conducting GIS research on sites that were once inhabited but are now underwater. Krier enjoys spending time in the Nontraditional Student Union on campus, where fresh coffee and comfy couches are easy to find. He has also attended many guest talks, which has led to making connections with professionals. Krier is looking forward to graduate school and ultimately a professorship.     
Featured Faculty
Originally from New York, Assistant Professor Kirstin Sterner was excited to move to Oregon where the landscapes are green and teem with life. She studies molecular anthropology and is most interested in childhood brain development and the genetic components that make humans different from primates, especially specific responses to diseases like HIV. Sterner's classes focus on a variety of biological anthropological research methods as well as the process of writing grant proposals. Her molecular anthropology lab is open to students interested in assisting with her research.
In 2010, Assistant Professor Stephen Dueppen visited the UO on a fellowship and loved it so much he jumped at the chance to join the department permanently. His archaeological research on village life and egalitarian political revolution during the Iron Age takes place in Burkina Faso, where he directs the Kirikongo Archaeological Project. Dueppen's lab is open to undergraduates and features zooarchaeological artifacts such as bones from crocodiles and elephants as well as cows, goats, and chickens.
Career Opportunities
With a major in anthropology, you can use your cultural knowledge to act as a liaison between different groups of people. For example, you can take your background in migrant farm worker conditions and apply it toward a career in immigration law. You can use your skills in physical anthropology to observe how culture, diet, and even religion can affect the human body. As land is developed, archaeological expertise is often necessary in evaluating and recovering materials discovered on job sites. With a degree in anthropology, the options are unlimited!
Search Keywords:
culture, cultural, ethnic, social, social science, social sciences, social studies, humanities, psychology, human, behavior, archaeology, human behavior, allied health, pre-health, global health, social justice, ethnography, race, gender, native americans, paleontology, evolution, ecology, prehistory, nutrition, food, paleoanthropology, medicine, animals, primatology, forensics