Native American and Indigenous Recruitment
Email: olivias.admissions@uoregon.edu
Call or text: 541-346-1219
Recruiting territories: All Native/Tribal Nations
Hometown: I was born in Brunswick, Maine and moved between Washington and California four times, but I call Salem, Oregon my home.
Alma mater: University of Oregon, '20 MEd – Curriculum and Teaching, Sapsik'ʷałá (Teacher) Education Grant Program
Tips for college success: Find your community on campus. Whether it be in the residence halls, in a club/student organization, or in a class, your community will support you and help rise you to success.
My favorite UO fun fact: National Lampoon's Animal House was filmed on UO's campus in 1977. When you attend a Ducks football game, we sing and dance to the song Shout, just like in the movie.
Favorite Eugene Activity:  I love going to the Eugene Saturday Market to get fresh produce and local artisan goods. I also love to attend the First Sundays Native American Arts and Crafts Market during the summer.
Special skills, talents, interests, or hobbies: I am an avid traveler. I have been to forty of the fifty states and five countries.
If you didn't work in UO Admissions: Before working in Admissions, I was a kindergarten teacher. My dream is to write and publish children's stories with my mom, we even have our characters names picked out.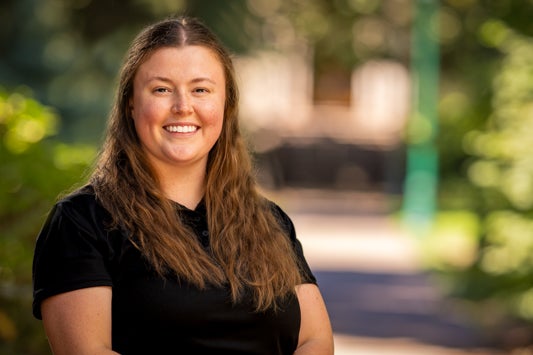 Recruiting Territories
Native Indigenous Territories