I speak Spanish / Hablo Español
Assistant Director for Recruitment
Email: jennifer.admissions@uoregon.edu
Phone: 541-346-1630
Recruiting territories: Oregon – Deschutes, Crook, Jefferson and Lane counties
Hometown: Long Beach, California
Alma mater: Southern Oregon University '13 B.S. Sociology, minor in Spanish & Education
Favorite thing to do in Eugene: I love to visit the dog park behind Autzen Stadium.
Tips for college success: Get involved in student organizations, attend sporting events and meet new people. Most important learn to prioritize and kick procrastination to the curve. College is about discovering what you enjoy, so have fun!
Why I decided to work at the UO: I love the feeling of inclusion on campus. UO is devoted to admitting students from a diverse background both culturally and academically. Everyone on campus is welcoming and accepting! Many opportunities available for students to get involved in.
Best part of my job: Best part is helping students and families with the college process and showing them what UO has to offer. I enjoy seeing a student at a high school visit and then on campus in the fall.
Favorite Eugene restaurant: Hot Mamma's Wings has the best wings in town! They also have tempeh in different wing sauce!
Favorite UO fact: The University of Oregon is the only college that has a Disney character as a mascot - Donald Duck!
Most memorable college class: I took Spanish Phonetics so that I can improve my writing skills. I learned it's much harder for Spanish speakers to learn the rules for phonetics because we are naturally taught throughout our childhood how pronounce the word without seeing the spelling. It was that moment I appreciated my parents teaching me Spanish at a young age.
Favorite quote or song lyric: "Even though you're fed up, ya got to keep your head up" Tupac- Keep Ya Head Up
Favorite Duck: The ugly duckling: because regardless of how people treated him, he became the most beautiful bird of all.
If I didn't work at the UO: If I didn't work in Admission I'd pursue my masters in teaching and become a high school math teacher.
Special skills, talents, or hobbies: Interesting fact about me is that I love math and I enjoy helping students with math homework.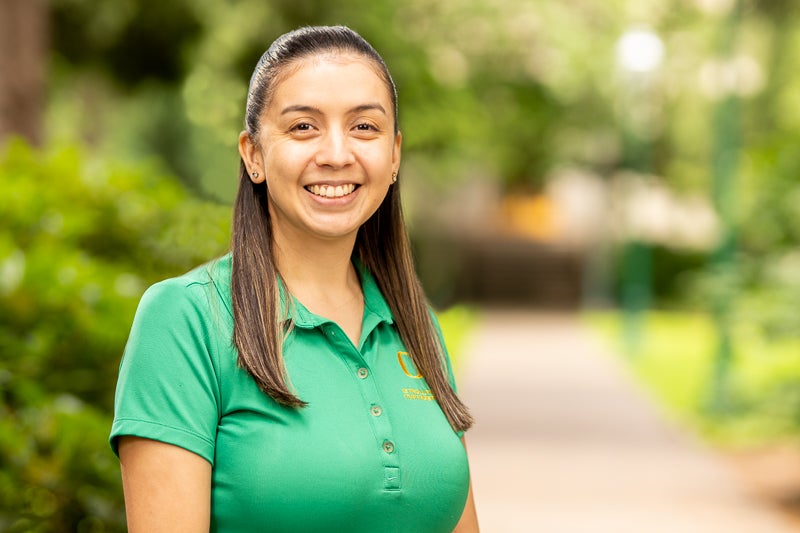 Recruiting Territories
Oregon – Deschutes, Crook, Jefferson and Lane counties