Regional Admissions Counselor
Email: isaac.admissions@uoregon.edu
Call or text: 541-346-1406
Recruiting Territories: Southern California – West Los Angeles, Ventura and Santa Barbara Counties
Hometown: Porterville, California
Alma mater: Fresno State, BA '13 – Sociology and Chicano Latino Studies; Cal State University, Long Beach, MEd '21 – Social and Cultural Analysis of Education
Tips for college success: Stay organized, be intentional, and enjoy the process. The search for the right college can be complex. Know who is in your corner of support and explore your options. Lastly, don't hesitate to reach out to your admissions counselor.
My favorite UO fun fact: The university's "O" logo was designed by Nike and depicts the inside of Hayward Field, UO's track and field venue, and the outside of Autzen Stadium, UO's football stadium.
Favorite Eugene hangout: As someone who enjoys running, walking, and biking, I appreciate how friendly Eugene and campus is to these modes of transportation, while offering beautiful views.
Special skills, talents, interests, or hobbies: I enjoy traveling, listening to and collecting music, and coffee! I also LOVE to grab a bite to eat or learn to cook new meals with folks. As the late Anthony Bourdain once said, "you learn a lot about someone when you share a meal together."
If you didn't work in UO Admissions: I am fascinated with graphic design and marketing, so I suppose it would be cool to work in the field of design, marketing, and communications. I could maybe even be a real-life Don Draper from Mad Men, just less dramatic.
Tips for folx from your region: Expand your options! Leaving your home state for college comes with sacrifice and a lot to consider. But trading what you know to discover new places, gain new experiences, and get out of your comfort zone will be rewarded with growth, friends, and new stories to tell.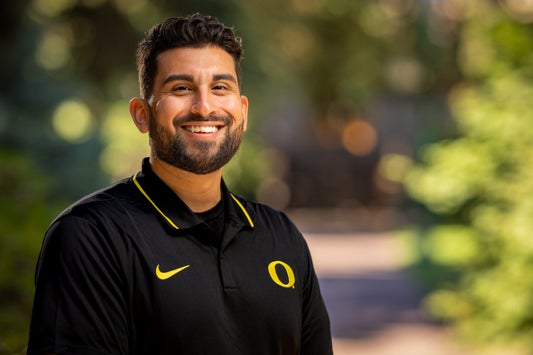 Recruiting Territories
Southern California – West Los Angeles, Ventura and Santa Barbara Counties