Regional Admissions Counselor
Email: caleb.admissions@uoregon.edu
Call or text: 541-346-1337
Recruiting territories: Oregon – Clackamas, Clatsop, Hood River, Multnomah, Tillamook, and Wasco counties
Based in: Portland area
Hometown: Gresham, Oregon.
Alma mater: Pacific University, BA '15—History with a minor in coaching; Warner Pacific University, M. '21— Business Management and Organizational Leadership
Tips for college success: Explore, experience, and engage. College is filled with amazing opportunities, and you want to find the one that best fits your interests and passions. Take multiple visits if possible, go to events on campus, and get connected with current students to get the student perspective.
Favorite UO "fun fact": Fred Jones is the only UO alumni to win the NBA Slam Dunk Contest.
Favorite campus hangout: Hayward Field is one of my favorite spots on campus to hang out. The history of the stadium and the beauty of the architecture is amazing!
Special skills, talents, interests, or hobbies: I enjoy baking sweets, especially during the holiday seasons. I am always looking for new adventures outdoors and love hiking year round. You can catch me at all of the home games for the Portland Trail Blazers.
If you didn't work in UO Admissions: I would probably be teaching in secondary education and coaching on the side.
Tips for Portland Students: Start the college application process early. Get connected with staff, faculty, and current students. The more information you can gather the better decision you can make.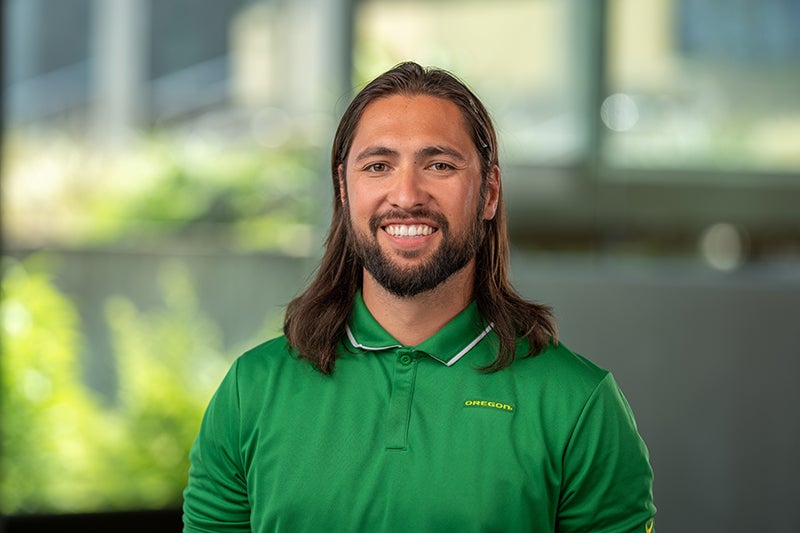 Recruiting Territories
Oregon – Clackamas, Clatsop, Hood River, Multnomah, Tillamook, and Wasco counties