What is DuckWeb?
DuckWeb is the UO's interactive information system for students, faculty, and staff. It allows current students to view and update personal data, register for classes, and accept financial aid awards. Depending on when you applied for admission, you will be given access to DuckWeb prior to beginning classes at the UO.
Applicants for Winter 2021 and Beyond
If you applied for admission to the UO for winter 2021 or beyond, you can use the new 
application status portal
 to check the status of your application. 
First-Time DuckWeb Users
When you log into DuckWeb, you'll need your UO ID and Personal Access Code (PAC). If you applied for admission to the fall 2020 term, or any term prior, you received this information via email when you submitted your application.
You will be required to create a new six-character PAC and to make a security question in case you forget your PAC. You may select a new PAC at any time by using the "Change PAC" tool.
If you have already logged into DuckWeb but have lost or forgotten your PAC, enter your UO ID and click on the "Forgot PAC?" button on the DuckWeb login page. Accounts will be disabled after three failed attempts at logging in. (For more information, see How to Reset Your PAC on DuckWeb.)
Because personal and academic information is available on DuckWeb, students are strongly encouraged not to share their PAC with friends or family members.
Admissions Menu
If you applied to the UO for fall 2020 or prior, you have access to the Admissions Menu, which includes the following services:
Check university application status (scroll down for a guide to this service)
Register for Orientation and FIGs
View degree audit
Financial aid information menu
Check Clark Honors College application status

In

tent to Register Form (fall term admits only)
View transfer evaluation report*
Housing menu
*If you submit official college transcripts as part of the application process, courses that transfer to the UO are evaluated by the Office of the Registrar. During the admission process, that office will send an e-mail to notify you to use DuckWeb to review your transfer credits. Receiving information about transfer credits does not indicate that an admission decision has been made by the Office of Admissions.
 
Checking Your Application Status in DuckWeb (Fall 2020 and prior)
After you log into DuckWeb you will see the menu below. Click on the Admissions Menu.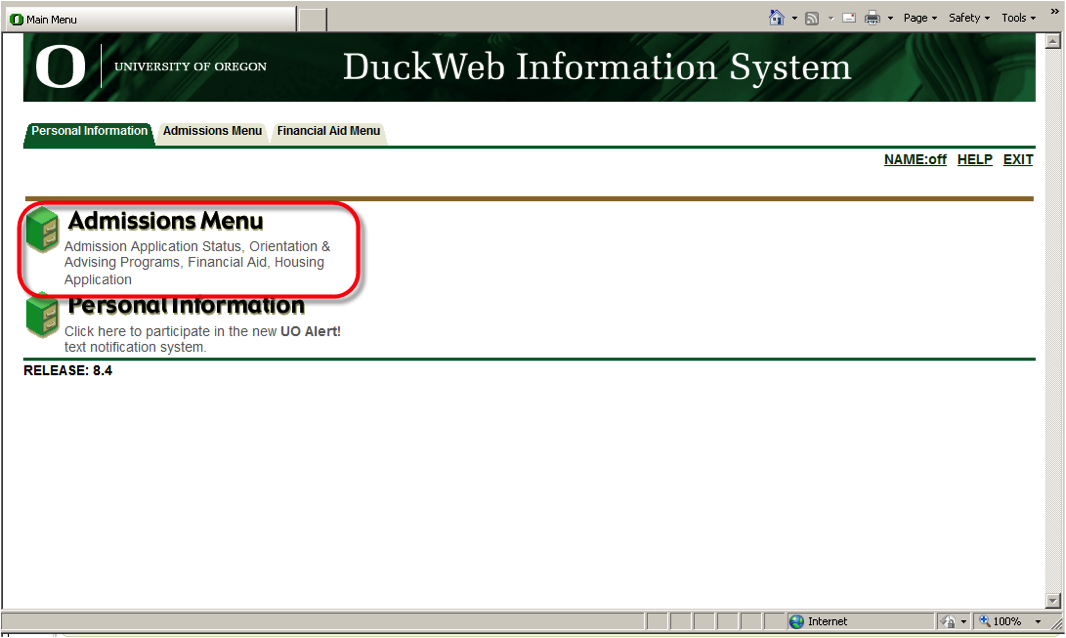 To view your Application Summary, click on Check Undergraduate Application Status.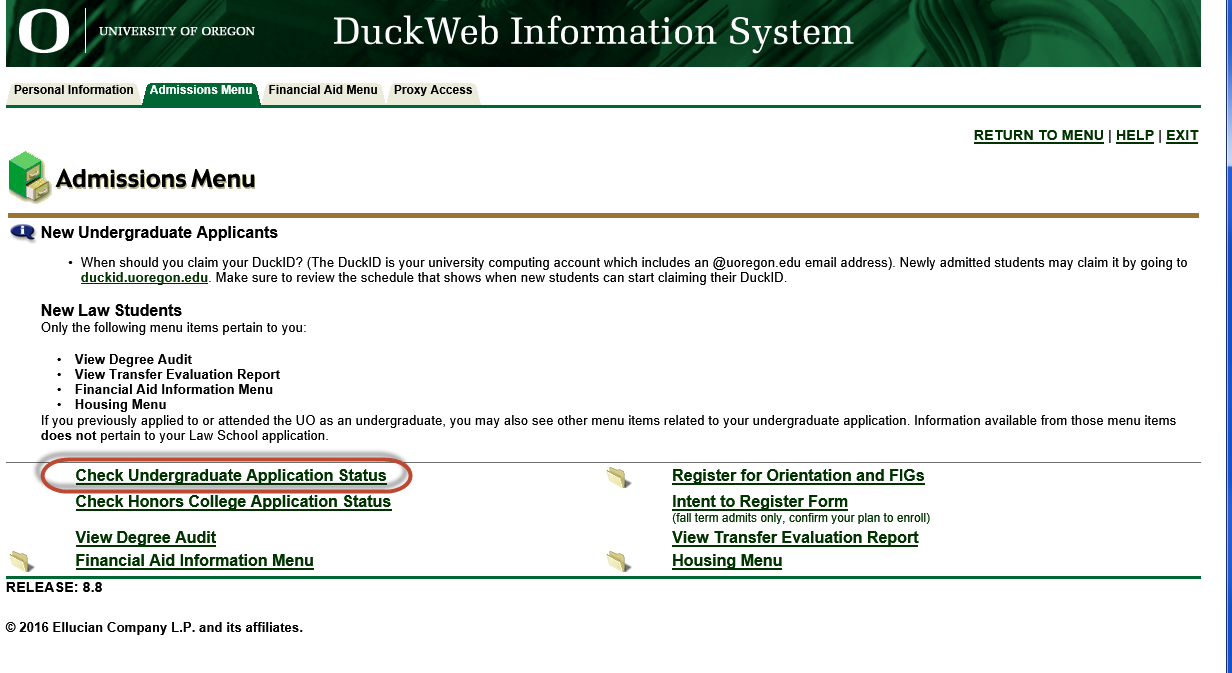 The Application Summary lists the information you provided on your application and what items are needed to complete your file. Different items may be needed to complete a file. For example, freshmen applicants have different required items than transfer applicants.