I speak Spanish / Hablo Español
Senior Assistant Director for Multicultural Recruitment
Email: luis.admissions@uoregon.edu
Call or text: 541-346-1176
Recruiting territory: Oregon – Baker, Benton, Coos, Curry, Douglas, Gilliam, Grant, Harney, Jackson, Josephine, Klamath, Lake, Linn, Malheur, Marion, Morrow, Polk, Sherman, Umatilla, Union, Wallowa, and Wheeler counties
Hometown: Santa Ana, California
Alma mater: Eastern Oregon University, BA '05, in Liberal Studies with minors in Sociology and Spanish; University of Oregon, MS '20, in Journalism
Favorite thing to do in Eugene: As a former college athlete, I love sports, so you will see me a lot at Autzen Stadium, PK Park, and Matthew Knight Arena. I also enjoy theater and live music, and that is something I get to take advantage of on a regular basis here.
Tips for college success: Learn to manage your time wisely and take advantage of all of the support systems that will help you succeed. Don't be afraid to step out of your comfort zone once you get to college. Have fun and get involved in student clubs and organizations and campus functions, which will give you an opportunity to meet students from diverse populations.
Why I decided to work at the UO: I wanted to be a part of an amazing institution that's devoted to recruiting students from culturally and academically diverse backgrounds. There's an extraordinary buzz here, a contagious unique sense of pride among faculty, staff, students, and the community. I love it!
The best part of my job: Promoting higher education and seeing students that I've mentored earn their degrees.
Words I live by: My grandfather taught me the importance of giving someone my time, having at least one good suit in my closet, being a man of my word, and being a gentleman at all times. I strive to be a man of character and integrity every day.
Favorite Duck: Launchpad McQuack from DuckTales, because he loves helping friends, flying, and crashing into things.
Special skills, talents, interests, or hobbies: I enjoy reading and writing poetry as well as attending theater productions. I love to sing, especially anything from Vicente Fernandez, Ramon Ayala, the Four Tops, or Jackie Wilson and the Manhattans, just to name a few. I used to play the hot corner and shortstop in baseball and fullback/tight end in football. Also, I love boxing and used to box as a kid, and I hold a brown belt in Taekwondo, but I still do not have nunchuck skills.
If I didn't work at the UO: A Nobel Prize winner who also happens to be the undisputed, lineal light heavyweight champion of the world!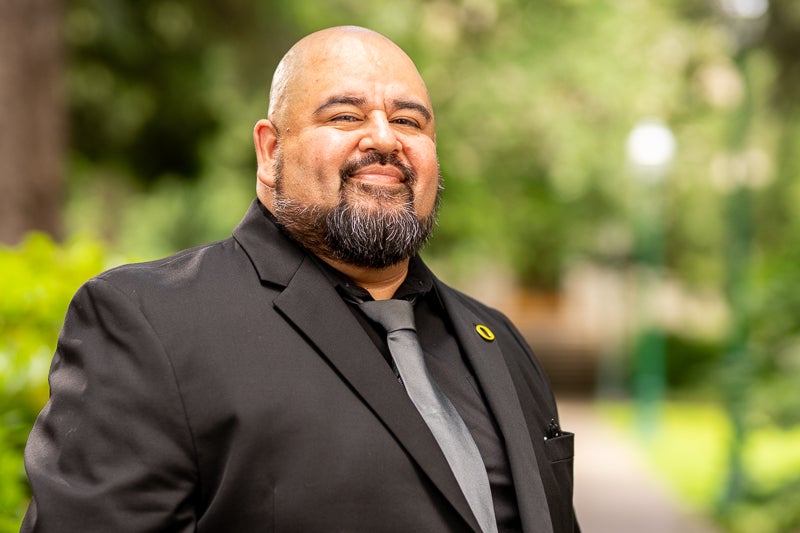 Recruiting Territories
Oregon – Greater Salem area, Linn and Benton Counties, Eastern, Northeast, Southwest