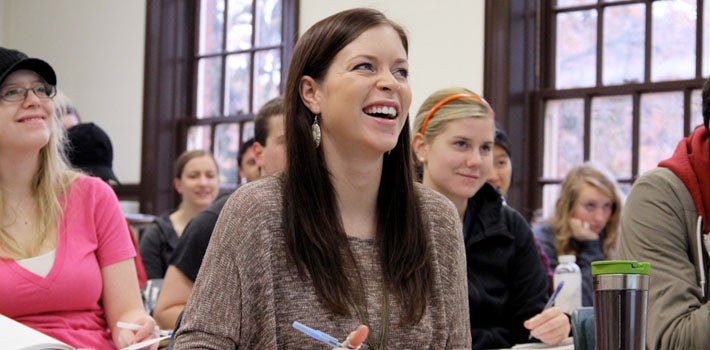 German and Scandinavian Studies is one of several major foci offered within the Department of German and Scandinavian.
Undergraduate degrees: BA or BS
Undergraduate minor
German and Scandinavian Studies: Flexible and Focused
A minor in German and Scandinavian studies is a great choice for students interested in German and Scandinavian culture and history. Faculty members from the humanities, music, and social sciences who share a common interest in German and Scandinavian culture, letters, history, and society administer this program.
The influence of German and Scandinavian culture and letters on modern life is incalculable. In philosophy and religion; in sociology and psychology; in music; law; political science; and history, German-speaking thinkers have helped define our perception of the world.
German and Scandinavian studies is an interdisciplinary program offering undergraduates the opportunity to study these influences in context with the society and cultures that produced them. It combines advanced language training with an interdisciplinary program of literature courses offered in the Department of German and Scandinavian. 
Points of Interest
Get a taste of music, art, philosophy, history, and literature while building your language skills through on-campus course work.
Experience the magic of our study abroad programs in Germany and Austria—hike in the Alps, research your ancestors, learn culture and idiom from native speakers—all while receiving UO credit.
Join the weekly Stammtisch conversation group that includes Germans from the Eugene area, participate in the campus German club, or discuss German books with the Lesezirkel reading group.
Sample Courses
German Culture & Thought: From Luther to Marx via Faust presents major developments in German intellectual history between the 16th and the first half of the 19th century. The story of the notoriously ambitious scholar Faust—adapted by many writers over this span of time— serves as the focal point, since it has often been characterized as either a quintessentially German, or more generally Western, narrative. From here the focus extends into discussions of key representatives and ideas of the periods of the Reformation, the Scientific Revolution and Enlightenment, German Classicism, Romanticism, and beyond.
Intermediate Language Training is the first course of a three-course sequence (GER 311-313) that is designed to improve students' reading, writing, listening, and speaking skills. The class also prepares students for the "Zertifikat Deutsch" (ZD), a certificate that is officially recognized by the European Union as evidence of language proficiency in German. In addition, the class raises students' intercultural awareness by engaging them in a variety of contemporary issues of German society.
Modern Europe introduces students to the history of Europe from the end of the Thirty Years' War (1648), through the age of absolutism and Enlightenment, to the French Revolution and its extension throughout Europe by the armies of Napoleon Bonaparte. The period begins with a pan-European diplomatic treaty—the Peace of Westphalia—the first in a chain of such international settlements that continues to the present.
Modern German Art explores changing topics in German modernism from the founding of the secession to national socialism.
See more courses in German.
Interdisciplinary Opportunities
German and Scandinavian studies can enhance any course of study as a minor or as a double major. Students have found it compatible with history, international studies, business administration, philosophy, political science, education, economics, music, and art history.
Hands-on Learning
Many students in this program enhance their studies through one of the three UO-sponsored opportunities for study abroad: the year-long Baden-Württemberg program, the spring intensive German-language program in Tübingen, or the new year-long program in Vienna. Another possibility is the five-week, total-immersion summer program at the Deutsche Sommerschule am Pazifik in Portland.
Students who want to practice their German language skills in a creative way on campus can take part in the biannual German theater production. Students interested in teaching German can develop skills through a two-term internship teaching local middle school German. Yet another option at advancing language skills is the weekly Stammtisch conversation table or the Kaffeestunde coffee hour.
Featured Faculty
Associate Professor Martin Klebes's research focuses on the interrelation between literary and philosophical texts from the Enlightenment to the present, with particular emphasis on the German tradition, but also including French and American critical thought and contemporary texts, novels in particular. His current project concerns the development of discourses of terror from the French Revolution through its reverberations in 19th century Germany to 20th and 21st-century textual instances of "terrorism" in Germany and the U.S.
Professor Jeffrey Librett has written The Rhetoric of Cultural Dialogue: Jews and Germans from Moses Mendelssohn to Richard Wagner and Beyond (Stanford University Press, 2000), and published numerous essays on German literature, philosophy, psychoanalysis, Jewish Studies, and theory from the eighteenth century to the present. He is currently writing a book provisionally entitled "Orientalism and Groundlessness: the Cultural Politics of the Pantheism Panic from Lessing to Kafka."
Katharina Loew is assistant professor of German studies and of cinema and media studies. Her research interests include German silent and early sound film, silent film technology, émigré filmmakers in Hollywood, fantastic literature and film, German modernist theater, art and literature and theories of modernity and mass culture. Her dissertation explored the impact of special effect technologies on the aesthetics, ideology, economics and production process of German film during the silent era.
Career Opportunities
German and Scandinavian heritage permeates Western society, particularly in the areas of classical music, literature, science, philosophy, and theology. There are many useful applications for a working knowledge of German and Scandinavian languages.
Recent graduates of the department have applied successfully to schools of law and business. Students can also pursue careers in teaching, tourism, international business, and government or foreign service. Many universities look favorably on applicants with degrees in German and Scandinavian, and alumni pursue graduate degrees in nationally prominent programs in German, Scandinavian, linguistics, history, and comparative literature.