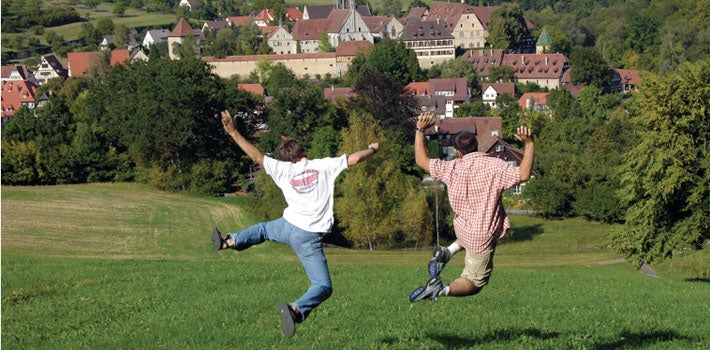 Undergraduate minor
The Broadest View of Europe
A minor in European studies allows students to supplement their major with an increased international perspective in their work and with a special focus on an understanding of Europe's identity and role in the world.
The minor program combines the strengths of faculty in the humanities, social sciences, business, law, and science to study current developments in Europe. The program's focus on the contemporary European situation is enriched by a deep sense of history extending back to classical antiquity. Faculty members in the European studies program demonstrate in the classroom that the emerging European Union provides the opportunity to study the progress of a great social experiment.
The European studies minor helps students understand "Europe" in the broadest conceptual and regional sense, including the variety of territories, cultures, and political units of the region Europe. The program seeks to elicit new interests and perspectives on Europe in a manner consistent with the individual student's needs, career goals, and intellectual and personal pursuits. Individual advising by a European studies adviser is essential early in the student's program planning.
The minor consists of 24 credits of Europe-focused courses, plus completion of three years of language instruction for BA students (two years for non-BA students, and with some options for combinations of language enrollment and study abroad. Course requirements will be balanced across the social sciences and the humanities, including an introductory social science course (Geography of Europe), 8 more credits chosen from a list of social science core European courses, 8 chosen from Humanities core European courses, and a "capstone" 400-level course (The Idea of Europe) in which students complete an independent research project.
Points of Interest
A minor in European studies integrates home-campus study with overseas study abroad or internships, for which Europe is our students' leading destination.
The European studies program hosts a team for the "Model European Union" simulation. In 2007, the UO's team received more awards than any of the others (from over 20 universities around the country).
A minor in European Studies, including study of a European language and opportunity for study abroad programs, will enhance students' resumes for positions that require demonstration of international awareness and sensitivity, whether in business, development, medicine and public health, tourism, or language teaching.
The European Union is a relevant and fascinating topic of study for American scholars. The EU remains the United States' largest trading partner, accounts for a majority of all foreign investment in the U.S., and is the site of half of American firms' international profits.
Sample Courses
Geography of Europe offers introduction to the physical, historical, linguistic, economic, religious, and political frameworks by which define Europe as a distinct region.
The Idea of Europe is a creative immersion into Europe's historical traditions and contemporary cultures from perspectives of multiple disciplines and professors. Fields as diverse as art history, literature, geography, music, history, political science, classics, religious studies, anthropology, and linguistics find a place in the course's curriculum.
Career Opportunities
Your minor in European studies will better qualify you to enter an international workforce across the entire spectrum of employment. The minor also helps prepare students for graduate or professional school in a variety of fields such as geography, political science, international affairs, business, journalism, and linguistics.
Contact Information
(541) 346-5081